Most renters of purpose-built housing earn less than average, report by London First finds
Build-to-rent developments are not simply creating houses for the wealthy and privileged, a report by business lobby group London First has claimed.
An analysis of 10 build-to-rent schemes in the capital, conducted by the body and supported by the British Property Federation and the UK Apartments Association, found that nearly three-quarters of residents earned less than £47,000, with nearly half earning less than £32,000.
This compares to an average wage of £43,400 in London, according to HM Revenue & Customs figures.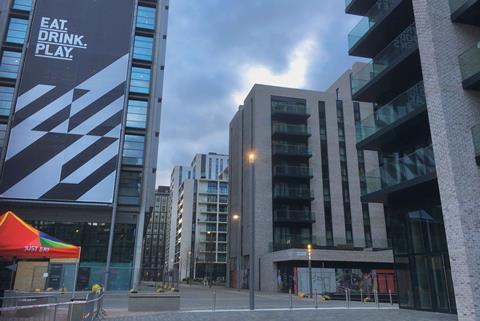 The research found that 43% of residents earned less than £32,000, with a further 29% of residents earning between £32,000 and £43,000. In addition, the analysis found that just under 80% of residents were under 35 – meaning the sector is housing a higher proportion of young people than the rented sector overall.
The figures show that most renters in the build-to-rent sector are sharers or couples, with other forms of renting much more evenly split between couples, sharers, singles and families.
Kurt Mueller, director of corporate affairs at build-to-rent developer Grainger, said the sector was "often misunderstood as being luxury housing for a high-earning few".
He added: "This research shows the opposite. People from all types of backgrounds, on a wide range of incomes live in build-to-rent rental homes. As we look toward to a post-covid economic recovery, the build-to-rent sector has a huge role to play, enabling people to find good quality housing, near their places of employment and where business investment is taking place."
The sector, where developers build homes specifically designed to be rented in the private market from professional landlords, has grown from a standing start a decade ago to provide nearly 25,000 homes in London. The report said a further 52,000 are now under construction or in planning.
Rick de Blaby, CEO of developer Get Living, said the sector was providing great homes and high service, stress-free living, and helping to tackle the capital's housing challenge. "This report reflects what we know about our own residents," he said. "People living in the build-to-rent sector are diverse and reflect the wider London rental market."
Stephanie Pollitt, programme director for housing at London First, said: "The build-to-rent sector has made a strong start in appealing to a wide group of tenants. As it matures, the sector will grow to meet the needs of people throughout the different stages of their lives, reinforcing its importance in helping to shape London's housing future."
According to the British Property Federation there are now more than 50,000 completed build-to-rent properties in the UK, with almost 120,000 more in the planning and construction pipeline.