Ibstock and Forterra post interim pre-tax profit rises of 32% and 38% respectively by passing on costs to customers.
Two major brick manufacturers have reported large profit rises for the first half of the year, after passing on inflationary costs to customers.
Ibstock and Forterra increased pre-tax profit by 32% and 38% respectively in the first half of the year.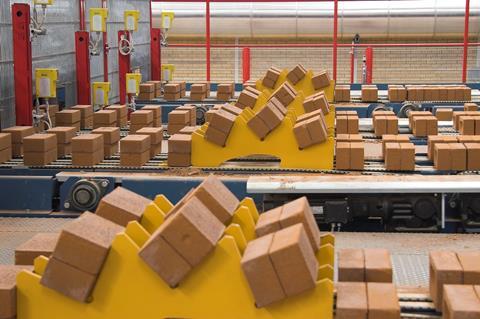 Ibstock, based in Leicestershire, reported pre-tax profit of £51m for the six months to 30 June, up from £39m the same period in 2021. It also increased its turnover 28%, from £202m to £259m over the same period.
Ibstock said it has seen "significant variable cost inflation" particularly in energy, materials and freight but has been able to fully recover the extra cost through increases in selling prices for its products.
It said: "Significant inflation across the key variable cost areas of energy, freight, carbon and materials was recovered by selling price increases, with in-year energy price inflation addressed through a dynamic quarterly pricing approach."
The firm said it now expects to deliver earnings before interest, taxes , depreciation and amortisation (EBITDA) "modestly" ahead of expectations for the full year.
Another major brick manufacturer, Forterra, this morning reported pre-tax profit of £37m for the six months to 30 June, compared with £27m over the same period in 2021.
Spiralling energy and labour costs since the beginning of the year have seen the brickmaker increase prices twice – by 16% in January and again in April by 12%.
The firm's chief executive, Stephen Harrison, said he could not rule out further price hikes later in the year, but said there was "nothing out of kilter with the market" about their pricing.
See also>> Materials woes not over despite easing pressure, construction bosses warn
See also>> Caution is needed when procuring bricks in a difficult environment
"If we see raw material prices, the price of labour, price of spares and repairs, price of packaging, extensive process chemicals going up, yes, we will have to move our prices," said Harrison, who is set to step down from his position next year after a decade in charge.
"I think it is too early to say we have to, but clearly it is something that we need to be mindful of and consider and make a decision later in the year," he added.
The firm is now anticipating full-year results slightly ahead of previous board expectations. Deutsche Bank has revised its full-year pre-tax profit forecast for Forterra up by 2% to £69m.