Investors overwhelmingly approve £1.1bn sale of Linden Homes and Partnerships operation in advance of Bovis shareholder vote
Galliford Try shareholders have almost unanimously approved plans to sell the group's Linden Homes and Partnerships businesses to housebuilder Bovis.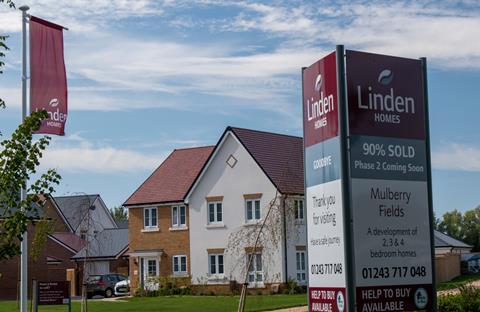 The £1.1bn deal was put to Galliford Try investors in a special vote last Friday and was approved by 99.29% of the 78.3 million votes cast.
Earlier this month the companies announced they had agreed to a cash and shares deal which will see Galliford Try shareholders offered a £675m stake in Bovis, plus £300m in cash and a £100m debt swap.
The positive vote paves the way for Galliford Try to raise £675m by issuing new shares.
Bovis investors are set to vote today on the proposed acquisition, which if approved will create a top five housebuilder in the UK. Shareholders are expected to back the deal, however, the firm is facing a potential revolt over proposals for executive pay also being voted on, with some investment advisory businesses calling on shareholders to vote down remuneration plans.
Once the deal has been given the nod by Bovis investors, the acquisition is expected to complete on 3 January.
Bovis is headed up by former Galliford Try boss Greg Fitzgerald, who took an unsuccessful tilt at his former employer back in May with a deal worth £950m and the absorption of £100m of debt.
Two years ago Galliford Try had tried to buy a then-beleaguered Bovis for £1.2bn, but that approach was also rejected.