Ikea-owned modular start-up one of the first to use NHBC's new system for certifying off-site build
Part Ikea-owned modular housing developer BoKlok has had its system approved by the NHBC under its new service for assessing MMC build system.
The UK's biggest housing warranty provider, the NHBC, said it had certified BoKlok's Flex UK build system under its NHBC Accepts service, launched in the summer to support the rise of modern methods of construction.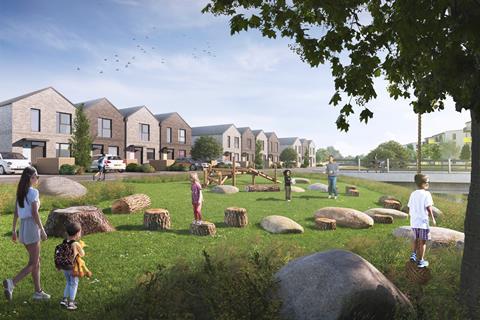 BoKlok, the Swedish modular housebuilder jointly owned by furniture giant Ikea and construction firm Skanska, last year secured its first two UK projects after setting up a UK subsidiary, and announced its intention to grow. Projects include a 200-home scheme in Bristol (pictured).
The firm uses a volumetric timber frame system to produce its homes, and in May said it had signed up start-up homes manufacturer TopHat to construct them in the UK.
Admission on to the NHBC Accepts system means that homes built using the BoKlok system will be eligible for a warranty, which is usually necessary for homeowners to obtain buildings insurance and a mortgage.
Noel Sheehan, BoKlok housing director said: "We hope that this additional accreditation will provide further confidence in our home development to our customers and the wider industry."
NHBC said the admission on to the system followed a detailed and robust technical review at key stages of the construction process. Richard Lankshear, NHBC innovation manager, said: "An NHBC Accepts certificate is a way of demonstrating that innovative products or systems have already been reviewed by NHBC thus reducing the risk of delays on site.
"NHBC Accepts will play a critical role in ensuring developers, manufacturers, lenders and consumers have faith and confidence in MMC quality as the industry delivers more innovative new homes for the country."