Firm also says national lockdown contributed to 30% fall in reservations in November
Bellway sales have been hit in recent weeks by lockdown measures and a "hiatus" caused by the introduction of the government's new Help to Buy scheme from April next year.
In a trading update ahead of the £2.2bn turnover firm's annual general meeting today, Bellway said it saw a 30% drop in reservations in November compared to the same month in 2019 in part as a result of the reimposition of a national lockdown in England.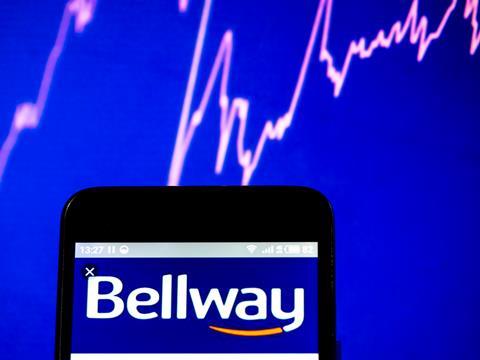 While the housebuilder has taken an average of 210 reservations per week since the start of its financial year on 1 August – 6% above the 199 seen last year – this figure dropped to just 164 per week for November alone, despite the fact all sites remained open.
As well as lockdown, Bellway said trading had been affected by the transition to the new, less generous, Help to Buy scheme, which is not yet available to buyers despite the current scheme having been used up.
Its statement said: "The transition to the new Help to Buy rules has resulted in a short-term hiatus in the availability of the scheme, with this resulting in an understandable moderating effect on the reservation rate in recent weeks.
However, Bellway said the business was overall in a "robust" position and that demand was encouraging, with the number of visitors to the firm's website well ahead of that seen last year, even during November.
Bellway is one of the few listed housebuilders which plans to offer shareholders a dividend for the 2020 financial year, which ended in June, and today said it expected to increase the level of dividend next year.
The firm said it expected to be able to increase completions in the year to July 31 2021 by 25%, taking them to around 9,400. However, this will still be well short of the pre-pandemic level of 10,892 recorded in 2019.
The firm's forward sales of £1.77bn are well ahead of the £1.49 recorded at this point last year.
Nevertheless, the statement makes Bellway the only listed housebuilder, aside from retirement homes specialist McCarthy & Stone, to have reported a significant trading impact either from the Help to Buy switch or the second national lockdown in November.
Jason Honeyman, chief executive, said: "Bellway is in a robust position and notwithstanding the recent widespread 'lockdown' restrictions throughout the country, sales demand is encouraging, and the order book is strong.
"We have substantial cash resources, considerable ability to continue investing in land and with our solid operational structure, we are determined to return the Group to its strategy of delivering long-term and sustainable growth."
Alastair Stewart, analyst at Progressive Research, said: "An apparent administrative hiatus on the new version of Help to Buy, alongside the more restricted target market for the government support package - [which comes in] on the same day as the deadline for the stamp duty holiday - suggests short-term challenges for the wider sector."