Housebuilder wins approval for 221 homes from Ebbsfleet Development Corporation
Plans for 221 units at the Ebbsfleet Garden City have been approved by the development corporation overseeing the 15,000-home project.
The application from Bellway included 86 houses and 135 apartments, of which 30% will be affordable. The permission, by Ebbsfleet Development Corporation's planning committee, follows approval for 100 homes by Bellway at the end of 2018.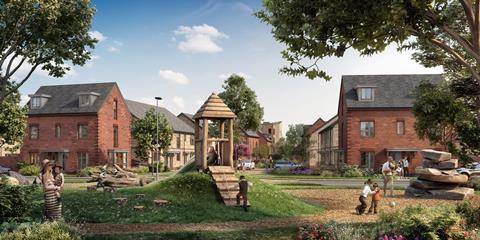 A fifth of the site will be reserved for open space including a play park and new pedestrian and cycle routes. There is also provision for charging electric vehicles, while solar panels are included on many of the buildings.
Mark Pullin, chief planning officer with Ebbsfleet Development Corporation, said: "Bellway has worked very closely with us to achieve what we believe is a good quality scheme fitting of a 21st-century garden city as well as going beyond planning requirements as it looks towards a more sustainable future."
The development corporation claims that nearly 2,000 homes have now been constructed in the former chalk quarry regeneration project, which was labelled as a "garden city" by former chancellor George Osborne. A primary school is open and plans have been submitted for a secondary school.