Housebuilder says turnover of £3.1bn put it in an "excellent" position to grow
Bellway has returned revenue to within a whisper of the level seen in in 2019, according to a trading update issued today for the year to July 31.
The firm said it was set to report turnover of just over £3.1bn, 41% up on the covid-hit results from 2020, and just 2.5% shy of the £3.18bn reported in 2019.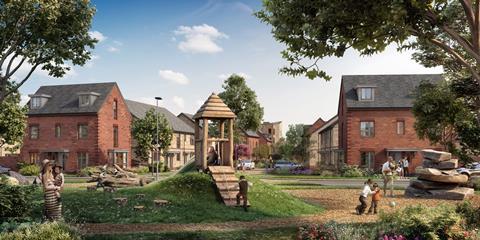 The Newcastle-based housebuilder said the number of homes it completed rose by more than a third to 10,138, 7% down on the pre-pandemic number from 2019.
Average private sales per week were running at 169, the firm said, 20% up on last year and 5.6% ahead of 2019, and the business now had a record order book of more than £2bn.
It added that customer confidence remained "strong", with the vaccination programme "having a positive impact on the UK's prospective economic performance".
However, the firm admitted it was experiencing rising build costs which were not always being cancelled out by growth in sales prices, as well as localised labour shortages related to covid-19.
Its statement said: "House price inflation, which is benefiting selected sites in localities where demand is particularly strong, [is] generally offsetting build cost pressures.
"There remain manageable short-term constraints in the supply chain and intermittent labour shortages across the sector as colleagues, subcontractors and suppliers are subject to self-isolation requirements to curtail the spread of COVID-19."
The firm said it had bought nearly 20,000 plots for new homes in the year, 63% above the level last year, and also well above the 13,284 bought in 2019. It described its land buying approach as "front-footed, yet disciplined".
It will make a further provision for the cost of repairing building safety defects in previously built homes in its final accounts, beyond the £132m already allocated to the task. The firm did not say how much it expects to set aside.
Chief executive Jason Honeyman said Bellway was in "an excellent position to continue our long-term growth strategy." He said: "The group benefits from a substantial order book and a robust balance sheet. In addition, our record investment in land and the resultant strengthened land bank provides a strong platform for both volume growth and further margin recovery in the years ahead."