UK's largest housebuilder says its new homes will be zero carbon by 2030
The UK's largest housebuilder has promised to become a net-zero business by 2040, with all new homes zero carbon by 2030.
Unveiling a series of new targets, Barratt said it aims to become the country's leading sustainable housebuilder.
It pledged to purchase 100% of its electricity from renewable sources within five years, and said it had already reduced its carbon emissions by 22% since 2015.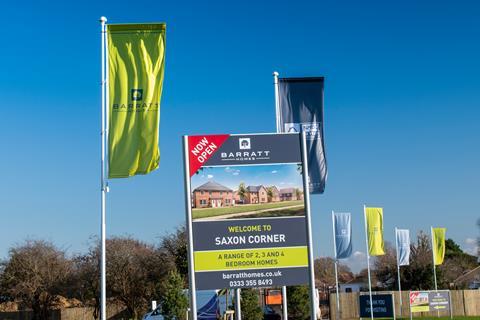 The housebuilder, which claims that just under half of its electricity is already from renewables, said that the 100% target would reduce its emissions by 3,300 tonnes of carbon.
The firm, which built nearly 18,000 homes last year, said that it plans to make its "standard housetypes" net-zero by 2030 by building with better insulation, more efficient services and greener tech. It said it will continue with a "fabric first" approach to building designed to minimise energy usage.
The announcement came on the same day insurance giant L&G said all of its new homes will also be zero carbon by 2030.
The government has promised to introduced a Future Homes Standard which is expected to require all new homes to be near zero carbon by 2025.
Barratt has also promised to reduce its on-site emissions by using solar-assisted generators to reduce diesel consumption.
The UK's 29 million homes account for around 14% of the country's total carbon emissions.
According to the United Nations' Intergovernmental Panel on Climate Change, emissions need to be cut by 45% globally within the next ten years to halt climate change.
In a speech today, the prime minister promised to "build back better, build back greener, build back faster" to kickstart the economy post-covid and tackle the nation's housing shortage.
But he also pledged to rip up existing planning rules to speed up projects, adding: "Yes we will insist on low carbon homes, but covid has taught us the cost of delay."