Insurance giant's partnership with Packaged Living to deliver at least 1,000 homes
Insurance giant Aviva has announced a £700m partnership with build to rent developer Packaged Living to build at least 1,000 family homes to rent.
The firm said the partnership with Packaged Living will look to acquire and forward fund sustainable build to rent developments in suburban locations in the South west, South east and the Midlands, with the pair targeting an "initial allocation" of up to 1,000 homes.
The firms said in a statement the partnership will initially look to create a £200m portfolio of properties, but that a further £500m pipeline was expected to be added to this in the "coming months".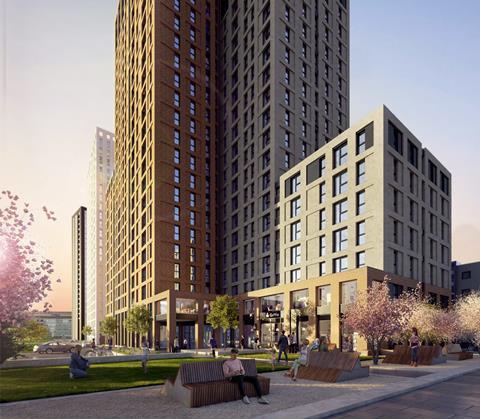 Packaged Living, backed by investment manager Fiera Real Estate, claims to have built up a portfolio of more than 6,000 build to rent homes worth £1.6bn.
The aim is the partnership with Aviva will acquire and forward fund homes directly from housebuilders, with Packaged Living responsible for the acquisitions, as well as the delivery and management of the portfolio.
Given Aviva's commitment that all of its investments across its £50bn Real Assets portfolio can achieve net zero, the firms said the homes developed by the partnership will meet the highest sustainability standards. This will include targeting EPC-A rating, providing electric vehicle charging points and providing heating using air source heat pumps instead of gas boilers.
George Fraser-Harding, fund manager at Aviva Investors, said the venture was designed to address the mismatch between demand for homes and the volume supplied to the market, while providing its clients with "high-quality assets that have strong social and sustainability credentials."
He said: "Our partnership with Packaged Living will focus on provision of homes where the need is greatest, whilst also delivering properties that are fit for the future, combining quality finishes with high energy efficiency."
The announcement is the latest example of growth in suburban build to rent housing, following significant investments by the likes of Sigma Capital, L&G, Apache Capital and Moda. The British Property Federation earlier this year reported that around one in ten of all build to rent properties are single homes rather than flats.
Jonathon Ivory, managing director of Packaged Living, said "Single Family Rental" housing was "the next chapter" in the growth of the build to rent model.
He said Single Family Rental housing provided similar returns as traditional apartment-based build to rent development, but benefitted from lower tenant churn and the need to provide less common areas and amenity spaces. "With lower running costs, rents can be more affordable and thus landlords are able to capture a larger share of the local market," he said.