Survey by the Federation of Master Builders reveals industry's fears are mounting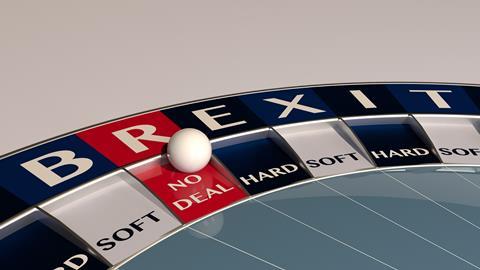 A no-deal Brexit could have "immediate and potentially disastrous consequences" for the construction industry, with soaring material prices, lower workloads and fewer enquiries, according to new research from the Federation of Master Builders (FMB).
As Jeremy Hunt and Boris Johnson intensify their individual efforts to become the next Conservative party leader – and by default the next British prime minister – fears over the pair's relaxed attitude towards leaving the EU at any cost have been heightened.
When asked by the FMB about the impact of a no-deal Brexit more than half (53%) of the survey's respondents in small and medium-sized businesses said it would result in higher material prices, while nearly a third (29%) feared it will lead to lower workloads and enquiries.
More than a quarter (26%) of firms believed a no-deal scenario would result in less access to skilled workers.
And the most sought-after policy shift firms wanted to see from the new prime minister would be a reduction in VAT on repair, maintenance and improvement work from the current figure of 20% to 5%.
Brian Berry, the FMB's chief executive, said: "As the Conservative leadership contest rumbles on, construction SMEs are worried about the potential impact of a no-deal Brexit, which would have immediate and potentially disastrous consequences for the construction industry.
"Material prices are the biggest cause for concern – widely-used building materials such as timber are largely imported and any disruption to that would lead to soaring prices and delays to construction projects. More broadly, a significant proportion of construction SMEs think that a no-deal Brexit would result in lower workloads and enquiries as confidence in the economy might wobble as people abandon plans for new projects until the UK is on a steadier footing."
Berry said the next prime minister, whether that proves to be Johnson or Hunt, could "guard against any potential economic downturn by stimulating activity in construction and housebuilding as soon as he gets the keys to Number 10 Downing Street.
"Once elected, the new PM has a responsibility to steady the economy. There's no better way to do that than investing in construction and housebuilding, which would boost economy," Berry added.
When asked by the FMB how best the new prime minister could prevent an economic downturn later this year, the top five interventions cited by construction SMEs were:
Reduce VAT on repair, maintenance and improvement from 20% to 5% (87%)
Make more money available through government funding schemes aimed at SME housebuilders, such as the Home Building Fund (36%)
Reform the Apprenticeship Levy so more SMEs can train apprentices (36%)
Invest funds in local authority planning departments to speed up the planning process (30%)
Embark upon a national programme of social housebuilding (25%).
Source: FMB