The architect on designing London's large, residential-led schemes and how to make distinctive places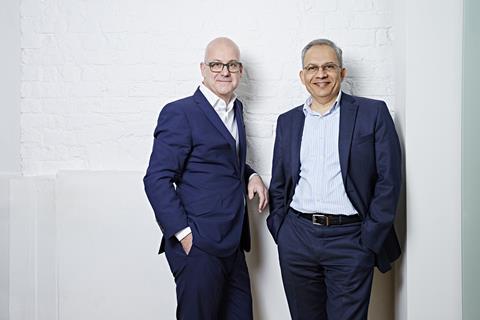 This spring works have got under way at the former Ford factory site in Dagenham, marking its redevelopment with a community of more than 3,000 homes. Beam Park was one of the largest housing schemes to gain approval in the UK last year, and promises to transform a massive 31 hectare site. London's large scale residential-led schemes – both low- and high-rise – have become something of a specialism for architect Patel Taylor, with the practice securing planning consent for 15,000 homes in total in 2018. Placemaking on that kind of scale in the capital calls for an understanding of London's history, says Andrew Taylor, who founded the practice with Pankaj Patel three decades ago.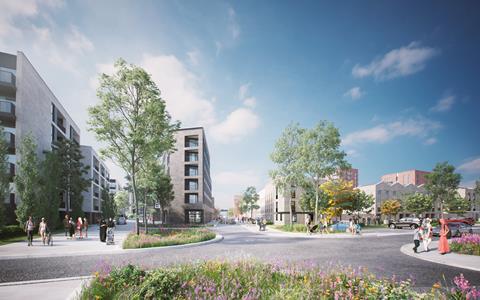 What kind of place are you making at Beam Park?
Beam Park will have homes, a central park, community uses and commercial space. The masterplan has a series of landscapes and streets that make neighbourhoods and places and give a wide variety of product for sales – it is being developed by Countryside and L&Q with a mix of tenures. There are elements like doors on the side of the house on a street corner. That is the kind of feature that you would find on Georgian streets that got lost and forgotten in the 1960s.
What lessons need to be learned about placemaking on a large scale?
Looking at the scale of projects we're working on, they are the next great estates, the Cadogans and Portmans of our day. Developers and local authorities today are starting to think about the grain and streets as lasting for 300 years. Buildings get rebuilt but streets stay the same, so it is crucial to get the spaces between the buildings right. We often forget the void, but the space between blocks needs to be defined just as much as the buildings themselves.
Also, if you look at somewhere like Marylebone, it has a distinctive red and white architecture and there is a challenge in how to do that with new places. Our masterplan for Berkeley Homes' Stephenson Street development, in West Ham, is coded with its materiality, buildings having white exteriors by the scheme's central park and brick finishes towards the edges of the site.
There's a need to appreciate the coding of London when working on the new generation of great estates. The manners of the design are key. Features like a simple door handle become touchstones that you remember on the journey to your home.
Are you also applying this expertise to estate regeneration?
We have a planning application going in this summer for the regeneration of the Grahame Park estate, in Barnet, to deliver around 2,000 homes. We have also been appointed to work on the Cambridge Road estate in Kingston.
These are important projects because they involve keeping existing residents on the estate while also rebuilding, and adding significant amounts of private housing to pay for regeneration. It is important to create a place that gives both existing and new residents a sense of belonging. Such schemes are at the forefront of where housing should be.
You notably worked on courtyard housing in Barking. How do you think that is standing the test of time?
Courtyard housing articulated a lot of our thinking at that time – on factors like shared green space, overlooking and layers of semi-private space. When you go there, there's a good feeling. People invite you in. The residents have barbecues. Schemes like these show that the architect can make a difference. It's a reminder of the good that humane places can do.
We've done another four or five similar schemes on backland garage sites since.
How does the London residential development sector look to you right now?
Over the last two years developers have bought sites at high prices so some are now struggling with concerns about viability. As a result, efficiency in buildability has become a huge priority. These are often quite complex sites for infrastructure set up, so you can see why developers are taking huge risks.
There has been a bit of a slowdown in activity. We've seen construction costs rise but property values have not. When that happens, the solutions tend to be to put more homes onto a site or to economise on the construction a little. In a way, the former solution is fine because denser locations can be nicer places to be.
At the same time high-rise development has been evolving. If you look at the New London Architecture model of London, you can see the capital is reclustering as a series of dense hotspots. We have a series of new villages, and maybe that's ok. There is still a lot of mid-rise going on. You need 90% background buildings to allow the 10% to stand out.
On larger schemes there is now the appreciation that public realm contributes significantly to making a place
We're seeing the scale of development getting bigger, which can be challenging for the architecture and achieving the right levels of daylight and sunlight. And we're also seeing developers increasingly realising the value of public realm. Our masterplan for London Dock, in Wapping, has 1,800 homes and a landscape design developed with Allain Provost. That includes some quite expensive larger trees. On larger schemes there is now the appreciation that public realm contributes significantly to making a place.
What do you see as the biggest challenge to delivery today?
Planning is still very slow. It is under-resourced and so challenging for planning teams to articulate the story to the public and to their masters. Consultation plays a big part in getting the story right, although the general public does seem to have a greater understanding of the need for housing now, because of the shortage of affordable homes. That, however, in turn raises questions around affordability.
If we are going to produce good affordable housing, we need to tackle this with conviction. At the moment, we're just scratching the surface. The team behind our courtyard housing had conviction about the scheme. At one level you could say that was an expensive scheme, but looking at it more broadly, there was conviction and a willingness to consider the whole value of the project.