The acclaimed architect discusses distinctive places, design and build, and developing communities to combat loneliness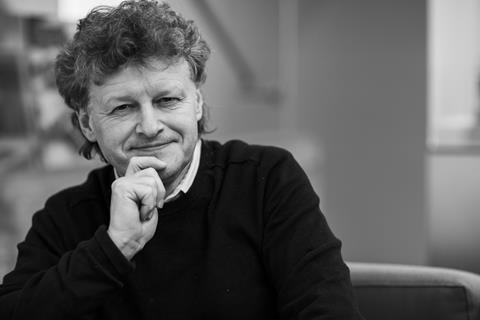 Design quality looks to be back on the housing agenda. We have a government-backed commission on beauty, Homes England's commitment to promoting design and quality, new developer players bringing fresh thinking, and a new report from four architectural practices that outlines how such elusive qualities as beauty, character and community can be achieved in new housing.
One of the architects behind the report is Proctor & Matthews, whose thoughtful, contextual schemes, like Countryside Properties' Abode, in Cambridge, have won plaudits from homebuyers and judges of architectural awards. Director Andrew Matthews, who founded the practice with fellow director Stephen Proctor, sees potential opportunities for architects in the government's positive approach to design. But he argues that government also needs to drive change in the structure and procurement practice of the housebuilding industry if it is to embed design quality in delivery.
Your practice has been working in housebuilding for around three decades. What do you make of the state of the sector today?
Quite a few of the volume housebuilders seem to have moved away from building bespoke schemes and gone back to building standard housetypes. As a result, they are using architects less than they were.
But the overall landscape is changing. We have councils building again and significant new players coming into the market who want to change the way things are done. There's a group of landowners out there who are interested in leaving a legacy – and Homes England is driving a new agenda with its focus on neighbourhoods. There are similar moves in Scotland, where we were commissioned by Scottish Borders council, with backing from the Scottish government, to create the masterplan for Tweedbank.
To hear Homes England say that they want to disrupt the housing market is quite extraordinary. If the government can deliver on its aspiration and encourage more activity by small and medium housebuilders that would provide more opportunity for architects to get involved and add value. Our most interesting work now tends to be with smaller housebuilders.
There appears to be a clash between the conventional housebuilding business model, with its emphasis on standardisation, and the growing interest around context and stewardship in new housing development. It presents dilemmas for local authorities and for the government.
You worked with a major housebuilder on Abode, at Great Kneighton – what helped deliver an exemplar scheme there?
A lot of factors came together. Countryside and the planning team wanted something special. We were able to inform the masterplan with a contextual response based on a historical analysis of Cambridge – those homes couldn't be anywhere but there. For example, there are marker buildings modelled on the gatehouses of Cambridge colleges. Overall, the scheme has a remarkable mix of typologies, which gives highly marketable homes with something for everybody.
The planning authority was willing to discuss an adjustment to standards for street widths and overlooking distances. Some streets are only 12m wide. The highways authority was supportive of the shared surfaces, and the housebuilder took all this on over a 10-year period. The scheme had two phases, and when volume housebuilders come to develop a second phase of a scheme, the value engineering creeps in and it's never quite the same as the first. But for the first time ever in our experience the second phase was built to exactly the same standard as the first. Countryside should be applauded for this commitment.
Like many other architects working in housebuilding, you've found yourself replaced on design-and-build contracts, notably last month at Thamesmead. What should be done about it?
Increasingly, there has been a severance of upfront design work in housing with the delivery stage. Often smaller developers keep their architects on board, but for larger projects, procurement is favouring design and build without novation and that has become a big concern for architects like us.
Where developers go down the design and build route, some do at least have a proper conversation about it. On the second phase of Abode, for example, we worked on the key details, and had a proper handover and interface with the delivery architects, which was in the interests of everyone involved and of the project. But others simply don't see the importance of this kind of design continuity.
Planning authorities are now getting wise to this and some are even attempting to name architects in planning agreements, because they are seeing that the designs they approve are not being realised in the final product. We're not saying architects have to be involved in specifying the sanitaryware, but there should be a way for us to be involved in the core design.
There's a need for more of a legal ability to give the architect an overseeing role. The government needs to empower planning authorities to take greater control over this.
What can you do to help local authorities drive better and more distinctive design?
We're providing help with design guidance and character settings for local authorities. We worked on a guide for Ebbsfleet Garden City, in Kent, which was a character study intended to provoke housebuilders to think differently and to encourage them to employ good designers.
Local authorities face challenges because they are so under-resourced. Some have significant strategic edge-of-town sites where they need to convince local people that development will be bespoke. For our Mountfield Park scheme on the edge of Canterbury the developer, Corinthian Land, did take a strong design lead because it wanted to bring forward a scheme that was relevant to Canterbury.
You're working on a number of later living schemes. What learning is emerging from those?
We've completed three projects for PegasusLife: in Lichfield [pictured, below], Cheltenham and Tetbury in Gloucestershire. The projects have quite rich briefs from an architectural point of view, with historic and often dense town contexts.
One of the biggest challenges in later living is how to make a community and specifically how to deal with loneliness. Our Chapter House development in Lichfield, for example, is centrally located in the town and has a pedestrian through route, linking to gardens that are maintained by a local gardening club. Pegasus supports activities that bring the life of the town into their projects and bring people together.
At our Steepleton scheme, in Tetbury, we've got 137 apartments with features like a spa, restaurant and productive landscapes. Design is absolutely key to this product. If you're going to entice empty nesters to make a move, then you've got to offer them something extraordinary.
Steepleton was inspired by traditional almshouses, forming a village around gardens and central facilities. Almshouses traditionally provided homes around central support – it's a model from the past that works. They are effectively co-housing and are by no means only applicable for private sector development. We've applied similar thinking to a centre providing temporary accommodation for vulnerable families, called Hargood Close, in Colchester.
Some of our clients are already considering similar models for private rented housing for older people. And we think the model could be just as good for younger people. Developers in build to rent and later living have a lot in common – they are both long term stewards of their developments.