Russell Pedley of Assael Architecture explains why his practice became a build-to-rent specialist – and how putting homes above a railway line is tricky yet lucrative
As a student, Russell Pedley wrote his thesis on single-person housing in the private rented sector (PRS). Little did he realise he would one day be director of a practice that has become something of a specialist in the burgeoning build-to-rent sector. Assael Architecture's portfolio now includes two east London projects – Legal & General's Blackhorse Mills in Walthamstow and Imperial Two in Bromley-by Bow – as well as Prosperity Capital Partners' Old Brewery Gardens in Manchester.
The practice was early into the UK sector, thanks to a determination to diversify in a tough market, recalls Pedley. But his curiosity about the PRS was personal. "I was always interested in creating communities," he says.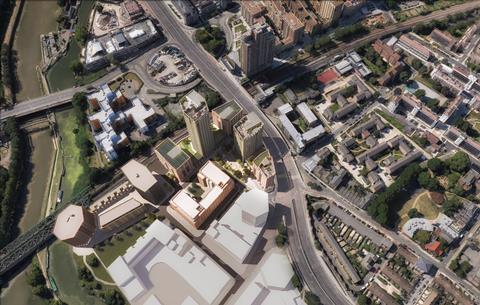 What kind of clients are you working for?
Our client base was entirely conventional housebuilders. Now it is around 50% housebuilders and 50% the new types of client, notably investors and PRS operators. There's a move across Europe for investors and pension funds to move into housing.
We were working for many of the big housebuilders when the last recession came and that work dropped away. I went to the US to look at multi-family housing and ultimately was involved in the creation in 2014 of the Urban Land Institute best-practice guide Build to Rent.
What have you learned from working in build to rent?
Investors are looking for long-term returns. They want to deliver a fairly large scheme – 200 or more units – in a single phase in order to create a community. Clients are generally more open to innovation – and that openness combined with single-phase delivery can make offsite construction more attractive. Working with these clients is ultimately more rewarding for designers as they care about how a building works and are incredibly focused on minimising the turnover of renters.
A lot of the work being done by Ben Channon, our mental wellbeing ambassador, has come from client interest in health and wellbeing and sustainability. Blackhorse Mills is the first build-to-rent (BTR) scheme to achieve BRE's Home Quality Mark rating. I've been surprised by the strength of the client focus on corporate social responsibility.
We also see some tensions between what our clients would like to be doing and London Housing Design Guide priorities, in areas such as circulation. Clients would like greater flexibility on lift and stair cores, for example, and that is possible in theory, but it is a matter of getting the message across to local authorities.
The practice is also working in over-rail development. What projects are in the pipeline?
A lot of design aspects of BTR are suited to over-rail development and there are many central London sites sitting there that could be earning an income.
We are working with Transport for London and Grainger on their BTR partnership, which is aiming to deliver more than 3,000 homes across seven sites in London. We are looking at development on top of Nine Elms Underground station, which has potential for up to 400 homes, and on Southall Sidings, a site next to Southall Station that has the capacity for a similar number of homes. For Nine Elms we are looking at providing apartments in three buildings above the station, with many of the planned homes having dual aspect.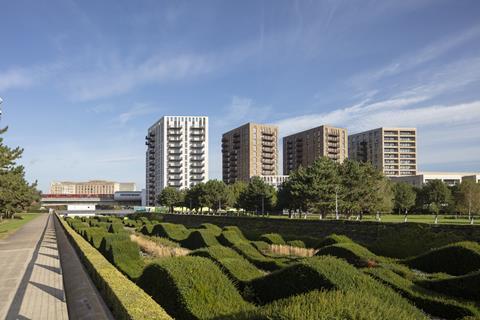 How do you tackle the challenges of developing around or on top of rail infrastructure?
Rail operations are king. The rail operator's priority is to keep the trains running, rather than to aid development. If you want to do something as seemingly minor as move a fence, it can take an awful lot of time. There is a need for a pro-development interface or taskforce to help developers and investors realise the opportunities – and a need to get decisions made at a pace that keeps the development community interested.
The high Public Transport Accessibility Level scores for over-rail development enable high density, but it is challenging to make these homes a place of retreat and tranquillity. In terms of design, you need to be clever because the setting of a place to live can be compromised. Communal facilities can play an important part in providing a buffer between the station and homes.
Dual-aspect apartments can be a difficult typology to make work. You cannot rely on the railway aspect for acoustics, daylighting or balconies. If you are creating market-sale housing on a station site you have to apply all national standards on private amenity space, but BTR is a different offer and that's why it is ideally suited to over-rail development. The customer rents the whole building, so communal facilities such as lounges or roof terraces can offset private amenity space such as balconies. That is why the Urban Land Institute has been pressing the Greater London Authority to relax the requirement for balconies in the London Housing Design Guide.
What challenges and changes are you seeing in business at the moment?
Funding – particularly from overseas – is being held back and delayed, so a lot of opportunities are awaiting the outcome of Brexit and the general election. But that is having more of an impact on market sale than BTR, where uncertainty presents opportunities to be seized before market sale comes back.
In BTR, there is an increasing interest in more suburban locations. Suburban BTR is not high-density apartment blocks, it's about pavilion buildings or mansion blocks in landscaped settings. We've been looking at Italy, where you'll find apartment buildings with corridors broken open to create decks that give a glimpse of the sky or a tree and bring you closer to your neighbours. Perhaps BTR will even bring back deck access. I could see that working in suburban schemes where you have low-rise blocks around a landscape.
We're seeing more of our competitors moving into BTR and, at the same time, we're seeing BTR itself evolve, with the emergence of co-living. Housing is becoming far more diverse.