The interim report includes headline findings from an in-depth review of England's planning system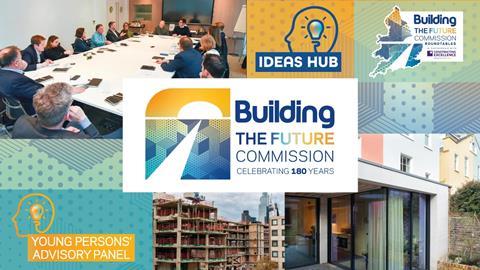 Today we can reveal the interim findings of the Building the Future Commission, an ambitious project looking at ways to unlock the potential of the construction and housebuilding industries.
Since January Housing Today's sister title Building has been examining radical and challenging ideas with the help of a panel of commissioners and via a series of regional roundtable debates in partneship with Constructing Excellence.
The commission aims to tap into innovative ideas, amplify them and be an agent for change. The project has involved initiatives such as a Young Person's Advisory Panel and consultation with the wider industry on ideas across eight topic areas, namely skills and education, energy and net zero, housing and planning, infrastructure, building safety, project delivery, workplace culture and leadership and creating communities.
The work for the housing and planning stream has drawn on Housing Today's own Fair Deal for Housing campaign.
The commission will publish its full report, with recommendations for change at the end of 2023, and today we are releasing our interim findings for discussion ahead of the Building the Future Commission conference in London on 27 September.

>> Click here to book your place at the conference and feed in to our consultation process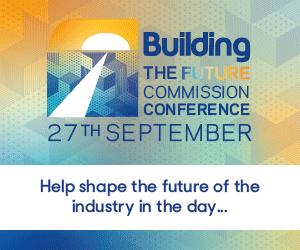 Below are the interim findings which we are releasing for consultation. We are also publishing some of the headlines from two chapters of the final report, one chapter focusing on the planning system - written by Housing Today journalist Joey Gardiner - and the other looking innovation trends in construction. These chapters will be published in full at the conference in less than a fortnight's time.
The Building the Future Commission: A plan for UK Construction and Housing
Strategic long-term thinking to ensure a proper return on investment
Interim findings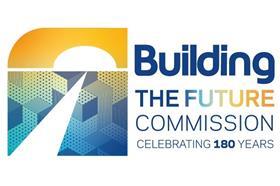 The Building the Future Commission is calling on the next government to commit to a long-term strategic plan to increase construction's productivity, boost economic growth and improve the quality of the UK's built environment.
This includes the big spending departments rethinking public sector building programmes to provide more certainty for the market; steps to improve the planning system to unlock stalled development; joined-up net zero policies to meet the UK's climate commitments; public sector clients adopting procurement rules promoting best-value not lowest price; and a fair deal for housebuilders to help tackle the housing crisis.
The commission also calls on the private sector to play its part, identifying an urgent need for more firms to embrace modern methods of construction, invest in digital technology and begin to harness the potential of artificial intelligence if they are to avoid being left behind. 
To earn back public trust in the wake of the Grenfell disaster, companies must continue to invest to improve the competence of the workforce. These efforts should be supported with better information-sharing on the part of organisations enforcing the new building safety regulations.
A fragile recovering economy after the pandemic coupled with inflationary pressures has squeezed budgets on projects, hit companies' profit margins and had a knock-on effect on investment
The private sector must also take bigger and more co-ordinated steps to improve the diversity of its workforce and among people in leadership positions. Current efforts of individual companies to promote construction as a career choice need to be joined up at a regional and national campaign level to deliver faster change.
As part of our interim findings, we have identified the following challenges:
1. A fragile recovering economy after the pandemic coupled with inflationary pressures has squeezed budgets on projects, hit companies' profit margins and had a knock-on effect on investment in digital technology and other innovative techniques.
2. 'Policy-churn' at central government level - meaning constant changes across economic, infrastructure, housing and net zero policies - has hindered the private sector's ability invest and plan for the long term.
3. Under-investment in the maintenance and rebuilding of schools and hospitals has resulted in maintenance backlogs, buildings in use well beyond their expected lifespan and high-profile cases of emergency safety works.
4. Net zero buildings and retrofits command a premium as the materials and skills involved are limited and expensive. Construction inflation is already impacting on project viability which inevitably means net zero aspirations are being scaled back.
5. Successive housing secretaries have politicised housebuilding, fuelling the supply crisis, not helped by a slow and unpredictable planning system that is under-unded and over-stretched.
6. The roll-out of new safety regulations has led to confusion over how to comply with particular requirements, in some cases slowing or stalling developments entirely.
7. A lack of joined-up representation for construction inside government has led to a perception that the industry is not being effectively harnessed to drive economic growth.
8. A skills and education system that is fragmented and insufficient to help tackle construction's chronic skills shortage.
The headline findings from our housing and planning report, to be published in full on 27 September, include:
Central government funding for the planning system has seen cuts of nearly 60% on a per capita basis since 2010, the severest cuts of any local government service. Planning authority staff are depleted, and suffering, in many cases, from low morale and shockingly high workloads, with a quarter of planners moving to the private sector since 2010. We need to properly resource the planning system.
Local plans are the bedrock of the English planning system, but just 35% of planning authorities have an up-to-date local plan in place. We should overhaul the local planning system.
We should reinstate a strategic planning tier in order that key decisions, such as on housing numbers and green belt, are taken where it most makes sense.
The headline findings from our innovation report, to be published in full on 27 September, include:
There are lots of individual firms adopting digital tools and AI but take up is not evenly distributed across the industry, and while organisations show a willingness to invest in tech that improves internal processes for competitive advantage there is a reluctance to develop ways to facilitate information sharing and collaboration with others, with many failing to invest in technology and upskilling to realise the benefits.
Much of construction suffers from poor quality data and information management which is a major barrier to more effective collaboration
The government needs to reform its procurement rules in order to boost the uptake of MMC and platforms (also known as kit of parts solutions).
The full report will be made available by the end of the commission's first year and we hope it will send a clear message to all political parties before the upcoming election.
The Building the Future Commission will continue into 2024. Having embarked on this enormously ambitious project – covering eight very broad areas - we realise the current challenges facing construction as a sector and the wider built environment need ongoing research. This is why we are setting up our own editorial research hub, known as The Building Commission Think Tank, which will be dedicated to producing more in-depth research and reports on behalf of the industry.
For now we plan to focus the think tank's programme for 2024 on four key areas, though we are taking soundings from the industry and the list could expand to cover more topics. The themes identified so far are:
1. AI and digital construction
2. Implementing net zero
3. Workplace and productivity
4. Building safety
5. People and skills
As ever we want to gather views from as many different people as possible. If you want to feedback on any of our interim findings and help shape our final report at the end of the year, we invite you to attend our conference. You can also email us at: buildingfuturecommission@building.co.uk
Join us at the Building the Future Commission Conference
The Building the Future Commission Conference is set to take place in Westminster on 27 September. You can join us to hear from some of the leading figures across the construction industry and find out more about the work of the commission.
The day will include panel debates on net zero, digital transformation and building safety as well as talks from other high-profile speakers on future trends and ideas that could transform the sector.
Keynote speakers include Sir John Armitt, chair of the National Infrastructure Commission, Katy Dowding, president & CEO, Skanska UK, and Martha Tsigkari, head of the applied R+D group, Foster + Partners.
There will also be the chance to feed in your ideas to the commission and to network with other industry professionals keen to share knowledge.
You can follow our progress using #BuildingTheFuture on social media.