Managing director Robin Butler on quality, reliability, and how to get what you want from housebuilders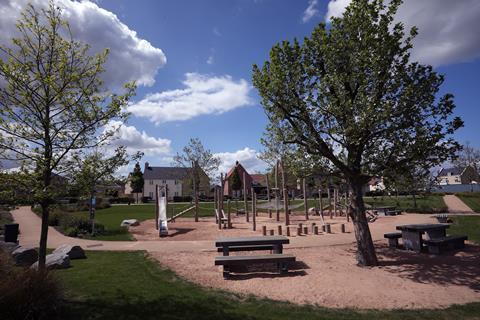 Sir Oliver Letwin summed it up when he set out the terms of reference for his independent review of Build Out, looking at the slow pace of delivery of large housing sites. "There are limited opportunities for rivals to enter large sites and compete for customers by offering different types of homes at different price-points and with different tenures," he said. That has resulted in homogeneous housing estates, often with scant consideration given to amenities and placemaking, a prospect that is unappealing to stakeholders and homebuyers, and can result in resistance to development, slower sales and slower build rates. And so it goes.
The master developer model established by Urban&Civic works differently. The company starts with strategic land, takes on the project planning and site risk, orchestrates the place and delivers the services, green spaces and amenities, aided by patient capital and public funding sources. It still relies on the expertise of housebuilders, who are licensed to do what they do best: build and sell homes.
The company is bringing through a string of major strategic sites within a 100-mile radius of the capital, where 19 housebuilders have so far signed up to work under licence. This master developer approach accelerates planning progress and delivers quality, says the company, and it has a vested interest in doing both. The faster it delivers, the faster it secures a return on its investment, and quality builds reputation and stakeholder support, enhances property values and ultimately results in sales to both housebuilders and homebuyers.
Urban&Civic is bringing through a string of major strategic sites within a 100-mile radius of the capital
Such an approach is not for the faint-hearted because of the investment required. "In order to get cash back, you have to spend, so there is a degree of negative cash," says Urban&Civic managing director Robin Butler. The company is paying out, with infrastructure works being undertaken across five sites, and is seeing cash come back in sales. In the last financial year, 445 homes were completed across its sites, and interim results for this year put it ahead of target with 365 completions.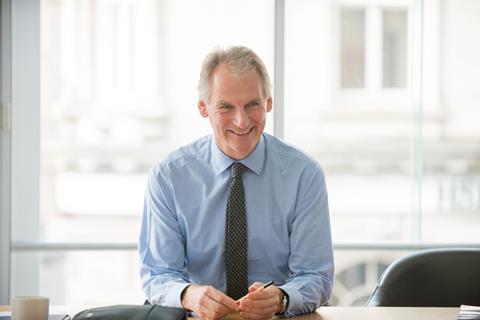 How the master developer model works
The company targets big, complex sites, not shying away from those that have chequered pasts. Discussions with local authorities begin by addressing their priority. "They don't want to allocate land to someone where delivery is doubted," explains Butler. "The first question we get asked is whether we have the capability to deliver, and we can now show that we have the mechanism to do that." A large scheme can account for as much as half of the overall housing supply in some districts. "That makes a large scheme a pretty attractive banker for a local authority to have in their local plan," Butler points out.
Urban&Civic secures planning consent, working to a 20-year delivery timeframe for flexibility, but housebuilders are responsible for reserved matters applications. Design parameters are set out in design codes, but Butler believes they "can be a bit of a blunt instrument" so the master developer collaborates with the housebuilder on reserved matters. "We want to see that there is a willingness to produce something that is right for everybody," he adds.
Housebuilders sign a licence to build out a land parcel, typically accommodating around 200 homes. The housebuilder pays the master developer a fee based on sales, but if delivery slows then a minimum fee applies, being topped up when sales are achieved. For the master developer, the deal allows it to retain the control it needs to shape the place, creating a mix of homes and amenities that builds value. It evaluates patterns in housebuilders' sales data to steer activity. "If too many housebuilders are doing similar products at the same time there can be cannibalisation of sales and house prices will grow quite slowly," says Butler. The company's Priors Hall development in Corby, Northamptonshire, where eight housebuilders are at work, is a rare exception.
For housebuilders, the deal limits risk and strengthens return on equity. Butler continues, "We see this as a partnership with housebuilders and aim to make it attractive to them, so that they are more agreeable to the way we move forward on design issues." He knows not all housebuilders are yet keen to buy into its vision of what he calls, "well-mannered and disciplined" projects. "The willingness of housebuilders to do it varies, but we're increasingly finding that housebuilders are getting a better vision of what we're doing."
One advantage of the approach is that it provides opportunities to SME housebuilders, as Butler explains, "We tend to have a smaller housebuilder for the entry statement parcel, then a major, and then slot in a medium-sized firm." Infrastructure is generally provided alongside homes, but may be accelerated where it can bring advantages. For example, at its Houlton development, near Rugby, the company – supported by Homes England funding – has brought forward road construction to provide access for housebuilding in a separate area of the site.
The master developer relies on intensive management to keep projects on track, but acknowledges the risk in areas like ground conditions. "You can't trial pit 1,500 acres so you have to have contingencies," says Butler. "If a housebuilder needs to pile the ground, we have a conversation. We wouldn't pass on a problem to them." Build quality is another area that requires cooperation, Butler admits. "We're not in the contractual nexus but people moving in will feel we're in some way responsible, so we build in quality standards from the outset and then we'll cajole to see quality is delivered." Health and safety, another thorny issue for a site with numerous companies at work, is coordinated via monthly meetings facilitated by a third party.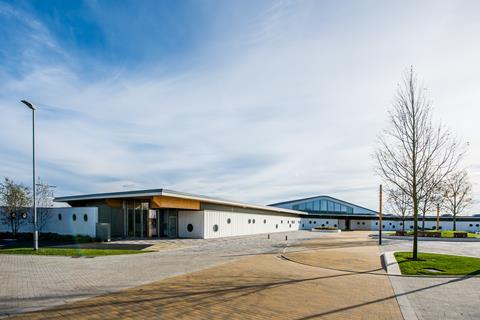 Model in practice
The Alconbury Weald site, near Huntingdon, is well under way with 250 homes built to date and five housebuilders signed up to deliver. It also has amenities, with a cafe, general store, gym, primary school, community park and 1 million ft² of employment space, in the shape of a growing enterprise campus where Cambridgeshire council plans to set up its headquarters.
The scheme has lived up to the promise of accelerated delivery in its early stages. Urban&Civic completed the deal to acquire the site in November 2009, when the site had planning permission for employment space, but not homes. "When we saw the planners they thought the site would have to go through the local plan," says Butler. By working through extensive consultation and jointly applying with the council for enterprise zone designation, the company was able to start work on site in 2014 with Huntingdonshire's local plan, including the site's housing, finally adopted in May of this year. "If we'd waited for that plan, we would not have started work until 2020," says Butler. "It has been a salient lesson that you have to have belief and find ways to work in partnership."
We've got a pretty robust model

Robin Butler, Urban&Civic
The former airfield site will ultimately have 6,500 homes, as well as many more amenities, and more than 10% of plots are already contracted. The first housebuilder on the site was Suffolk-based Hopkins Homes, which has since signed up for a second parcel and been joined by Redrow, Morris Homes and, most recently, Crest Nicholson. Alongside, Urban&Civic is developing 138 homes under its own Civic Living brand. "We're not looking to be a major housebuilder, but we do want to do something incremental, which we will roll out carefully across sites," says Butler. The first phase includes around 90 affordable homes, the first of which are currently under construction. Cross Keys Homes is affordable housing partner for phase one, and they will take on the homes, which are being built by the housebuilders to ensure efficient and tenure blind delivery. Later phases will also include affordable homes.
Other forms of residential are likely to be introduced to this and other sites in time. "We'll do things to increase diversification and help delivery," says Butler. "We're talking to a few people about build to rent, but for us the issue is making sure that the quality is there, including for the ongoing management."
The company's interim results show the business to be broadly on track, Butler says, and having resilience to withstand current market uncertainty. "We've got a pretty robust model. In a downturn where housebuilders continue to build but build more selectively, we offer a capital-light structure for them," he contends. It has already come a long way, he adds. "Initially we thought we'd be doing three or four schemes, but we have now got the structure so well put together that there is no reason why we can't do 10-15 sites."
Key facts
Total number of consented or progressed homes: 42,500
Total number of sites: 7 approved or allocated, with two more under promotion
Total number of schools being delivered across its sites: 29