How does this housing development that was instigated and managed by residents work in practice?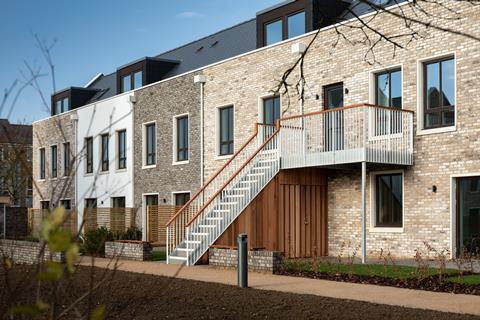 Co-housing is one of those terms that feels distinctly un-British. Exactly the opposite, in fact, to the word "marmalade".
Co-housing refers to a form of housing that is instigated and managed by residents. According to the UK Cohousing Network, the official definition is an "intentional community, created and run by its residents, where each household has a self-contained, private home as well as shared community spaces and facilities."
The world's first co-housing project was built in Denmark in 1972 and while the practice has since rapidly grown in popularity in countries like Sweden, Germany, the Netherlands, Australia, Canada and the United States, it has yet to make a significant foothold in the UK. Today there are around 20 established cohousing "communities" in the UK. Yet in Berlin alone there are almost 500.
Nonetheless the UK co-housing market is tentatively growing and in recent times the sector has produced some significant examples. In 2015, Henley Halebrown Architects completed London's first co-housing development of six houses and the following year architect Pollard Thomas Edwards' 25-unit New Ground scheme in north London opened as the UK's first co-housing development for older women.
But now, the stakes have been raised significantly with the completion of one of the UK's largest co-housing projects to date. Marmalade Lane is an £8.3m development of 42 units in the suburban Orchard Park district of north Cambridge. It is the first co-housing scheme in the city of Cambridge and it contains a mixture of two- to five-bed terraced houses as well as two-bed flats. The project has been designed by Cambridge-based Mole Architects for a joint venture development team led by new developer TOWN and Swedish subcontractor Trivselhus, suppliers of the closed-panel timber frame system used for the construction of the houses.
In keeping with the cohousing ethos Marmalade Lane also incorporates a number of shared facilities. These are extensive and include a shared garden, a workshop, gym and large common house which houses a play room, guest bedrooms, laundry facilities, meeting rooms and a large hall and kitchen for shared meals and parties.
But there are three significant features that are not necessarily typical to the co-housing typology that make Marmalade Lane unique. The first is that the scheme was commissioned and enabled by the local authority on formerly public land. In so doing it represents an interesting example of how co-housing, traditionally a private enterprise, can be facilitated and perhaps expanded by local authority input.
Secondly, Marmalade Lane includes several custom-build elements. In some instances, residents were able to select internal layouts and elevational finishes. Custom-build may seem like a natural extension of a housing typology already driven by end-user input but as yet in the UK it has rarely been tested in the co-housing format. Its use here makes Marmalade Lane an experimental enterprise of note.
And finally, as Marmalade Lane is one of the first UK co-housing schemes of a significant scale, it forms a unique design response that for the first time, attempts to develop a specific co-housing architectural language that deals with wider urban design principles such as streets, permeability and the interaction between public and private realm.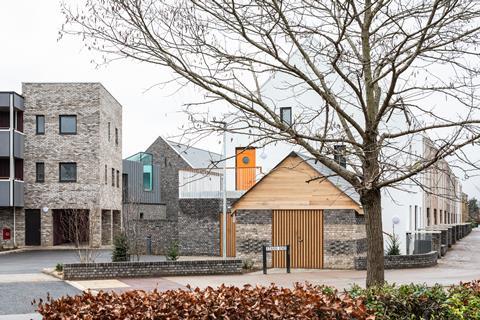 Local authority influence
The Marmalade Lane project began back in 2000 when Cambridge council began redeveloping the Orchard Park district in the north of the city. Around 900 homes have now been built but at the start, the Marmalade Lane plot was known as plot K1, the name eventually adopted by the group of residents who collaborated to turn their co-housing vision into a reality.
Initially the council planned to sell the plot, which it owned, to a housebuilder. But the sale fell through in the 2008 crash leaving the council open to exploring other development opportunities it was in a position to support, of which co-housing emerged as paramount. The K1 group already had a brief which outlined their ambitions for the site, and then formed the basis of a two-stage open developer competition, which was eventually won by TOWN and Trivselhus in 2015. The joint venture then purchased the site from the council and submitted a planning application at the end of the year with construction starting in 2016.
For TOWN founding director Neil Murphy, the involvement of the local authority was central to making the co-housing venture work. "We acquired the land with a fixed land purchase price based on full market value, which was agreed with Cambridge council. However, this price also took into account the K1 co-housing brief. Also, as the council was committed to making a co-housing development work, we were able to defer payment of the land price, which was to be paid out of sales revenue. This aided development cash-flow significantly."
As the council was committed to making a co-housing development work, we were able to defer payment of the land price, which was to be paid out of sales revenue

Neil Murphy, TOWN
The council's willingness to be flexible with regard to the commercial arrangements for the land purchase enabled the realisation of a venture that a private developer may otherwise have deemed too risky. While Murphy concedes that the absence of such municipal cooperation might present commercial challenges for other schemes, he maintains that it proves that "co-housing doesn't need a rich benefactor" in order to become a reality.
For TOWN co-founding director Jonny Anstead, the council's visionary approach is also indicative of wider changes other councils could make to render co-housing a more feasible proposition. "It's understandable why councils would wish to maximise their financial returns when selling public land in order to get best value for the public purse. But if we were to redefine value as a 'triple-lock' that includes social and environmental returns and not just financial ones, then that could unlock development opportunities for co-housing on council-owned land up and down the country."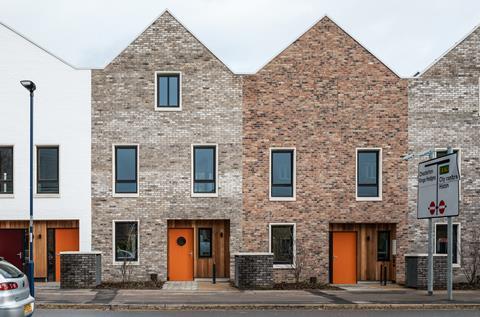 Custom-build
It wasn't just in the area of land purchase where local authority influence was felt but design and aesthetics too. Part of Marmalade Lane's marketing appeal to residents was the fact that part of the units were custom-build. Each co-housing household was able to select one of five shell houses or flat types which could then be individually configured through a floor-by-floor selection of internal layouts, kitchen and bathroom fittings and external brick specifications. Houses come in a wide or narrow width but they, as well as the flat shells, all conform to a 7.8m-deep plan which allows them to be distributed in any sequence along a terrace – an arrangement that was determined by resident choice.
By and large, internal variations had no external ramifications and were consequently not a planning concern. But clearly the brick specifications and terrace 'sequencing' very much were. This presented a challenge with the planning application. How could the design team create planning drawings that depicted elevational scenarios which residents might not yet have chosen?
Initially, the developer had hoped that as the planners had a strategic interest in developing the site as a co-housing scheme they might be minded to relax traditional planning requirements and accept something akin to an elevational options schedule depicting various configurations possible from the materials palette selected. This would have given the planning authority oversight of materials and composition but ultimately permit further changes at a later stage driven by residents' choices.
But in the end the planners insisted on the more conventional fixed elevation drawings depicting final configurations. However, as Mole Architects founder Meredith Bowles explains, this was not necessarily the obstacle it might have been.
"Luckily we had residents engaged in the process right from the start so we were able to bring forward the process of them choosing brickwork and elevations and then incorporate this into the planning application. However, this only worked because the residents were involved in the co-housing process right from the start. If we're serious about growing the co-housing custom-build market, then this is something the planning system is definitely going to have to flexibly adapt to or else it could stop other similar schemes of this kind in their tracks."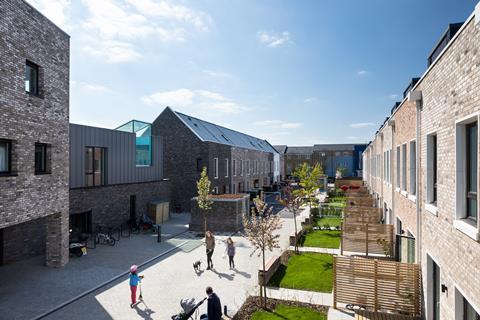 Design
In total, Marmalade Lane incorporates four separate blocks arranged around a communal garden and a new street. The first two blocks are rows of terraced housing overlooking the street and the third block is another row of terraced houses set at right angle to the previous two. The final block contains the common hall and communal facilities.
All four blocks feature a mix of exterior brickwork of various colours and shades. Externally there is no evidence of the timber frame from which the houses are built or the CLT frame that provides the structure for the flats and common areas.
With their pitched roofs and subtle undulations in tone and texture, the terraces in particular evoke a contemporary reinterpretation of traditional residential motifs and vernacular that is reminiscent of Cambridge's other stellar reinventive housing scheme, the Stirling prize-winning Accordia. But what is surprising here is how it is almost impossible to tell that this is a co-housing.
But there are of course giveaways, as Bowles points out. "There's the shared garden, the shared common house facilities and the new street, which has been deliberately kept car free as per our and the residents' intentions. The street also reveals the unifying effect the co-housing model has on public realm and private space."
The street also reveals the unifying effect the co-housing model has on public realm and private space

Meredith Bowles, Mole Architects
The street is indeed the nucleus of the development and it exposes a number of interesting urban co-housing consequences. Oddly, the street is lined by entrance frontages on one side and rear gardens on the other, something that would probably be undesirable in a conventional development. But it works here because the co-housing model encourages openness, here expressed by the lack of defensive space to the front of the houses and the virtual omission of private fences around the back gardens.
Privacy is instead more subtly implied by a discreet landscaping strategy comprising low hedges and knee walls, which double as seating for the street itself. Thus we see the co-housing model blurring the boundaries between public and private realm by using private activity to bolster the level of animation the street offers to both the development and the surrounding public realm. Crucially, it also ensures that the street, though privately owned, is able to tacitly invite non-residents to use it as a public through-route while ensuring that it always maintains its intimate, residential and notionally private character.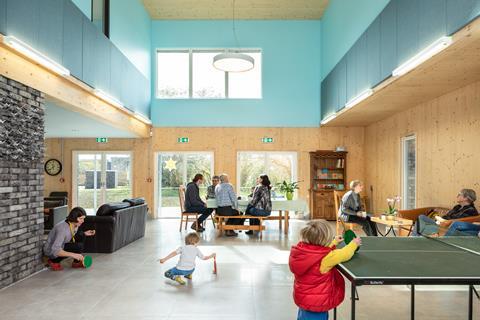 Community
Of course what is central to the co-housing model is not just the design or funding model but the community it maintains. Elaine Brewis was part of the original K1 group and moved from London purposefully to live in a co-housing development. "Some of my friends still ask me if I actually have my own house! Some people see it as a commune rather than a community but the truth is you're able to determine the level of communal engagement you want. But I love living here, it's like a village, everybody knows everybody else."
I love living here, it's like a village, everybody knows everybody else

Elaine Brewis, Marmalade Lane resident
Of course this is not a format that is likely to appeal to everybody. In the UK, co-housing is also still primarily perceived as something of a New Age, middle-class pursuit, something its affordability mix and management structure does little to dispel.
There is no affordable housing on Marmalade Lane, although both the design team and council maintain this is offset by generous affordable housing provision in the wider Orchard Park development. They also point out that by older couples downsizing into the development, large family houses in the surrounding area are being released to younger buyers and tenants.
Nonetheless, prices are relatively reasonable for a city that almost rivals London in terms of property values, with one-beds starting at £195,000 and going up to around £500,000 for four- and five-beds. Properties are also either purchased freehold or on a 999-year lease, with an annual service charge that varies from approximately £400 to £800 depending on the size of the property.
Communal areas are run by a common parts management company to which each household is allocated one director and which is jointly owned by all residents. Should someone wish to move out, the company has six weeks to find a new buyer willing to share in the co-housing ethos before the property is put on the open market.
It is perhaps when the next tranche of residents who were not involved in its creation move into Marmalade Lane that the durability of the co-housing model will be truly tested. But what is perhaps most interesting about Marmalade Lane is that it offers a formally structured expression of many of the qualities everyone aspires to deliver in housing. For before co-housing was invented, there was a term for residential developments that incorporated good design, close communities, communal gathering, shared gardens, active streets, municipal support and user choice: it was simply called housing.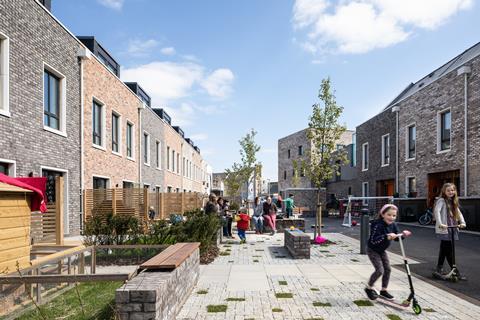 Project team
Client: TOWN / Trivselhus AB / Cambridge City Council / K1 Cohousing
Architect: Mole Architects
Main Contractor: Coulson Building Group
Structural Engineer: Elliott Wood
Services Engineer: Hoare Lea
Quantity Surveyor: Monaghans
Project Manager: Monaghans
Landscape Architect: Jamie Buchanan