A time-constrained project for military housing on Salisbury Plain turned into an exemplar of collaboration between rival timber frame firms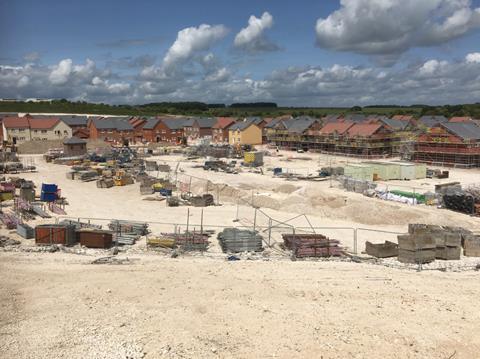 Located in Wiltshire and parts of Bedfordshire and Hampshire, the wide expanse of Salisbury Plain has hosted activities of the British Army for more than a century, since 1898 in fact, when the first military exercises were conducted in the area. The army occupies half of the plain's 300 square miles, using it as a training facility for tank and artillery units and others. Additionally, living quarters for military personnel are arranged in existing barracks and army camps dotted across the area. These will soon be joined by a trio of new residential schemes – Larkhill, Bulford and Ludgershall, being built to house soldiers and their families, many of whom are being brought back from bases across Germany as part of the Ministry of Defence's re-basing programme.
Building these new settlements is the job of Lovell, part of contractor Morgan Sindall. Hired by the Defence Infrastructure Organisation in 2016, Lovell is tasked with delivering more than 900 homes across three sites – Larkhill, Ludgershall and Bulford – as part of a £250m contract, and to put it bluntly, time is of the essence. All three needed to be completed by May next year to house the returning military personnel, and with this in mind Lovell took the decision to appoint two timber frame manufacturers to complete Larkhill, the largest job: Stewart Milne, which was already in the process of putting up 242 timber frames at Ludgershall, and Taylor Lane, which was doing the same with 225 kits at nearby Bulford.
But Larkhill was big. Almost twice the size of each of the other two schemes combined. Building 450 homes across a near-30ha site would take a concerted effort, one which John Leary, major projects director at Lovell, eventually recognised would require the services of both firms. Competitors, working together, delivering houses. On the same job. It was almost unheard of.
Competitors, working together, delivering houses. On the same job. It was almost unheard of
While initially minded to give the job to either of the outfits, Leary realised there would be issues in putting his eggs in one basket, not least with the need to complete the scheme in a two-year time frame. "I needed to manage the delivery risk," he says. "I think either of the firms, Taylor Lane and Stewart Milne, who we got to know very well, could have done the job. But we elected to go with both." The prospect of having rival companies working side-by-side on the same job may give some clients a case of the vapours. Understandably wishing to avoid any possibility of fallouts occurring between the two workforces meant Leary was very clear with both companies what he wanted. "What was essential for me was their willingness to collaborate at every level. Both out in the field, on site, on a day-to-day basis, and in the drawing office, sharing things like intellectual property and the various nuances of their respective designs so that we could consolidate them into a single solution."
Both firms are putting up eight homes per week in close proximity, and Leary highlights they had to sit down and plan in detail things like supply deliveries and sorting crane positions in order to avoid them over-sailing each other. "When we have a crane lift we have an exclusion zone and that sterilises an area of the site. That had to be overcome. So these guys planned those sort of detailed aspects around the work on site," he adds.
I think either of the firms, Taylor Lane and Stewart Milne, could have done the job. But we elected to go with both

John Leary, Lovell
While neither Taylor Lane nor Stewart Milne had expected to be working together on a job they both believed they could manage by themselves, the firm's respective bosses are keen to stress they had every confidence the project could be delivered as required by working alongside each other. Barrie Lane, managing director of Taylor Lane, says: "When we first got involved there was nothing to suggest that we would be collaborating with another supplier. What attracted us was the size of the project, it was the biggest we've been involved in, even at half of it. It was still a massively significant piece of work for us."
Communication
Financial details of what each company was paid – construction of the required 450 homes being split down the middle – was never up for discussion and remains confidential. But otherwise constant and effective communications have been key to the job working out. Much of the success of the Larkhill scheme, which is seeing 16 units delivered each week versus one or two homes using traditional methods, has also been down to rigorous planning. "We were able to get together with Stewart Milne at a very early stage and talk through everything," says Lane. "That was crucial. We had plenty of time to discuss things, thrash things out. It also helped that we knew each other before the job started."
Alex Goodfellow, Stewart Milne's managing director, says: "We were both trying to win the whole job and we would have been delighted to have won the whole thing. But when we heard it was going to be shared out that was fine. When we heard it was going to be Taylor Lane that was better. We felt we could have a professional relationship with Barrie's team. John set the ground rules out fairly early. He wanted us all to collaborate, to look at value engineering together. The only thing we were encouraged not to discuss were the commercial aspects of the contracts we'd both signed."
When we heard it was going to be shared out that was fine. When we heard it was going to be Taylor Lane that was better

Alex Goodfellow, Stewart Milne
And cooperation had to spread throughout the workforce, not just being restricted to the executive level. Goodfellow says: "Beyond the guys at the top of organisations like ours working together you've got to be able to show a client that the people around them can also work cooperatively with another firm's team." Workers on the ground – and across both companies there are hundreds of them – had all been told if the firms were to make a success of the job there could be no argy bargy between them. That's not to say they weren't frustrated from time to time, acknowledges Goodfellow. "Like maybe there're two ideas on the how to do something and you don't always get your way on every occasion. But we'd work together to present a case to John, as the main contractor, to give him the confidence that we're not going to be fighting with one another."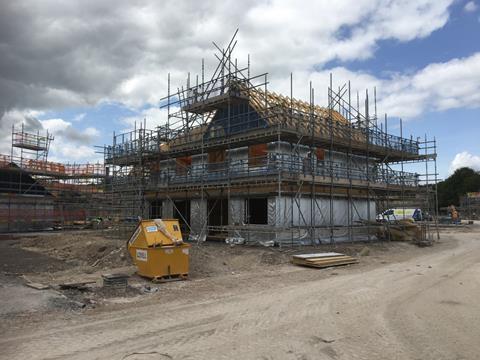 Despite what some might expect to be a recipe for disaster matters do seem to progressing according to plan. The start of the Larkhill job was delayed by a few months due to factors which included the need to build on an additional plot to avoid large numbers of retaining walls and steep roads across the estate. There was also the pressing need to deal with some old but still perky ordnance – this is the home of the artillery after all – as well as the discovery of a range of archaeology from the Neolithic period which needed to be researched – Stonehenge is only a couple of miles away – and from more recent times training trenches dating back to the First World War.
These issues having been resolved the first timber kit was put up at the start of November last year and now more than 300 dot the site, well on the way to meeting the target of 450. Structures are being put up with impressive speed every week, rain or shine, on a complex layout where teams from both Taylor Lane and Stewart Milne build frames on a series of dedicated zones across the site. Working alongside each other has meant two large cranes, operated by both firms, can work safely barely 50m apart. Supply deliveries – each house requires around three tonnes or six cubic metres of timber – are also seamlessly integrated. With 350 HGV lorries turning up daily when the site is at its peak operating level it's the very manifestation of the word "cooperation".
Lovell's Leary acknowledges the role the Ministry of Defence played in providing the platform to deliver nearly 1,000 homes, albeit the government doesn't have an issue providing the required land for the job. "On our side of the table we've shown what this industry can produce at a time when the country needs 300,000 homes a year and it isn't getting them," adds Leary. Why? "Because usually procurement is so fragmented, so burdened by the planning process. Here we have the platform and we've proved just what can be done."
As a showcase for what can be achieved in delivering quality homes quickly, Lane of Taylor Lane agrees. "We were absolutely confident this would work and I'm delighted to see that it has done so onsite. The crane situation is one where clashes could perhaps occur, but with the planning that went into this, with regular meetings weekly if not daily, anything can be and is being resolved." Lane says his business won't be the only beneficiary of the collaborative approach. "The message isn't around what we've learned, it's what the industry has learned. Namely that timber frame has arrived, that it can take on any scheme and make a success of it. This collaboration has been the proof of that."
With the planning that went into this, with regular meetings weekly if not daily, anything can be and is being resolved

Barrie Lane, Taylor Lane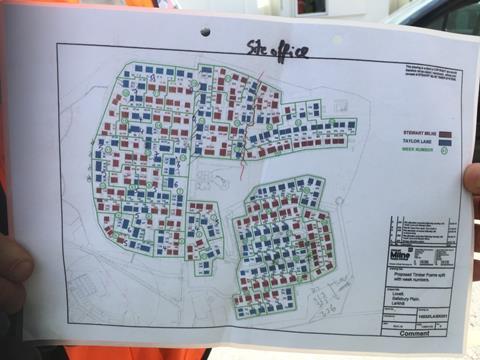 Scale
The size of the job demonstrated to Stewart Milne's Goodfellow how such scale could affect the output of the firm's factories and the benefits that would bring. "Our Witney factory increased production, as a result of this job, from 60 kits a week to about 100 a week. In terms of design for manufacture we were able to design it all upfront, value engineer it to death and then build it in the factory to suit the manufacturing process. That enabled us to be more efficient and keep the activity balance of our factory pretty level rather than really busy one week and a bit quiet the next week."
Leary had driven a hard bargain, Goodfellow says. "This job for us is the equivalent of 25 normal jobs. We took a bit of a view that in order to win [Larkhill] we would get value coming through the efficiencies and scale of the job and we've delivered that to our bottom line. But it took a bit of a leap of faith that the main contractor would do what he said he was going to do. Because they don't always."
All three company bosses reject the notion that Larkhill has been just an experiment in how firms can work together on such a large-scale job. Lane says: "It's been exceptional in that we've had continuity throughout. That is massively important. Without that there would have been problems."
Goodfellow says what has been achieved on Salisbury Plain is an example of good practice, pure and simple. "This has been an exemplar project. All the reports that have been written over the years about collaboration and partnering … in theory that should work. Sadly, it seldom works as often as it should. In this case it has."
Looking further afield Lane says he hopes this is "not the one and only time this happens. I think it would be great to see something spring from this. And that's down to everybody, from us on the Structural Timber Association and the timber frame industry, hopefully from Lovell, having seen what a success this has been, they'll promote this sort of thing in future as well."
The glaring advantage of using timber frame technology and two firms on the Larkhill job is speed of delivery. As Lovell's Leary says: "You couldn't have done this in traditional methods. Well, in five years you could. But not just over two."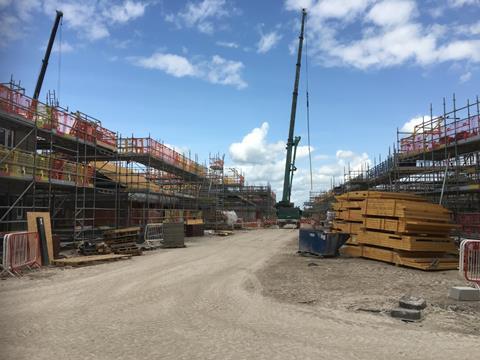 Key Larkhill facts:
Main contractor: Lovell Partnerships
Timber frame contractors: Stewart Milne and Taylor Lane
Site size: 29.8 hectares
Homes being built: 450
Delivery split: 50/50
Delivery rate: 16 per week
Completion date: May 2020