The Labour Party wants to boost investment in housing to £10bn, but how radical is that proposal – and its many others?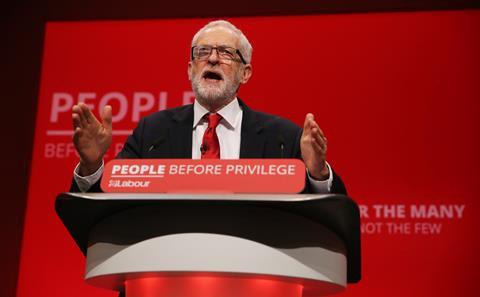 Labour's party conference already had a tumbleweed feel about it on Tuesday evening last week. Normally, Brighton's watering holes would have been buzzing as activists geared up for Jeremy Corbyn's speech the following day. But a last-minute switch, triggered by the Supreme Court's ruling that the prorogation of parliament was unlawful, meant the conference's showpiece event had been brought forward so the leader of the opposition could get back to Westminster.
One group stuck around, however: housing activists. To accommodate Corbyn's speech, Labour's housing motion was pushed back until Wednesday morning. It received little media coverage amid the furore surrounding the resumption of parliament, but housing is a policy area that matters to Labour's grass roots. Three times as many constituency parties submitted motions on housing than for health and education combined.
So just how radical are Labour's latest proposals and is there that much difference between its agenda for housing and the stance taken by its political opponents?
The conference motion
Labour's position on housing has been boiled down into what is known under the party's internal procedures as a composite motion, which was then endorsed by delegates. The measures included committing Labour to building 155,000 social rented homes a year, at least 100,000 of which should be council properties, adding up to a minimum of just over 3 million additional such properties over a 20-year period. This would be paid for by increasing housing grants to £10bn a year, to be announced at the first budget of a Labour government.
Day one of a Corbyn administration would be marked by the immediate scrapping of council tenants' right to buy. The party also pledged a "commitment to stabilising nominal house prices".
But just because a motion has been passed by Labour conference, it does not automatically become part of the party's next manifesto, shadow housing minister Sarah Jones told the National Housing Summit the day after the party conference closed. She said the motion's pledge that councils should take over control of housing associations had to be viewed in the context of individual landlords failing, rather than a wholesale nationalisation of the not-for-profit sector.
Housing allows politicians to deliver economic benefits and hand over key results within the lifetime of a Parliament. You can't achieve that with railways and power stations

Toby Lloyd
Even so, the policies approved by Labour members last week go far beyond the package outlined by the party just over a year ago in its Housing for the Many document. Labour conference's goal that housing investment should be boosted to £10bn goes much further than its officially sanctioned figure of £4bn, which in turn is more than twice as much the £1.7bn allocated by the government for housing capital investment last year.
Labour's proposed figure is large, but not off the scale. A coalition of housing bodies recently published a report that recommended raising the affordable homes budget to £12.8bn a year. It calculated this would deliver 145,000 affordable homes a year. Of those, about 90,000 would be social rent properties that swallow up more subsidy than those classed as affordable tenure, which are let out at 80% of market rate.
But the headline level of investment can be afforded, according to Stephen Teagle, who heads the partnership arm of housebuilder Galliford Try. He told the National Housing Summit that £88bn – the recently revised figure for building HS2 – equated to seven years of housing spending at the levels being pushed for by the NHF. While HS2 will benefit only selected parts of the country, a ramped-up housing programme has the potential to touch every area, Teagle said.
Toby Lloyd, who was housing adviser to Theresa May, agreed that extra housing spending had to be seen in the context of the wider tax and spending decisions. Pointing to the £7bn-plus sum that the government has sacrificed annually by forgoing plans to increase fuel duty, he said: "It's not an impossible amount of money."
The other big political advantage with housing is that it can be delivered more rapidly than infrastructure, said Teagle. "It is characterised by a much shorter time for implementation and allows politicians to deliver economic benefits and hand over key results within the lifetime of a parliament. You can't achieve that with railways and power stations."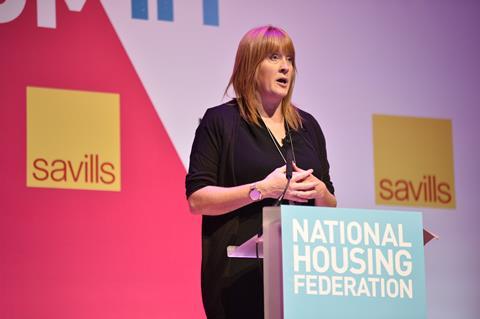 Land market reform
The alternative way of securing extra affordable housing is to be "much more interventionist" in the land market or ramp up existing tenants' rents, said Lloyd, adding that the latter option is "by far the least justifiable". Labour's plans to set up a sovereign land trust with beefed-up compulsory purchase powers came under scrutiny on the party conference's fringe.
John Healey, shadow secretary of state for housing, was unapologetic about the party's radical stance. He told one fringe meeting that there was "huge profiteering" in the land market, with even the possibility of a grant of planning permission leading to "massive value creation". This concern about land extends across Labour's usually warring tribes. The moderate south London MP Helen Hayes, who worked as a town planning consultant before entering politics, was forthright on the issue at an event organised by the Home Builders Federation.
"We should be able to compulsorily purchase land at existing use value rather than hope value that planning permission would give it. This would incentivise land owners to bring land forward more quickly, would deter speculative investment in land and allow homes to be built without future consideration of profit so there would be more homes at lower rents," she said.
The system of developer contributions is ripe for reform, Hayes added. "We need to take out the opportunities for gaming the system so that planning requirements for affordable homes are fixed and not negotiated and so developers have to provide affordable homes on every site of scale."
Unsurprisingly, perhaps, there has been push-back against this tough stance from housebuilders. Chris Tinker, chair of major projects and strategic partnerships at Crest Nicholson, said the idea that landowners were profiteering was wide of the mark, pointing out that the underlying price of development land has remained pretty stable throughout his career.
Cross-party consensus
Despite these industry reservations, land is an area where there may be room for political consensus on housing policy, according to Will Tanner, director of the centre-right think tank Onward. The former No 10 policy adviser told the National Housing Summit he had been struck by the extent of agreement on housing policy, particularly how land is a "big part" of the problem.
This consensus extends to interest in giving local authorities more planning powers to intervene in the land market, he said, adding that there was little ideological opposition to such ideas these days even in right-wing circles.
The seeds of a genuinely cross-party approach to bringing land forward can be seen in the review of land supply, carried out by the former Tory grandee Sir Oliver Letwin, which was published nearly a year ago. "Despite what deregulation fans would have you believe, the public sector will have to do more," said Lloyd.
This kind of talk is music to the ears of Healey, who has said: "When you start to have what are radical views getting accepted as common-sense solutions, you know you are making progress."
Given Labour's standing in the opinion polls, which show the party is struggling to stay in second place ahead of the Liberal Democrats, this might be the opposition's best bet of smuggling its radical agenda into government policy.
The same polls show there is a strong chance of a hung parliament, which could force political parties to seek areas of common ground in order to form a coalition government. The discussions will be tough, however. As Tanner said: "British politics is going through a momentous period of conflict. It's difficult to see parties coming together over any issue."