Confidence in CLT is falling further as the combustibles ban is set to be reduced to 11m but advocates say the material has many advantages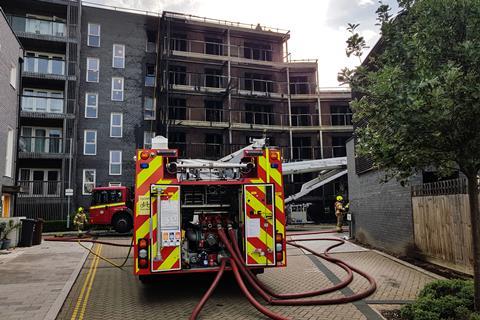 This week's reopening of the inquiry into the Grenfell Tower disaster seems to have concentrated minds at the Ministry of Housing, Communities and Local Government.
Just before survivors and their representatives gathered in Holborn, central London, along with firms involved in the tower's refurbishment for the second phase of Sir Martin Moore-Bick's long-running hearing, the housing secretary unveiled a package of measures designed to improve building safety standards.
For developers, the key announcement last week is likely to be a tightening of the ban on all combustible cladding materials. The height threshold at which this ban will kick in has been cut from 18m to 11m. The height of buildings where the installation of sprinklers will be mandatory has similarly been lowered.
Geoff Pearce, executive director for regeneration and development at housing association Swan Housing Group, believes this move was a no-brainer. "Banning the use of combustible cladding for building of all heights makes absolute sense," he says.­­­­­
Banning the use of combustible cladding for building of all heights makes absolute sense

Geoff Pearce, Swan Housing Group
New regulations have been put out for consultation, which could extend the ban on the use of combustible materials to blinds, shutters and other sun-shade products. In addition, metal composite cladding materials with a polyethylene core, such as the ACM panels, will be banned from any building.
Andrew Mellor, a partner at housing architects PRP, believes the new rules will reassure those buying and renting homes. "If I was purchasing a flat, I would reserve one of these," he says.
Mellor, who is also a technical adviser to the housing ministry (MHCLG) on building regulations and safety, noted that occupants will probably benefit from cheaper insurance and fewer sleepless nights compared with those living in recently developed blocks who may be worried about what their buildings have been clad with.
However, there were no crumbs of comfort in the review for advocates of cross-laminated timber (CLT), which was caught up in the combustible cladding ban when the legislation was launched last year.
So how will tightening the ban impact the market for CLT, both directly and indirectly? And what is the future of the material?
Blanket ban
The large, prefabricated engineered wood panels, made by layering timber and subjecting the wood to huge hydraulic pressure to strengthen it, were becoming increasingly popular construction materials before the ban was introduced.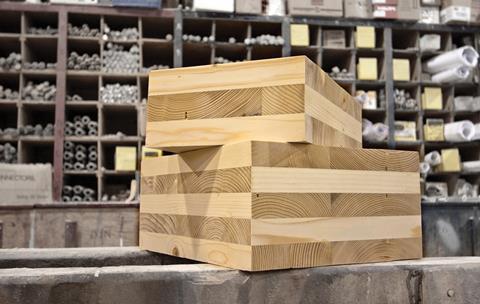 The lightweight material is cheaper to store and transport from factory to construction site than bulkier modular systems, says Alex de Rijke, founding partner of architect dRMM. CLT buildings can also be assembled on site using regular cranes, with no need for special processes.
The reason the government included CLT in its list of banned materials is because it has typically been used as a load-bearing facade, de Rijke says.
CLT may be a largely structural material, but the government has taken a belt and braces approach, Pearce says. "There was lot of pressure for a blanket ban."
With nervousness surrounding wood heightened by last summer's fire at Bellway's timber-clad development in Barking, Mellor is not surprised that developers are shying away from using CLT in their schemes. "It comes with a stigma and [questions over] whether the building is going to be insured."
Arnold Tarling, a surveyor who has fiercely criticised industry failings that contributed to the Grenfell disaster, argues that the government was right to include CLT in the ban – he says it will have a short shelf-life irrespective of fire issues.
"Nobody is thinking about the future," he says. "These buildings are not going to last as long as the ones in the 1960s; they are fundamentally flawed."
Drawing back
Lowering the combustible materials ban to 11m has compounded the drop in confidence in CLT even farther. This month, it emerged that Swan will use concrete and steel instead of CLT in its higher-rise residential buildings. Pearce says the developments in question are still on the drawing board, meaning that Swan's rethink on CLT will not have an impact on the housing association's development pipeline.
David Sheridan, executive chair of Ilke Homes, says the MMC specialist ­­­decided to use steel in its low-rise homes range following the Grenfell disaster. "We felt safer going with steel at the time," he says, noting the material's durability and greater rigidity when being transported as plus points.
Steel lasts longer and can be recycled but I think timber has its place in construction. I'm not saying we wouldn't look at it

David Sheridan, Ilke Homes
He also mentions concerns raised in a recent National House-Building Council report about timber and moisture as another factor in Ilke's decision to opt for steel frames.
"Steel lasts longer and can be recycled but I think timber has its place in construction. I'm not saying we wouldn't look at it," he says, noting the widespread use of CLT in other European countries.
But de Rijke argues that it was "completely wrong" for the MHCLG to put CLT in the same category as the highly combustible panels that were found so wanting at Grenfell. While timber is combustible, CLT burns slowly and predictably in a fire, whereas steel can suddenly fail if it is heated to a high enough temperature, he adds.
Loss of sustainability
Perhaps the biggest missed opportunity resulting from the CLT ban, though, is the contribution the material could make to slashing the carbon embodied in new buildings. Pressure will only increase on the construction industry to help meet the UK's 2050 net-zero emissions target.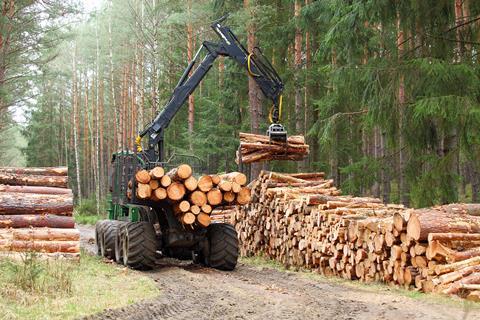 Pearce says: "[The ban] is a real pity when we are trying to reduce carbon. The bigger picture is the impact on carbon."
Unlike the emissions-hungry processes involved in the manufacture of concrete and steel, trees sequester carbon dioxide from the atmosphere rather than pumping it in.
"We will have to use low-embodied carbon material and timber is the prime, and very practical, example of those materials," says de Rijke, who adds that while other low embedded carbon materials exist, they are not well advanced.
"As a mass building material, [timber] can compete with industrial building methods, so it is important to make use of that in the context of the climate crisis. It is very important not to throw out the baby with the bathwater."
"When doing carbon calculations, CLT wins hands down over a concrete or steel frame," says PRP's Mellor.
Building regulations do not currently force developers to cut the carbon that goes into the materials that make up their schemes. But pressure is being applied in London, where the mayor requires developers to calculate how much carbon goes into the construction of their buildings.
"They are not setting a target, but are finding ways of getting industry to think about it," says Chris Twinn, who set up his own sustainability consultancy five years ago after more than 25 years at Arup.
When doing carbon calculations, CLT wins hands down over a concrete or steel frame

Andrew Mellor, PRP
But so long as CLT is banned, Mellor says that developers will have to look at other materials. "If we are looking at the lifecycle of carbon, we have to look at how to deal with concrete frames and making sure recycled aggregates are in the concrete, and that we can recycle elements of a building in different ways."
Pearce hopes that CLT can be rehabilitated, perhaps through a more robust testing regime.
So far, though, Mellor says that no one has come forward with that data and challenged the government. While he has seen small-scale demonstration projects from overseas, they have not been widespread enough to warrant reversing the ban.
Another option could be to change the way CLT is used so that it is not included in cladding, de Rijke suggests.
But he is confident that the game for CLT is not yet over. "If you note which materials succeed next, the history of architecture can be plotted from moving from stone to brick to steel to concrete. As a matter of urgency, it is self-evident."