The Chelmsford-based housebuilder's directors on their plans for the small but ambitious company in today's housing mix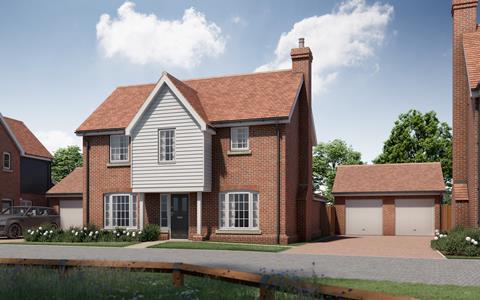 Such is the media coverage of the UK's housing crisis that the scale of the problem has become the conversation of those riding the modern-day equivalent of the Clapham omnibus. It's safe to assume that a lot of people are aware of the government's goal of building 300,000 new homes a year from 2025, yet many in the housebuilding sector think this a tall order, given the constraints facing the companies charged with delivering them. Funding is an issue, as is the country's planning system, creaking under the strain of thousands of applications and starved of the resources to process them. Meanwhile the UK's largest housebuilders hoover up large plots of land, launching new developments at a pace some critics believe has much to do with protecting their share price, while their coffers are boosted by taxpayers' money in the form of Help to Buy. Indeed, the scale, financial clout and out-and-out dominance of the Big Housebuilders might lead some to think that building the homes the nation desperately needs is their preserve and their preserve only. But there are many SME housebuilders still building homes around the country. And while the number of such small companies has fallen dramatically in recent years, many are making a decent fist of things, despite the pressures they face. Housing Today spoke to one such housebuilder, the family-owned Stonebond Properties, to find out what life is like for a small – but ambitious – firm.
We'll do about 50 units this year, around 150 next year, then 300 a year in five years. It's very exciting

Richard Cherry, Stonebond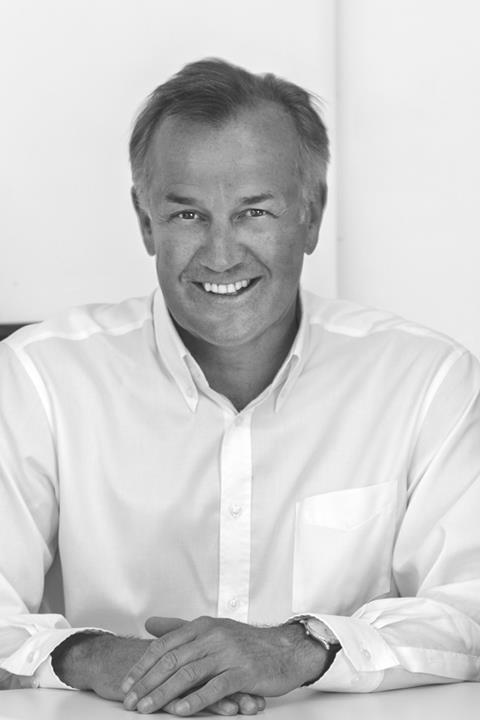 Based in Chelmsford, Essex, Stonebond Properties was founded in 1975 by Alan Cherry, the housing sector legend who 17 years earlier had set up Countryside Properties. According to his son Richard Cherry (pictured left), now Stonebond's chairman, Cherry senior had established the new company mainly as a way of holding shares in his first business, content to build one or two houses a year. Richard Cherry had worked for Countryside for more 30 years before retiring from the business as chief executive of its partnerships division in 2017, a year after the IPO which valued the housebuilder at £1.1bn. "It was a lifestyle change," he says. "I loved the industry but it was the time to move on. And we wanted to grow Stonebond." He and his brother "decided to invest significantly and grow the business". Growing beyond its niche as a large SME – no contradiction there, assures Cherry – building homes for young families, downsizers and some first time buyers priced at between £500,000 and £600,000 in Essex, Hertfordshire, Cambridgeshire and the outer boroughs of north London, he sees Stonebond moving further afield. "The plan is to grow the business out of this office over a five-year period … we'll do about 50 units this year, around 150 next year, then 300 a year in five years. It's very exciting. It's like when Countryside first started over a butcher's shop in Billericay. Everyone knew everyone in the business. It was lovely. That's where we are again." Stonebond has a team of 23 in the Chelmsford office and Cherry sees that rising to between 50 and 60 over the next five years as it seeks to open regional offices across the South-east and then spread out to places like the West Country and the North-west; Cheshire and the like.
Challenging
Life for the SME is challenging, Cherry says. He points out that the SME housebuilding sector has "collapsed" and that while 30 years ago 40% of new homes were built by 12,000 SMEs, now 2,500 small firms build 12%. So what's been the problem? It's largely around funding and the complexities of the whole process, says Cherry, although the way things have worked out have served to offer Stonebond a niche position. "We don't have any debt, but funding issues have dented that part of the sector. The majors don't want to get involved in sites much below 100 units. Our average-sized site will be 40 to 50 units. That's too small for the majors and too large for the small SMEs. So the land market is very good for a business like ours. There is a place for a large SME targeting sites of that size. The majors won't get the economies of scale they need, and the smaller guys struggle to get hold of funding."
Cherry says the government is supportive of small housebuilders through the Housing Growth Partnership, but for those looking for state backing it's a slow process, although he stresses that's not money his firm needs. But Stonebond is affected by the other problem: the planning system. "It is very tough for small housebuilders. The cost of achieving planning consent for a site with 10 houses is many times what it was when we started out. The cost of planning is the toughest part of it." And local authorities simply don't have the resources, he says. "They want to make it easier to build homes although there are still the old problems of nimbyism and the way planning works. But mainly it's down to a lack of local government resource. We've done pre-application meetings where we provided lots of documents but those responsible for making the decisions haven't looked at them."
The cost of planning is the toughest part of it

Richard Cherry, Stonebond
While some larger firms – and a few smaller ones – go down the route of building affordable housing for housing associations Stonebond doesn't, although it has done joint venture activity with such organisations which are looking to get involved in a development to generate profits to invest into affordable homes elsewhere. "Sites that are at the top end of our size range we might JV to share risk and reward. Some of the housing associations could be good partners. But the model of providing affordable housing, as a staple diet? That's not our niche," says Cherry.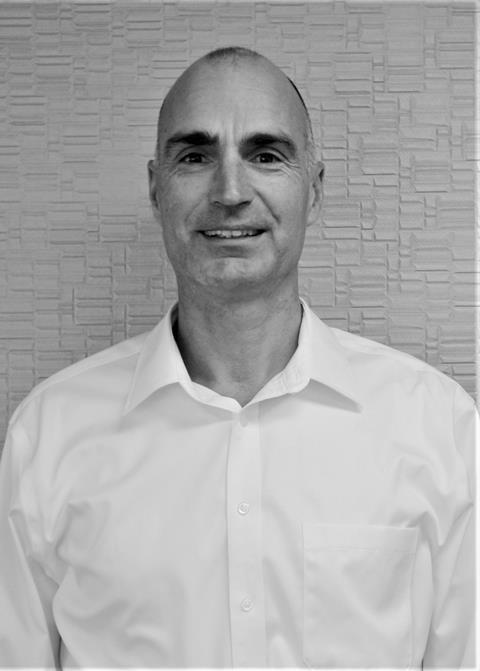 Evidence that business is tougher than it used to be is in Stonebond's use of incentives – such as paying all a buyer's stamp duty costs – when selling its homes. Stonebond's managing director Chris Weedon (pictured left) says these are budgeted, but whereas the firm wasn't using incentives six months ago, it is now. "Most buyers now would like to see stamp duty paid," says Weedon. "Or a contribution, 50% if not all. But demand is still up." Cherry nods in agreement. "People are haggling over prices, maybe 5%. But we're not seeing any significant price drops. If prices fall by 10%, our plans is to keep buying land, building and selling houses. And if our profit falls by 10%, so be it. We'll obviously try not to let that happen, but every 10 years or so our market gets into difficulties for some reason or other and we want to keep that growth going so that when the cycle comes back and the market is more buoyant we've got the right people here, the right relationships, and we keep that growth going."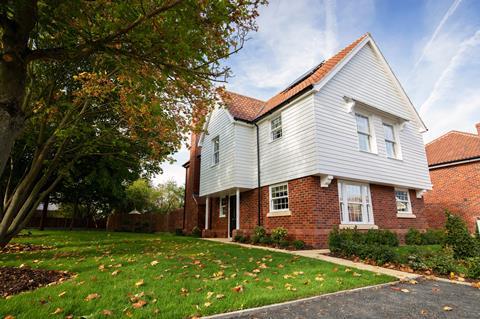 MMC
So what about that potential housebuilding panacea: modern methods of construction? Or offsite construction, as it was previously known? Cherry is a fan of MMC given its potential to help the country build more homes, but from a Stonebond point of view it isn't a route he sees the business going down anytime soon. "We're a traditional housebuilder. I see the merits of MMC, yes. At Countryside our Midlands and Northern businesses were 100% timber frame. But at our level planning authorities in the South and elsewhere are resistant to standardisation." Councils see MMC and they think of prefabs, basically. As a general approach it makes a lot of sense, Cherry believes, "and anything that can be done to speed up the process and make quality more consistent has got to be good. But then set against that, it could take us many months to get planning consent on a development and then someone's trying to push a lot of investment into MMC to get you to save four weeks on a construction programme. I'm not negative about MMC generally, but for us, at our level, there are other priorities." And being around 12% more expensive than traditional building techniques, cost is also an issue, Cherry says. "If you're doing huge volumes then you're going to be able to drive costs down."
I'm not negative about MMC generally, but for us, at our level, there are other priorities

Richard Cherry, Stonebond
While relatively unfazed by the staffing issues around Brexit – Cherry says only around 5% of onsite workers on Stonebond sites are non-UK – the potential lack of labour skilled in the MMC arena is a factor in its slow take-up, he believes. "It's certainly another challenge for SMEs. If we suddenly said right, let's change all of our construction in a reasonable timeframe to modular construction, even if it was over to timber frame, which is a pretty tested path … to do that would increase our direct construction costs on site. We'd have to retrain loads of people and I'm not sure the benefit today would make the difference, not when set against the higher costs. There'll come a time when it will, but once others have pioneered it."
Weedon agrees. "Doing 30, 40, 50 homes on a site, the delay at the front end would probably not reap the rewards we'd be looking for by the end of the development. I struggle a little bit on the uniformity of MMC. We maintain individuality in our designs, in our sites and houses. How are you going to have the sort of individual design that the government and its Building Better, Building Beautiful commission and others are looking for if you go down the modular route? I think MMC will have to come up with greater individuality and I don't think we are quite there yet."
We definitely want to retain a local family business culture and feel

Richard Cherry, Stonebond
On track to post a £4m pre-tax profit on £25m turnover this year, where does Richard Cherry see the business in a decade's time? "It's important that we keep our key philosophies and the atmosphere of the place. My dad was great at motivating people into achieving certain standards, and we've taken on that approach here. We definitely want to retain a local family business culture and feel. We want to be in control of our own destiny, not in the hands of somebody else calling the shots."