The chair of the G15 group of London housing associations has worked in the sector for 30 years – how does he see its future unfolding?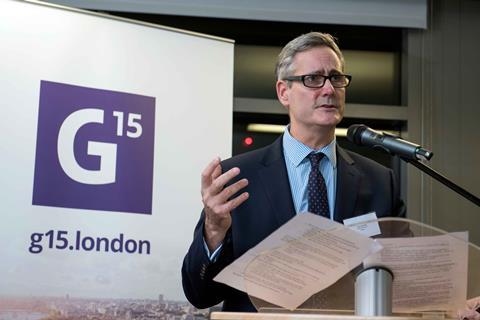 The job of chairing the G15 group of London's largest housing associations moves from one member association to another every two years, and Paul Hackett, chief executive of Optivo, has found himself in the chair during a particularly uncertain and potentially testing time. With Brexit on the horizon, a London property market that is faltering and a continuing crisis in housing affordability, there are major issues to address.
Hackett also has his day job leading a housing association that has 44,000 affordable homes under management in London, the South-east and the Midlands, and an ambitious build target of 1,500 homes a year over the next decade. And somehow Hackett finds time for more, most recently being appointed an honorary professor at the UCL Bartlett School of Construction and Project Management and a member of RICS' housing supply group.
In both his G15 and Optivo roles, Hackett has been an advocate for the sector, last autumn calling out the government's £2bn long-term funding settlement for housing associations as inadequate. He continues to set out the sector's case in the run-up to the chancellor's spring statement and, of course, Brexit.
What is the G15's message to the chancellor as the spring statement approaches?
The fundamental situation at the moment is that the funding model for the housing association sector that has been in place since 2010 is now at full stretch. Grant rates for housing associations have gone from 50% to 20% and in London the gap has been filled with the help of association's private-sale homes. Everyone, including the government, has got used to the model that the programme would be sustained by housing associations taking the increased risk of market-sale housing. But since the 2016 EU referendum the market has cooled significantly, so it is difficult to see the model doing more.
That raises three questions. The first of those is around what can be done to support the current programme – can market-sale and shared-ownership homes be converted to rented tenure? New funding is not the only way to do that; it could be done using unspent Right to Buy receipts, for example.
Secondly, if there is a correction in the market, things can happen quite quickly, which could mean sites getting into trouble and stalling, so can sites in the current programme be kept going?
The third question is about the longer term. There is a stronger argument [now] for "investing to save" in social rented housing. If we could do that, we could deliver benefits in areas such as employment and skills. If you increase the time horizon for funding [creating greater certainty about funding] you can work with the supply chain to expand the capacity of the industry, taking housebuilding offsite and developing training opportunities.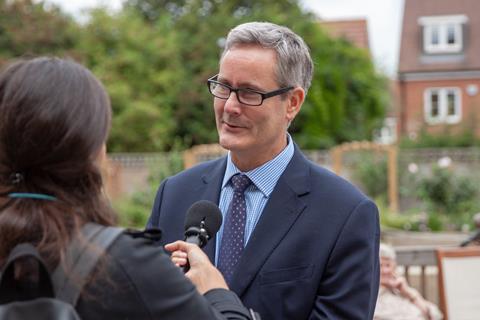 The G15 was recently co-signatory to an open letter to the communities secretary, James Brokenshire, warning of the impact of Brexit on housing delivery. How is the sector building resilience?
As the letter says, we are profoundly concerned about the potential impact of a no-deal Brexit, and are already beginning to see uncertainty around Brexit having an effect. All housing associations are preparing for all eventualities, including scenarios like the mortgage market completely freezing up. At Optivo, we have carried out stress-testing and know in that eventuality we could convert our entire pipeline to rent, without breaking our covenants. We would be able to build out what we are committed to, but there would be serious questions about fresh commitments.
Housing associations received a letter from the regulator a few weeks ago, directing us to be prepared across all aspects of our operations. We have also been in discussions with the Greater London Authority (GLA) about continuation of the programme, in the event of a correction, and have spoken with London councils.
We also have to think about safeguarding of residents, so we are making sure we have got lift and boiler parts. Some of our housing stock is in Kent, so we have to look at the implications of getting there if roads are blocked. We are looking at the full breadth of potential implications.
We're also looking at the implications of inflation going up. Ultimately that would mean less capacity to build homes, so the question is then what could the Ministry of Housing, Communities and Local Government (MHCLG), the regulator and the GLA do to help.
What's your view of the London market?
Sales are slowing but prices are holding. But with 29 March approaching, buyer sentiment is in a very unusual place. We're not seeing any evidence of mass discounting or down-valuations.
There is a pattern in London of private sector delivery backing away at the same time as the G15 are picking up. It is important that government recognises the countercyclical force that housing associations can be. We'll see a significant increase in housing association delivery as a proportion of delivery in London.
Factfile
Members of the G15: 12
Homes owned or managed by members: More than 600,000
Homes built by members each year: 10,000
Affordable homes delivery target by 2021: 55,000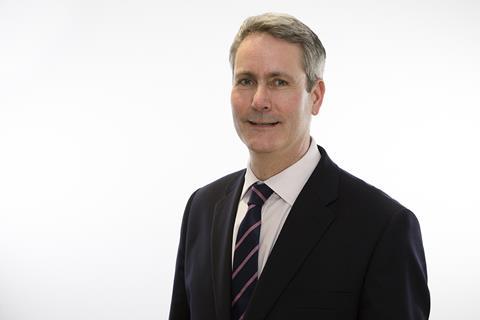 What interventions would help housing associations deliver?
We come back to the issue of longer-term funding deals. A 10-year deal would be really sensible. That requires a paradigm shift in how you think about housing investment. There needs to be a shift to thinking about it as infrastructure investment, as it increases UK productivity and investment. We need to move to a more mature debate about this.
In London, it would be helpful to have a more interventionist stance on land. The GLA has been helping with land assembly, and more powers would be helpful to enable bodies to bring forward residential land.
The argument for investment in affordable housing is growing. In March we will be publishing a report – with the National Housing Federation, Homes for the North and Savills – looking at additionality. This shows that investment in affordable housing does not crowd out the property market, as some have suggested. In fact, it shows the reverse.
This is part of a wider narrative, which is being drawn together to demonstrate how housing is more of an investment, partly because we have the worst housing crisis for a generation.
How do you see housing associations working with local authorities following the policy and funding changes?
At the G15 we welcome the relaxation of the Housing Revenue Account (HRA) borrowing cap and are pleased that the London mayor has committed £1bn to the boroughs to build homes. Some boroughs have established activities in housing while others are starting. The G15 launched its Offer to London pledges, acknowledging that local authorities are in different places.
We have been meeting every leader, elected mayor and borough. The challenges are quite different in every borough, but we have a great opportunity to work together in a new era of collaboration. Collaboration will deliver better outcomes, and there are not enough good development staff in London for us to compete.
What's your advice to someone following in your footsteps?
I joined this sector in 1989 as a trainee, doing the filing and making the tea, and I have done most jobs in a housing association. One of the lovely things about this sector is that you tend to work your way up; people generally don't get parachuted in at the top. So I'd say don't worry about securing a high-status job.
I love the fact that I can drive around and see schemes where I bought the land way back. It's a great privilege to work in this sector and my passion for it is as strong as ever, but the need for it is far greater than when I joined because of the affordability crisis. Today's solutions need to be bigger and bolder.