The build-to-rent specialist's development director on how to meet a 1,000 homes-a-year target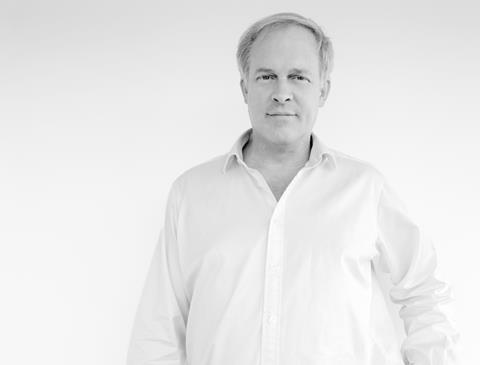 In little over six months, build-to-rent player PLATFORM_ has won planning consents for developments in Sheffield, Glasgow and Cardiff. That is some pace, but it is what the business has to do to stick to its target of delivering around 1,000 homes a year. The job of turning targets into buildings falls to Matt Willcock, a development director with a track record in property consultancy, as well as in delivering major residential projects in the capital.
It was Willcock's conversations with Westrock some five years ago that led them to launch PLATFORM_ in 2016. Move on another year and the venture had 580 units delivered in five locations across the south-east and south-west of England, forming a first phase of development that was sold into a vehicle largely owned by Invesco Real Estate. The developer continues to manage the first phase under the PLATFORM_ brand, and is injecting the funding from the deal into its current ambitious phase of development.
Why did PLATFORM_ start by working in south eastern commuter towns?
We targeted commuter towns because we saw strong demand there and because London was overpriced and so had little to offer. We saw a gap in using permitted development – there were office buildings in the towns that were ripe for conversion. At the same time, our peers were targeting London and competing with housebuilders in a market that was becoming very overpriced and that was tempering their progress.
Our second phase is focused on new build in key cities. We have three schemes coming up with 335 units at Sylvester Street in the Cultural Industries Quarter in Sheffield, 498 units at Central Quay beside the River Clyde, in Glasgow, and 206 in Cardiff city centre. We're now getting around 1,000 homes into the pipeline on an annual basis.
We want reasonable coverage of the UK and always have an eye on the London market. We are starting to see more opportunities coming through, but aspirations on land are still hefty. Fingers crossed, an acquisition will happen this year.
What is your target market and product?
Our target market is the 20-40 age group. The average age of our residents is 31 and we try to make our homes affordable to 50% of their location's workforce, so they are mid-market.
If you are going to keep homes affordable you have to make sure space is working hard, but we still provide amenities like gyms, lounges and roof terraces. We encourage residents to mix. It is important that people live in the whole building – if they are walking around the building in their pyjamas that means they feel it is their home.
It is important that people live in the whole building – if they are walking around the building in their pyjamas that means they feel it is their home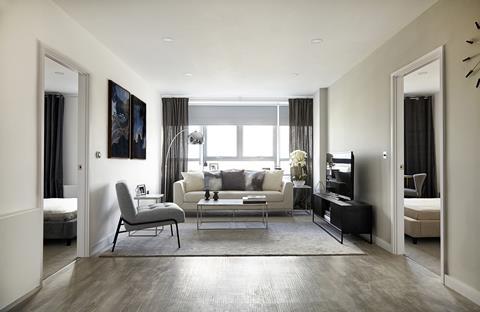 How have you managed to bring developments through at this pace?
It has not been easy – some schemes have taken longer than we would have liked. The permitted development element in the first five locations allowed us to be an operator much quicker than might have been a case. It enabled us to steal a march on our competitors – three years ago the private rental sector was very immature and there was a lot of conjecture about it. We've been able to see what works. But permitted development was not necessarily well received locally by planning officers, understandably as they had little control
All our schemes now are new build. They have been in locations where there has not necessarily been much build to rent. At a political level, there has been an eagerness for us to get through the system and people have been very welcoming. At planning officer level, however, you still have to deal with rules that are intended for more typical residential products, and are not necessarily appropriate for private rental. Rules need to catch up with build to rent.
Why is private rented housing good for towns and cities?
Providing good quality rental housing is key to productivity. For example, our Crawley scheme has 185 homes and is located not far from Gatwick airport, where people often struggle to find the right accommodation. The building is close to 100% occupied and helps to support the employment base. We have just entered a joint venture with Crawley Borough council for an office scheme that will open the way for a second residential scheme to meet demand there.
Cities like Sheffield and Glasgow have a lot of student housing, but face challenges in accommodating students after they graduate. There is a need for the right kind of housing to help retain graduates and attract inward investment. In Glasgow, for example, Barclays is planning to create a hub for its technology, functions and operations teams at Buchanan Wharf; that could generate 2,500 jobs and many of those people may need homes.
What are the biggest challenges for you in delivery?
Because we're targeting the mid-market, cost is key. We have looked at construction costs and the potential to use prefabrication but it is hard to make it work outside the South-east. Modular has a build cost of around £200 per ft² plus, but in the regions we are working to costs substantially below that. It needs to be cheaper to be applicable across the country.
We have looked at construction costs and the potential to use prefabrication but it is hard to make it work outside the South-east
Also, we acquire sites unconditionally – in Sheffield, for example, we made an unconditional purchase in a conservation area. That is a risk, so you have got to work with the planners to bring the scheme through, and that is not always compatible with a more standardised prefabricated design.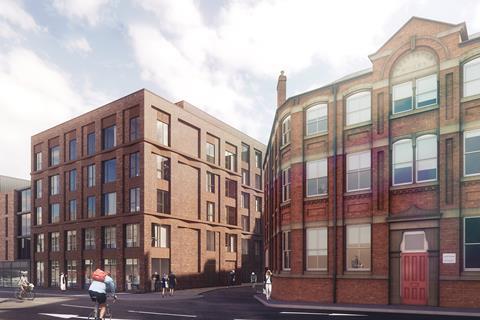 What have you learned from the first phase of development?
We have learned that we need scale to make things work most efficiently. There are embedded costs that apply in private rental buildings, whether they have 100 homes or 300. In the first phase our largest scheme was 185 units, while going forward the smallest scheme will be around 200 units.
We've also learned that there is a lack of interest in cars in our residents' age group. When we discuss proposals with some planning officers in the regions, they still talk about the ratio of 0.7 parking spaces per unit, but we find 50% of people living in our developments haven't learned to drive or bothered to buy a car yet. Take-up of spaces is so low that we now aim to put less than 20% car parking on schemes that are centrally located.
Factfile
Homes complete and occupied: 608
Homes under construction: 1,100
Homes in pre-construction pipeline: approximately 1,100
Delivery target: 5,000 homes in five years