The housing company boss talks rent-to-buy, its relationship with the council, and helping to found a boxing academy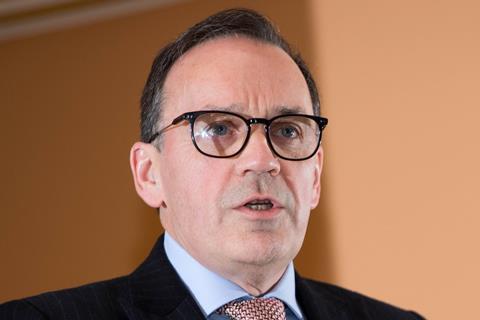 Liverpool council's housing company has just floated plans for its first major regeneration project. Homes, a park and a boxing academy led by a local champion are all being put forward to help transform part of Liverpool's Kirkdale district. The plans exemplify Liverpool Foundation Homes' approach, says chief executive Mark Kitts, combining a determination to sustain and improve lives with delivery of homes and physical regeneration. And for Kitts, such projects build on the work he did for two decades in his previous role as the council's assistant director of regeneration.
What are the biggest challenges to the Liverpool housing market?
Liverpool has a mixed picture of demand, so in the north, viability is quite low, but in other areas, notably the south, it is quite high. Liverpool's legacy of vast growth in the 18th and 19th centuries means the city has around 60,000 very small terraced homes.
The differences become stark when you look at council tax bands. In Liverpool 78% of properties are in band A and B, while the national average is 44%. A recent stock condition survey showed 20% of housing stock is past its sell-by date.
We have had a lot of property speculation in the city, resulting in the private rented sector growing by almost 300% since 2001 to 68,500 homes. The city council is now managing the impacts this has on the wider housing market through a citywide landlord licensing scheme. These issues have combined to create some challenging areas, and while the housing market renewal programme of the past started to do a good job – and some partners are still operating – when that finished it left many areas untouched. There is an arc around the city centre that is in need of support.
At the same time, our rate of home ownership is below average, at something like 20%, and we have a shortage of executive homes. Over the past 10 years we've noticed that when families do well, there aren't the homes for them to trade up into, so we tend to lose them to neighbouring districts. That has an impact for inward investment when companies are looking to attract staff.
What is Foundations focusing on?
We were established to intervene in the housing market by providing an institutional investment approach to the private rented sector, improving the tenant experience and raising the quality of our stock. Importantly, we are also providing a gateway into home ownership through our financial incentives. We also want to tackle challenging neighbourhoods and be a commercial body that would deliver profit and revenue for Liverpool council.
We have four priorities. We aim to attract and retain working households, help maximise the benefit of economic growth, deliver high-quality and accessible housing for lower- to middle-income households, and provide incentives to ownership. We are also tackling challenging neighbourhoods in an area-based approach, called regeneration zones. That is building on the work being done already in areas like the Welsh Streets, Granby Four Streets and the Anfield Project, where it is not just about housing, but also about employment.
We're also aiming to improve housing options for vulnerable groups and those who are not currently well catered for.
The business was launched with a target to deliver 10,000 homes. How do you plan to achieve that?
That was the aspirational target and is a big number but our corporate plan sets us towards it quite well. Our 10-year plan sets us on a track to deliver 1,300 homes a year by year four.
We won't be restricting ourselves to council land. We are looking to acquire land, especially if it offers the opportunity to invest in areas that are challenging. The council doesn't own very much property – one of the challenges here is the need to work with property owners. In regeneration areas there are multiple owners and private landlords so we need to find different ways of instigating development – that could be by land assembly, perhaps with support to owner-occupiers through environmental improvement funds, as was done at Anfield.
Alongside bricks and mortar we are trying to find a way of generating inclusive growth. Some of our biggest challenges are in these neighbourhoods – they need routes to employment. This is about creating more sustainable communities.
Foundations is described as an ethical housing company. What does that mean?
It is how we will work in building sustainable neighbourhoods, having clear and easily understood policies and procedures and being consistent in our approach to benefit all our residents. We are working alongside partners on the potential for softer interventions, but this is still work in progress.
We are interested in rent-to-buy because we have indications that local demand is significant, because people struggle to raise deposits. One of our first developments will be entirely rent-to-buy. Initially we will work with an off-the-shelf rent-to-buy model but we have commissioned research into financial incentives and will be looking to develop a bespoke approach.
What are the plans for Kirkdale?
It is a major regeneration project for us. We're aiming to develop underused, neglected council land with homes, as well as a boxing academy, and kickstart broader change in the area. The site, Kirkdale Canalside, is beside the Leeds-Liverpool Canal and also adjacent to one of our challenging neighbourhoods, which has one of the highest wards for deprivation.
The project could deliver new homes and an eco-park, upgrade existing homes and provide employment and local labour. We're working with Paul Smith, the former super-middleweight boxing champion, and his brothers, who are from the area and want to establish a boxing academy, as well as Lacey Capital Partners and masterplanner Falconer Chester Hall. We're putting the proposal to the public very early because it is important to have a community mandate to take this forward.
What else is in the pipeline – and how are you delivering?
Three projects are in progress, having started prior to the launch of Foundations with the idea that we'll take them on and make them available for rent, sale or rent-to-buy. This year we aim to have four sites under construction delivering 200 homes in all. Looking ahead, we're working to secure funding to purchase or contract with developers to deliver 120 more homes.
We are working through traditional design and build, procuring land, securing consent and building or refurbishing. To help us do that we can use established frameworks and the council is putting together two new frameworks – one for new build and one for refurbishment – which we will be using. We will also strategically procure land and property from credible third party developers aligned to our priorities.
Where we're the strategic developer or facilitator we may also work with the council to add value, providing technical support or getting sites ready for the market, possibly taking a financial stake.
What's your business relationship with the council?
The company was incorporated in March 2018, is run by its own board and operates completely independently of the council.
When you look at this at face value we'll be borrowing money and paying it back with interest and, by developing homes, we will generate council tax revenue. We will save money by working with council services and others to intervene early. Over the longer term, there is also the potential to make dividends, which the council may decide to take.
The council finance environment has changed with the relaxation of the borrowing cap and with mayor of Liverpool Joe Anderson's recent announcement to build council houses and we will work closely with the council to ensure our business objectives are aligned. Foundations welcomes the move by its sole shareholder to want to get involved in delivering good quality social housing. It will certainly provide for a diverse offer of residential accommodation across our sites and we may well play a role in supporting its delivery. All to play for.
What have you learned from establishing Foundations?
I've learned it takes time to progress from a standing start. We are operating in a political environment where demand for results is immediate, so we've had to bring forward the three sites while allowing the really important space needed to put the company and key schemes in place.
It's also important to back the right projects. We're vying for funding against many other high-priority projects that the council is considering investing in, so we have to back winners.
What's your biggest challenge in delivering?
It's viability. In Liverpool it is not easy to make schemes stack up. It is not insurmountable but viability – and the economy generally – are key.
Factfile
Home delivery target: 10,000 homes in a decade
Number of major sites in the corporate plan: 15-20
Under development: New-build sites in Yew Tree and Dingle, and refurbishment of 25 terraced homes in Picton