The developer MD talks through the self- and custom-build scheme showcased on Channel 4's Grand Designs – The Street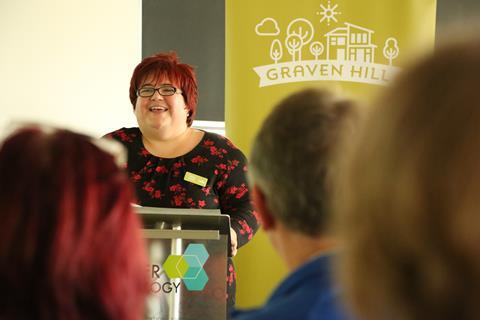 "The best thing about my job is the people stopping me as I walk through the site to say that they love living here." No ordinary housebuilder could make this boast, and Karen Curtin certainly works for no ordinary business. She is managing director of Graven Hill Village Development Company, the company established by Cherwell council to realise the UK`s largest self- and custom-build community, on a site to the south of Bicester.
The council acquired 188 hectares of former Ministry of Defence (MoD) land for this trailblazing project, masterplanned by Glenn Howells Architects, which has outline planning consent for 1,900 homes, as well as a school, shops, a pub, commercial space, green spaces and allotments. Already a small band of self- and custom-build pioneers are living there, as viewers of Kevin McCloud's Grand Designs – The Street series earlier this year on Channel 4 will know. The series chronicled the ups, downs and construction of 10 self-build homes along one street on the site.
Curtin is as enthusiastic about the site as her residents. She was formerly the council's commercial director for Bicester and helped formulate the business case for the site's acquisition. Having nurtured the project from its earliest stages, Curtin moved to become managing director of its development company two years ago. It is a site that Curtin admits to having an affinity for and she could have a role for a decade or more if she takes it through to completion.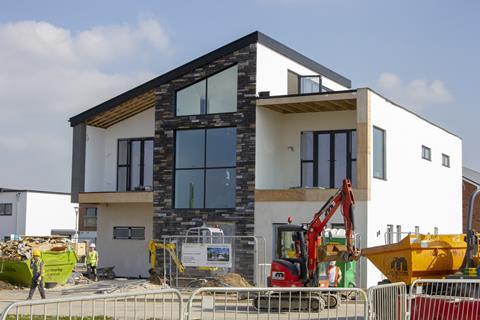 Why take on such a major self- and custom-build project?
At Graven Hill we're trying to disrupt the normal housing market – our shareholder, the council, is demonstrating what a local authority can do to expedite housing delivery and provide choice. It is keen to maintain a sense of place in the district, ensuring development is delivered in an inclusive, integrated and sustainable way, that residents have a choice of homes and local people can live close to their families.
The Channel 4 series illustrated the reality of the challenges involved in building your own home, and showed that any demographic can do this. The self builders featured included younger people, families and older downsizers, and the demographic of buyers across our first phase is very similar. It is important that this site is for everyone.
The community is already taking shape. Usually when you move to a new housing development it takes some time to get to know your neighbours, but we already have events taking place and clubs forming, including a book club and a walking club. When you might have to put scaffolding on a neighbour's land or deal with fencing on boundaries you tend to make friends quickly.
How is development progressing so far?
The MoD is handing over the site in two phases; we secured the first phase in 2015. We initially focused on the self-build and affordable homes, and now have custom builds too.
In June, we passed the milestone of our first 100 occupations. We have approximately 40% affordable homes, which are a mix of affordable and social rent, 35% custom-build homes and 25% self-build homes.
Around 50% of the first phase of around 700 homes is reserved. At the moment the number of self-build plots and custom-build homes sold is roughly the same, but that proportion could be adjusted through the programme according to the market.
Not all of the homes here are being delivered by self or custom build routes. In the first phase we have 265 apartments for market sale by investor Seven Capital, the first 104-home block being under construction and almost fully reserved.
Also, under the masterplan 30% of homes will be affordable. We have worked with registered provider Bromford on the first phase.
We are set to receive the second phase of the site this summer. The first phase won't be complete until spring 2021 when a school is due to be delivered, but we anticipate that many of the homes will be built out in advance of that.
How does your custom build offer work?
We have a variety of house designs created by an extensive line up of architects. Currently we are marketing eight different designs, ranging from a two bedroom terraced house at 80sq m to a four bedroom detached home at over 130m². One design, a three-bedroom, three-storey terraced house, has Passivhaus certification. All of the designs have been created in accordance with Graven Hill's design code, which establishes 11 different character areas from a village centre to rural lanes.
All of the designs have been created in accordance with Graven Hill's design code, which establishes 11 different character areas from a village centre to rural lanes
Buyers have two or three options for the layout of their home, including different bedroom arrangements or varying levels of open-plan living space. They also have choices of features like flooring and sanitaryware.
We release designs to the market in lots of five or six homes at a time. Once homes are sold and buyers have made their internal choices we commission the build. If we end up with just one home unsold, we take a decision on layouts and finishes and market it with that specification.
We have quite different designs, including quite contemporary "sugar cube" detached homes. People buy these homes because they are so individual and won't be repeated across the site. They have their handprint on their homes.
As the Channel 4 series showed, self-build is far from easy. What do you do to help self-builders?
The jeopardy of self-build is generally around land, planning and ground conditions. We help take those worries away.
We have serviced land here and we have simplified the planning process, using a local development order. Buyers receive a plot passport, a document outlining the main features of the plot including a plan, maximum gross internal area and height for their home, details of appropriate external finishes and roofing options, and other factors, such as likely ground conditions. Under the local development order, as long as a design falls within these guidelines, it is considered to have pre-approved outline planning, and will have full consent within just 28 days. This site is the first in the country to have a large-scale local development order for residential properties. Designs and architects vary, although we do have three plots with designs by Charlie Luxton.
We deal with potential risks in ground conditions by offering self builders what we call a "golden brick", which is actually their home's foundations with the key services of electricity, gas, water, drainage and telecommunications. The golden brick also provides a 10-year warranty on the foundation and superstructure.
To help with the process itself, we have customer journey project managers. After buying a plot and getting their design approved, self-builders get their foundation designed and we deliver the golden brick. The customer journey project manager works with self builders from reservation to completion to help them hit various milestones.
It generally takes our self builders 7-10 months to develop a design and bring it to the point where they are ready to have their foundations built. It then takes 8-12 weeks to get the foundations into place. Self-builders will then have 18 months to two years to build out their home.
The project manager checks in with them to see how they are progressing through the build. We want people in each release phase to go through their builds in roughly similar timeframes so that finished homes don't have a neighbour building alongside for too long. We actually have step-in rights, so if a self-builder doesn't build their home within the 18-24 months, we can get it completed. Most purchasers see this condition as positive.
The quickest build here has gone from golden brick to occupation in just four-and-a-half months. It can be extremely fast when self builders use offsite construction or a turnkey provider. We promote these options for advantages like speed of build and site safety.
How do you inform and educate your market?
We organise regular events about how to self build, or how custom build can work for those who don't have the time or will to build themselves. We explain that building a house is a challenge but extremely rewarding. People need to be aware that they are responsible for health and safety, for example, and they need to be aware of the logistics of a build and think it through.
What will you do differently when you bring forward the second phase?
The MoD sold Graven Hill as a conventional housebuilding site, so we put infrastructure in early for the first phase. That has meant areas like kerbs and landscaping have been damaged by self-builders' delivery and construction vehicles. For the next phase we would look to co-ordinate the delivery of soft infrastructure like that more closely with the build.
We will reassess how we zone the self- and custom-build areas in the next phase. We have some areas where custom-build homes and self-build homes are very close. As self-builders often have to work and have deliveries at the weekends that can cause inconvenience for residents already in occupation in custom-built homes.
We'll also be looking at the affordable housing, to see if it is possible to do something more innovative, which is more in keeping with the aspirations of Graven Hill as a whole.
What level of interest is there in the project – from both the public and the industry?
The interest has been enormous from all – if I had £1 for every local authority or research team that I've taken around the site, it would buy a few plots here.
After the Channel 4 series we were inundated with requests for visits, and we had to release the final plots for phase one to meet market demand. It's exciting, but we recognise it will take a few more years to bed in.