The build to rent developer talks about the trouble with tier 1 contractors and how to target the top of the market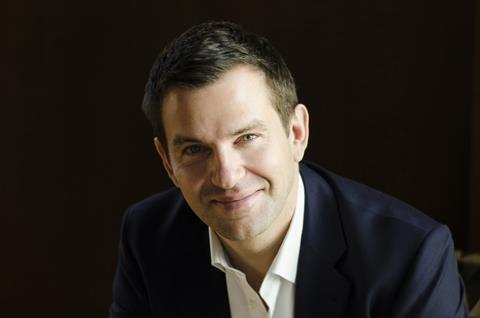 This month the first home viewings are taking place at Angel Gardens, a 35-storey tower in the key Manchester regeneration district of Noma. The tower, which officially launches this autumn, will make a significant contribution to the city's private rental offer with its 466 apartments.
The scheme is a flagship project for Moda Living, the build to rent business formed by Wetherby-based developer and contractor Caddick Group. Moda has set its sights on delivering large scale and often high-rise city developments, which it plans to retain in part-ownership. Its ambition has been matched by big investment, from its joint venture partner, Apache Capital, as well as from Chicago investment house Harrison Street Real Estate Capital and the National Farmers Union Mutual.
Johnny Caddick is a director of the family firm and managing director of the build to rent division, which now has more than 6,500 rental apartments in the pipeline in 10 cities across England and Scotland. Its strategy has helped deliver growth for the wider Caddick Group, contributing to a 37.5% rise in pre-tax profit last year, and its Manchester scheme is eagerly awaited, not least by its developer. Caddick says: "We haven't had many build-to-rent developments delivered in the sector yet and there's no comparative data, so we will be looking and learning."
What progress are you making on your build to rent pipeline?
We have three schemes under construction. As well as Angel Gardens, we have the 35-storey, 325-apartment scheme, The Lexington, in Liverpool and The Mercian in Birmingham, which will have 481 apartments and will be one of Birmingham's tallest residential towers at 42 storeys.
We will have schemes in Edinburgh and Glasgow following after that. We are trying to have an ongoing programme of two to three schemes on site at a time, as we are building, owning and investing.
Why did you decide initially to focus on regional city locations?
We have developed homes for sale in London – in Vauxhall and Canary Wharf – but by 2012 the market was heating up so we looked to the regions. After the 2008 financial crash apartment development in the regional cities had slowed, so rents had been rising and rental stock was poor in quality. That presented a gap in the market for us to provide a high-quality rental product.
After the 2008 crash a lot of talent migrated to London, but we are now seeing people retention rates in regional cities going up, because of housing affordability issues in London. A lot of companies are putting jobs into the regional cities. We are tapping into the trend towards the regions.
But we have more recently been securing sites on the periphery of London, as well as in locations like Brighton and Hove. That has been because the pricing is better – some of the players that were paying record prices for sites are not in that market now. That could be because of a range of factors – like a reduction in the foreign purchase market or concerns about Brexit – but it ultimately means we are seeing great opportunities in landbuying.
Your Caddick Construction arm took on the build of Angel Gardens when its contractor, Carillion, went into administration. How did that work out?
We heard rumblings about Carillion early doors, and put together a 'what if' plan, which was intended to keep the delivery of Angel Gardens on track. When we found out Carillion had gone into administration, we had a meeting, spoke with Apache Capital and put that plan into operation.
We had the site back at work in two weeks. We inherited a few members of the Carillion team, which was beneficial. In all, it was not an easy thing to do but it worked.
Generally, we're not building our own rental developments because they are geographically quite spread out and we find it best to use specialist local companies for each location. They know their supply chains and so are well equipped to deliver best value.
There are concerns around contracting. Tier 1 contractors have been struggling so there are question marks over them – we have found that some aren't quite what we thought they were. But we are finding that tier 2 contractors are looking good and robust. When we talk to the tier 2s, we find that we are talking to more of the principals, who have a good handle on where their businesses are.
What other challenges do you face in delivering these large, complex developments?
Explaining build to rent to local authorities can be challenging. There is often the view that people are renting because they can't afford to buy. There is a lack of understanding about how rental property plays into the flexibility and productivity of the workforce.
We explain that private rental residents are not tenants in the traditional sense, but are customers. Build to rent can deliver faster, as there is not the lead time that you have with off-plan sales, and it is a local product for a local market. We think that with an animated branded offer we can have a catalytic effect on the market. For example, in Birmingham, we are part of a bigger regeneration story.
How do you see the residential rental market, given the quantity of product coming forward in locations like Manchester?
Manchester has seen major investment in build to rent, but it's worth bearing in mind that the timescales for delivery of a tower can be 3.5 years. So if you take Angel Gardens' four-year construction programme, that breaks down to the delivery of just over 100 homes a year. Manchester has a student retention rate of around 50% now and has healthy job creation rates so there is demand for homes.
Manchester has been ahead of other regional cities, but Birmingham and other locations are catching up. Build to rent has a lot of catching up to do generally, and the market has scope for a range of products. Our product is targeted at the top quartile of the market.
What distinguishes your product in the market?
It is quality and customer service, as well as features like health and wellbeing, which inform our amenities. We are partnering with digital wellness business Hero, which will operate the gym and wellbeing centre at Angel Gardens and provide access to activities and services including nutritionists and health advisers.
Amenities include lounges, work stations for flexible working, gyms and dining clubs. We look to animate rooftop spaces, so at Angel Gardens we have a multi-use games area, and The Mercian will have a 200m running track.
We are also using our buying power to bring in partnerships and secure discounts for our customers. One example of that is our deal with Uber, which will give our residents a bespoke Moda Living app to book a car and up to £100 Uber credits a month if they agree not to have a car parking space in their building.