The UK Regeneration founder on bringing a "great estates" type model to the whole of Biggleswade
A leafy garden village in rural Biggleswade in Bedfordshire: it's not the kind of development you'd expect Jackie Sadek to be delivering.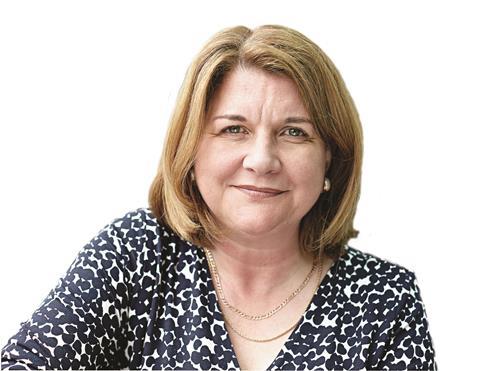 Sadek is known for her work with grittier urban environments such as South Kilburn and the Thames Gateway, as well as for advising government ministers on the realities of large-scale urban transformation and telling various hometruths about regeneration.
But in Biggleswade, Sadek is still putting the skills she honed through a career in urban regeneration to good use. The business she founded, UK Regeneration, is setting out not only to deliver an urban extension of four new village neighbourhoods with up to 7,000 homes, but also to improve Biggleswade's town centre in an approach that is attempting to break down some of the "them and us" conflicts of UK housebuilding and promote a more inclusive model. With the medieval market town of Biggleswade sitting at the centre of the Oxford-Cambridge Arc, a key area for housing growth, the company has a high-profile location for its debut development.
What are UK Regeneration's business objectives?
"We've an aspiration to deliver 20,000 homes in all. We have outline planning permission for the first of four villages at Biggleswade, which is masterplanned by HTA Design. That will have around 1,500 homes, and we are now moving forward to the detailed application phase, working with the local community and Central Bedfordshire Council. Biggleswade has secured £70m from the government's Housing Infrastructure Fund to help provide a school and transport infrastructure and to create a supergrid for Central Bedfordshire. The site at Biggleswade could ultimately take 7,000 homes, which is well on the way to our overall total.
"We're trying to bring what could be described as a "great estates" type model to the whole of Biggleswade – to get the entirety of Biggleswade to work as a garden community, with 40% of our site being given over to woodlands, walkways, cycleways, allotments and playing fields. It's a lovely rural place with some old housing stock, a newer housing estate that isn't integrated with the town, and then will have our four villages. The town centre itself is a bit unloved. We have bought some pubs there and will be repurposing them and have brought retail expert Bill Grimsey on board to help with the high street, so we have not let go of urban regeneration. The clever thing will be retrofitting a properly planned community into Biggleswade. We will be doing the extension sensitively and holding firm to our ethos.
"We will sit down soon to work out how the site will go forward – whether we will be a master developer or take another role - but we will be building at least some of our own homes. We are talking to Ardmore Construction about that, as we would like to have some exemplars. We have to get a spade in the ground and prove that we can deliver.
It has taken around a decade to get UK Regeneration to this point – why?
"We had a site in Nottingham, which we pursued for five years but then couldn't make happen, spent another four years on one in Derby that didn't come good and had another abortive scheme in Sheffield. We came to Bedfordshire with the aim of trying to do urban regeneration, but then realised that we could transfer our skills to an urban extension.
"We came into the industry trying to do things differently. I have a business partner who is from the entertainment industry, and they have asked why the consumer isn't at the heart of residential development. We don't talk about user experience and the benefits of development for people. People and humanity are largely absent from the housebuilding business model. As an example, my business partner wanted more generous space standards in the homes and we're doing that for the first phase, but when we discussed it with social housing providers their response was that it didn't fit their model.
"The housing sector is very set in its ways and its big players ultimately protect each other's interests. It is challenging to get people to think differently, because of the vested interests working throughout the process.
What have you learned from those first 10 years?
"We were probably trying to do too many new things at once. We were trying to push private rented sector (PRS) housing in Nottingham and Derby and it was too early, especially as we were advocating a new model, where tenants invested in the PRS vehicle. We also had a workspace model at the heart of developments and other features like car clubs. On reflection, it was too idealistic.
"Now in some ways we're doing quite a conventional development, but it is of merit and quality and once we begin to get that away we can talk about doing more. We've not lost sight of innovations, but we are no longer leading on them. Biggleswade would still be a great platform.
What have been the biggest challenges over this time?
"One of the biggest has been the statutory consultees, which have not been cooperating with government policy. From the way that some of the statutory agencies behave you wouldn't know there's a housing crisis.
"Another challenge for me personally has been that I'm in business with people who don't come from the property industry. I get a planning permission in three years and feel pretty pleased with the timescale, while they ask why it has taken so long.
How have you found the experience of building up this business?
"It has been quite stressful and I've spent a lot of time on trains. But I love the community in Biggleswade and get a lot out of it. I've a rewarding relationship with everyone there and am enjoying getting to the moment where I'm finally making it happen. It's a rewarding moment when people in the property industry call you up and say you've done well.
"Now I'm being offered more sites, particularly by local authorities who are looking to diversify the market and want to speak to someone, like me, who is local government fluent."