The modular homes manufacturer talks targeting new markets, new factories, and a modular academy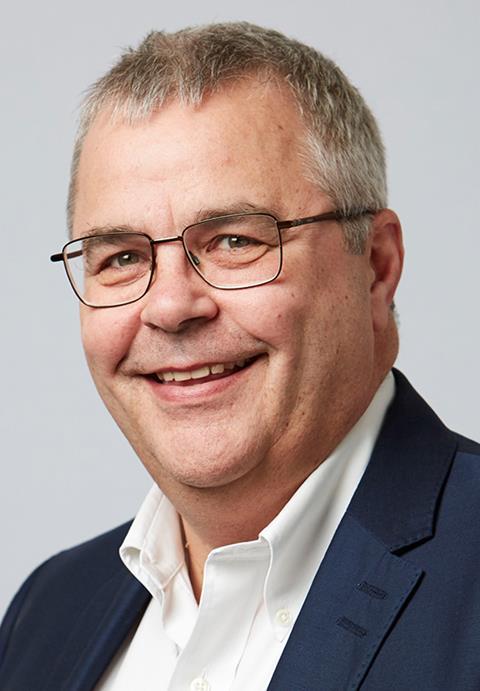 In three years Ilke Homes has come a long way. The volumetric modular homes manufacturer launched as a standalone business in 2017, had its first factory up and running the following year and today has a growing order book. It is looking to expand production and has just launched an initiative to grow its own offsite skills base.
The firm was backed by expertise in both traditional and factory build, having grown out of a joint venture between housebuilder Keepmoat Group and modular manufacturer Elliott Modular. Its executive chairman Dave Sheridan also brings varied experience, as past chief executive of Keepmoat and of Engie Regeneration. This breadth of expertise remains key to bridging the gap between traditional housebuilding and modern manufacturing, says Sheridan.
But he acknowledges that disrupting traditional housebuilding requires significant investment, with Ilke Homes reporting a £7.7m loss in its last financial results. That hasn't put a halt to the company's ambitions and Sheridan remains confident, saying, "I think there is enough market to go for."
Give us a summary of where the business is right now?
"Our present and future orders look in good shape. We believe we will be producing more than 450 homes from our factory in Knaresborough, Yorkshire, by the end of the financial year next March. Looking at next year, we have 1,400 to 1,500 homes secured.
"We are currently offering nine house types, all made using light-gauge steel and at two or three storeys, designed by BM3 Architecture. They range in size from 61m2 to 121.5m2 and include two, three- and four-bedroom options. The range has been determined partly by space standards, partly by customer choice and partly by what is required by planning. As we have a development heritage – as well as a manufacturing one – we understand what is required to create a traditional street scene. We can do 90% of what a traditional house can do in a street.
"To date we have concentrated on houses but, in line with our plans, we will have our apartment prototype ready for the end of this year – also designed by BM3 – and that will be available to clients next year.
Will you be setting up a second factory in order to meet future demand?
"Our current capacity is 2,000 homes from our Knaresborough factory. The factory works two shifts – from 6am to 2pm and 2.30pm to 10.30pm - with units drying overnight. We produce 16 modules per shift, with each home requiring two or three modules.
"We are in the process of identifying suitable sites for our second factory. That will be less about production and more about prototyping, allowing us to increase productivity overall. Ideally, we would like to have that up and running early next year, but that depends on the availability of space.
What markets are you targeting, particularly in helping to keep a consistent flow of contracts for manufacture?
"We supply both the affordable and private-sector markets. This is a mixed-tenure product, although it lends itself to affordable housing providers in terms of speed of delivery.
"We have our major strategic partnership with Places for People, which will see us supplying 750 homes – 500 for Places for People sites and 250 for schemes where we will collaborate. That was announced in May and is getting under way. We have a site of 22 homes coming through early next year and five further sites in the pipeline. That will give us more than 100 homes in the pipeline by late this year, or early next.
"Long-term strategic deals and mixed tenure are important in providing the sustainable pipeline that offsite manufacturing needs. We are innovating to help generate that sustainable pipeline – we have recruited our own land team, to enable us to bring through sites alongside product and market turnkey packages to registered providers.
"Homes England has also been important in providing support through various bids, such as the 460-home second phase of Carr Lodge in Doncaster, where we are working with Keepmoat. We are seeing the market pulling towards modern methods of construction (MMC) now.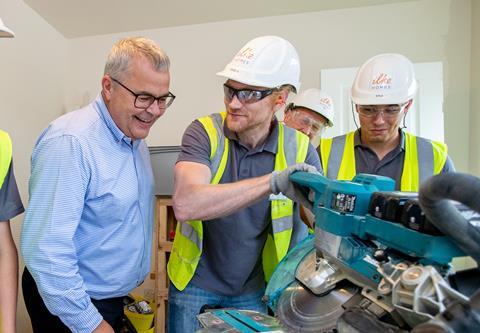 This month you announced a plan to create a modular academy – how will that operate?
"The Ilke Academy is already in operation and our second shift is going through training at the moment.
"The ambition is that it becomes an exemplar of how you create modern tradespeople. Training will happen both online and in the factory. People can have taster training in using tools, learn basic skills and undertake aptitude testing, to give an understanding of what tasks in manufacturing they are best suited to. We are working with the CITB and local colleges to seek accreditation.
"Trainees will get to mix with their peer group and with all genders, so that we can create the right culture. Our factory location – with Carlton Barracks in Leeds not far away – will give us a good opportunity to employ military veterans and we would also like to reach out to ex-offenders. Some workers will go straight onto the production line as they will have an aptitude or skill. One size can't fit all here.
"Our factory is a cultural hybrid of building and manufacturing. We blend the two skillsets in our own staff – we have a worker from Hitachi on the team, as well as a former pre-construction director for a major housebuilder. It is a bit like when kids go from junior school to senior school; people speak slightly different languages, so we have a lot of workshops, walk and talks and huddle meetings on the factory floor.
What have you learned from the past three years?
"I've learned not to underestimate how much energy and investment you need in the early stages to scale production – setting up a factory is costly and it takes a while to get to volume production.
"Prototyping is also important. You can trial and make your mistakes in prototyping. And you've always still got to measure twice and cut once.
"In manufacturing you still need an understanding of the route to market, including factors like planning.
"The market has moved on a lot now. As long as we have all the right guarantees for the MMC product and for mortgageability, offsite manufacture of housing isn't a concern. We are offering more thermally efficient homes. We are selling a premium product. We need to be receptive to what people want, so that this becomes a product of choice."