The council leader takes Housing Today on a tour of the borough he hopes to regenerate and revive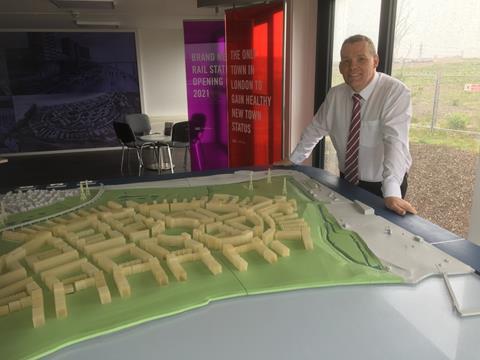 Darren Rodwell, the leader of Barking and Dagenham council in east London, has ambitious plans to regenerate the borough he was born in nearly half a century ago and in which he has lived all his life. A solid traditional local Labour politician – or community champion, as he prefers to be called – Rodwell wants to give his borough a new lease of life through injecting business opportunities and community facilities across his patch. And crucially he wants to build 50,000 homes over the next 20 years and is willing to work with anyone who shares his vision of improving the lot of his fellow residents.
The council leader took Housing Today for a guided tour around the borough a week before the fire which ravaged a number of apartments there to see the improvements that have started and where he sees the next steps being taken which he believes will help restore vibrancy and a sense of self-belief to one of the capital's less well-off local authorities.


Controversy
Darren Rodwell was born in Dagenham nearly 50 years ago and wears a passionate regard for his home town and its surroundings firmly on his sleeve. Hopping out of his car in central Barking the council leader points out local landmarks and reels off a list of famous people who came from the east London borough, pointing to where Captain Cook got married and Elizabeth Fry, the prison reformer, is buried. He says: "The 1966 England football team manager Alf Ramsey was from these parts, as was Bobby Moore. Barking won the World Cup, basically."
Local hyperbole aside, it is sometimes hard to ascribe such characters to Barking and Dagenham, which has topped surveys for London's least vibrant borough in recent years. Rodwell is aware of the perception, but says he is making bold strides to give the district a boost, in part by working with firms who "get" his vision for improving things. "I want Barking and Dagenham to become a beacon borough, where people can be inspired and have aspiration for themselves."
'I want Barking and Dagenham to become a beacon borough, where people can be inspired and have aspiration for themselves'
Rodwell's council has plans to build 50,000 homes over the next two decades and has set up Be First, Barking and Dagenham's own development company, to further these ambitions. "It's really important that we've got in-house companies which save jobs that would otherwise have been lost due to the austerity that was forced upon us and at the same time speed up the redevelopment of the borough."
Some of these developments are not without controversy. The GMB trade union traded verbal blows with Rodwell and his fellow Labour councillors earlier this year over plans they had approved for Be First to redevelop a site in the centre of Barking from offices into housing. The GMB claimed it was "gentrification" and accused the council of not providing enough social housing on the Crown House scheme. The union later called on Labour councillors and Labour Party MPs in the borough to call in the plans and insist that Barking and Dagenham "substantially increases the target for social housing".
At the time the council said it received little in the way of government funding to build new homes and was unable to keep and use all of proceeds of council housing sold under the Right to Buy. And Rodwell outright rejects claims of "gentrification". Instead he says he has to work with the market forces that exist. Where it is appropriate and where land can be better utilised, the council will level existing estates that have outlived their usefulness and aim to re-build better homes and make better use of available land. He says he doesn't practice social cleansing, but "the days of the state being able to be your parent have long gone. I do ask residents to meet us halfway and we can be their partner."
Another proposal that has met with a barrage of criticism from some quarters is the redevelopment of a block of council flats known as Raynham Road South. Predictably Rodwell sees things differently. "You've got 24 flats, only 11 of which are still council. The rest are Buy to Let or bought and owner-occupied. All that land, front and back, once used to be garden areas, and only 11 council properties. We're saying Be First will knock it down and build 64 homes. Any council tenant can come back and live in the new scheme on the same terms as before, and anyone who owns and lives in their home can buy a new home on the scheme under shared ownership. I get why they built these homes the way they did back in the 1950s. It worked at the time, people living in flats, looking after their garden, but as it stands it doesn't work today. We're going from 11 council properties to 64. Critics don't understand how this links in with the bigger picture. This is how we want to do things."
'We're going from 11 council properties to 64. Critics don't understand how this links in with the bigger picture. This is how we want to do things'
Driving up to a smart development of low-rise private rented apartment blocks known as the William Street Quarter – the first such scheme by the council – Rodwell notes that rents will be between 50% and 80% of market rates. He believes if you can afford to pay more, then pay more you should. "A lot of the people who live here once lived on the old Gasgoigne estate, which was pretty awful. Now they live here." It's similar in feel to the nearby Tarling Close scheme, designed by Peter Barber Architects for Be First. "We're trying to offer lots of options. Tower blocks and low-rise. We put these homes into a company and tell residents you can live here for the rest of your life, but the one thing we can't have you doing is taking away what belongs to the community. If you want to buy something we can help you do that."
Rodwell is a passionate opponent of Right to Buy, which he says has slashed the available council housing stock across the borough. "At one time we had 50,000 council homes, now we have 17,500. The lost properties went through Right to Buy and they end up becoming buy to let. We've lost rental income and the value of the homes that have been bought and then re-sold has also gone."
Rodwell is all too aware of the scale of the task to get people into decent, modern homes across the borough, not least the 5,000 people on the council's housing waiting list. "We know there's not enough housing. We've got to answer that call where we can." He knows his council can't build the likes of the Beacontree estate – built after the First World War and at one time one of the largest council housing estates in Europe – again. "It just won't happen that way. But we've got 400ha of land and we are going to build a lot more homes. My job is to give a steer to all the interested organisations as to what we need here as a borough. And we do a regeneration scheme anyone who is displaced can move back and on the same terms."
'We know there's not enough housing. We've got to answer that call where we can'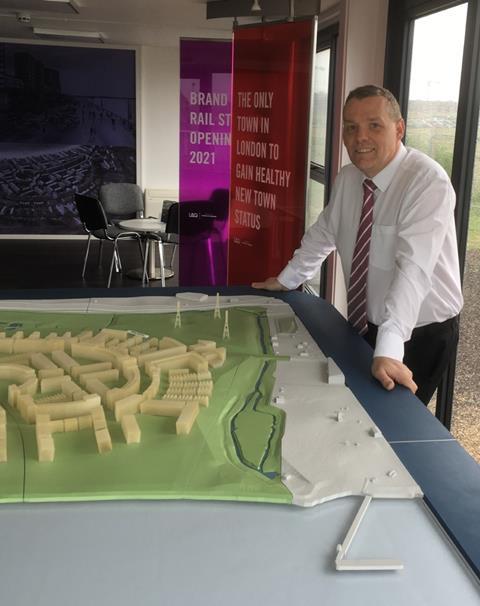 Ambition
Housing going up by the River Roding, once home to London's largest fleet of fishing boats, is being built by Countryside in conjunction with Notting Hill Housing, while a little further down a scheme is being built by Weston Homes. Surveying the scene, Rodwell says he is keen to work with private firms, but he'll stand for no nonsense. "I can be their biggest ally or their worst enemy. I say to them 'This is what I want you to do for my community. You do that and we'll support you. You don't do that? You won't build it.' It's about getting the balance, around what we need and understanding that, understanding what we want this borough to become."
'This is what I want you to do for my community. You do that and we'll support you. You don't do that? You won't build it'
The council will also be a disruptor of sorts, since Rodwell intends to ramp up the number of PRS homes it owns from the current figure of around 800 to 3,000 by 2022/23. "By default we'll be managing the market, because we know what prices we can do it at, which is always going to be cheaper than the private sector. So the private sector then has to give us a higher [quality] product, not gated communities, and our residents can afford them." Rodwell wants developments to have a mix of residents, background and career-wise, since he argues "you change the demography of the place for the better. You haven't all of the same sort of people in one location, like on a sink estate. You're bringing together a group of different people. They won't know who's paying traditional council rent or 80%. It's not for them to know. What they do know is they've got good neighbours, they have a nice place and they've got to look after it."
Rodwell's ambition is crystal clear, but how much is all this going to cost? "Billions. I've already got in £15bn in the last five years. It's not about the money, it's about the ambition. People can always make money if they've got the ambition into making it." And where's the money going to come from? "We're not getting funding from government. If you wait for government you'll wait forever," he says. The William Street Quarter scheme was developed with real estate asset management firm Long Harbour. "There's a lot of money out there that isn't government money. The government often borrows from those people as well. The difference is we do it in a timely manner that works for our community. But whoever we talk to, Aviva, L&G, pension funds … it's a business decision. They know what they need in terms of a return and we know what we need to make it happen for our residents. As long as we can find the middle ground that works for both parties, then that's the way we do it right now. The government won't fund building something like the old Beacontree estate. I'd love to build traditional council housing but I won't when it's got Right to Buy linked to it. The council loses out and so do residents by it becoming a buy-to-let property. Where the rent goes from £500 to £2,000 a month. The Right to Buy model works for neither the local community or the country. There is a social cost."
'I'd love to build traditional council housing but I won't when it's got Right to Buy linked to it'
Another stop on the tour is a section of windswept land overlooking the River Thames. Through the rain one can see Shooters Hill in Greenwich on the other side of the river and further down one catches sight of Thamesmead, the great 1970s experiment in then-modern estate living that is now best remembered as the location for Stanley Kubrick's dystopian film, A Clockwork Orange. Back on the Barking side of the river there is not much to see apart from disused industrial properties and swaths of vacant land, but Rodwell wants to transform the area into what he calls Barcelona-on-Thames. As part of the Barking Riverside regeneration scheme – and on land owned by the London mayor and L&Q – Rodwell envisages thousands of homes being built. He proudly shows off a model of what the development could look like when it is finished and envisages a new train line and tram route boosting the area's transport credentials and ending its isolation. "These will be all mixed homes, housing people on different income levels with different careers. That's how you make a proper community and how you build aspiration. And it's why I'm so against closed environments, 'invisible' gated communities, where everything is onsite and people have no need to mix with the communities beyond their block of flats." There is one thing that vexes Rodwell more than such places however. "Poor doors. Poor doors are a disgrace. What is that saying to the child of a resident, that you're not good enough to go through the front door? Sorry, not in my world."
Mindful of the brickbats that have come his way over the years – and this is a local politician who helped see off the far-right British National Party after it had secured a dozen council seats in 2006 – Rodwell says he gets called "a lot of things by a lot of people. The one thing people can't say is that I'm not passionate about my borough and two, that I don't have the integrity to know about the place. There's not a single street I've not been down in this borough or campaigned along. I want to make this borough fit for the 21st century, both with housing and infrastructure." One suspects that if anyone can drive this ambition forward it is one of the borough's own.