The Croydon developer talks to Housing Today about plans to take its model of delivering affordable homes across the capital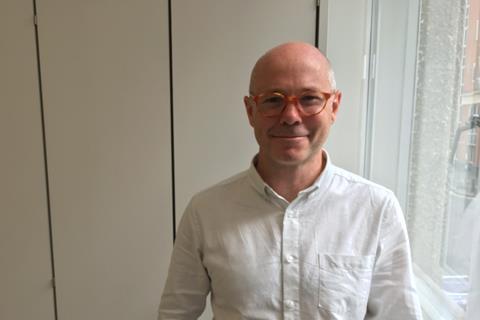 Small sites – the kind most developers won't touch – can play a vital role in tackling the housing crisis in Croydon and other urban boroughs. So says Colm Lacey, chief executive of Brick by Brick and former director of development at Croydon council, who is passionate about creating affordable homes in south London and eventually beyond. The firm's latest development, which will start on site early next year, is a 400-home project on a plot alongside the Fairfields Halls complex, a £40m refurbishment of a concert venue it recently completed in the centre of Croydon.
Established by Croydon council as the local authority's housing development arm, Brick by Brick span off three years ago to become a standalone business building affordable and for-sale homes across the borough, primarily on small plots of council-owned land. Brick by Brick aims to build 500 homes a year across the borough and has 40 sites in consent with a further 50 in planning. Half are destined to be affordable, the current affordable level running at 48%. As well as a number of high-rise schemes, Brick by Brick builds homes on small sites which presents a catalogue of challenges, not least around the viability of units that look to be delivered on parcels of land in between existing residential developments or garage sites.
To date, the business has yet to turn a profit – a situation Lacey stresses will happen in the next financial year, when income from completed schemes will be reported on the firm's books for the first time. According to its 2019 business plan Brick by Brick currently needs total net financing of £262m and has agreed financing with Croydon which will see a 75/25 borrowing/equity split, meaning borrowing is expected to peak at £196m.
And, while it is based in the south London borough and has strong financial links with the local authority – its sole shareholder and financier – Lacey says the firm is looking at spreading out, prepared as it is to take its model of delivering homes on hard-to-develop sites across the capital and beyond.
How are you dealing with challenges in the market?
"We set out to become a specialist in particular in small sites across London. All of them are currently in Croydon at the moment but that's not necessarily going to be the case forever. Small sites aren't easy for a variety of reasons. Technically they're quite hard to deliver, but we firmly believe that that focus was the right thing to do, in part because those are the kinds of sites that are available, both in Croydon and across London – they're the kind of sites that other developers don't deliver and therefore they're the sort that need delivering if we think we're going to address the housing crisis in any real way – and partly because Croydon specifically wanted to deliver more affordable housing on the land that it owned. Viability is probably the biggest issue. Our intention is to deliver 50% affordable housing across the entire programme and in low-value areas like Croydon trying to get that to work on sites that don't have a large number of units is quite difficult.
Have you hit the delivery goals you set out at the beginning?
"Our overall intention is to deliver 500 units a year, and 2,000 by 2022, which we're absolutely on-track to deliver. In our core business plan we have three years' worth of sites. Because of the challenges of those small sites we're probably slightly delayed on certain sites where contractors have discovered things they didn't know about. But the overall aim of 500 a year in private and affordable we're on track for. Costs aren't a reason for any delay, since we do all our sites through design and build contracts. We have a modicum of control over what our contractors are going to do with regard to costs on those sites. It tends to be unforeseen things, stuff happening in the ground … utilities are a big challenge on almost every site we do.
Do you consider using modular technology in the homes you build?
"At the beginning of this programme, and before we'd drawn anything, we did a lot of work to see if the types of sites we were working on were suitable for modular construction, and they weren't. Or at least there wasn't a match between the modular systems which were available at the time and the types of sites that we were dealing with. We very keen to adopt and use it, but we didn't have a site that seemed to suit. The other challenge for us with modular manufacturers at the time was that the product they were delivering wasn't the complete product from our point of view. There was always something missing, like the groundworks weren't included, or the facades, or M&E. There was always an element of the solution that wasn't there. We were waiting for it to mature a little bit. Is it getting closer? Slowly.
How are you responding to other modern methods of construction?
"About 75% of our schemes are closed-panel timber frame. On the issue of framing we've been having discussions with a supplier about the potential to create a standardised framing product which we would be able to roll out across our sites. It's a new thing for them, although it's a well-known technology. We would create a company which would deliver a flexible framing element. We'd have control over the manufacturing process, in particular for framing, which is important for the sites we work with. It would be adaptable. It's a way of us ensuring quality and as we continue with more of these smaller sites and the viability becomes even more challenging of us maybe saving some money on the build process.
Describe your relationship with Croydon
"The council is our shareholder, and the idea is that we are the developer they've always wanted to work with. A lot of our staff came from the council. We agree our business plan with them on an annual basis, so we deliver what they need for the coming year. We borrow from them; that works well for us and it works well for them because they get interest on what they lend to us and make money by borrowing cheaply and lending to us at a higher rate. To date, they have been the main source of our land as well. Ninety percent of the stuff we work on we've acquired from Croydon, although over time that will decrease as we start to buy land from other sources. There is an overage process in there as well, so if we make any more than we thought we'd make 100% of that extra element goes to the council.
Controversy rages around private firms such as Brick by Brick delivering housing for a local authority. How do you respond to that?
"There's a lot of romance around council housing. You can't live in a romantic story – you can only live in a home. We can talk about this until the cows come home, but unless you're actually delivering homes that people can afford to live in then it's an academic discussion. We and others like us are delivering things across London. The rents that we rent these out for are commensurate with social rents. They aren't affordable in name only. We don't deliver council housing and we're not pretending that it is. It's another form of affordable housing which addresses housing need.
You mention saving money. You've yet to make a profit … when will that change?
"We'll report a profit this year. We've already wiped out [last year's £775,000] loss through the reservations we have right now. We just haven't accounted for it. We can only account for it when the schemes are fully complete and the money is actually in.
What does the future hold for Brick by Brick?
In future, we'll look to do a few different things. One will be looking to acquire other sites which will tend to be larger, just because the market is selling larger sites at the moment. We're really interested in other forms of affordable housing development. We want to do more community-led housing which we don't think is being delivered at the scale that I think it should be. It's one of the reasons why we've got involved in the Crystal Palace Community Land Trust. We're coming at it from a development management point of view. We're only helping them to deliver it. Development is hard and you need to know your way around and we are keen to use our expertise there. As for looking beyond Croydon, it isn't part of our business plan at the moment, but it is part of our future. We're delivering small sites in Croydon and there'll come a time when there won't be many of those left and we'd look to do the same in other parts of London. There is a lot of interest in what we do. Our in-house architect firm Common Ground already works with other boroughs and that might morph into Brick by Brick doing things with th