The architect discusses his experiences working with councils and what makes good neighbourhoods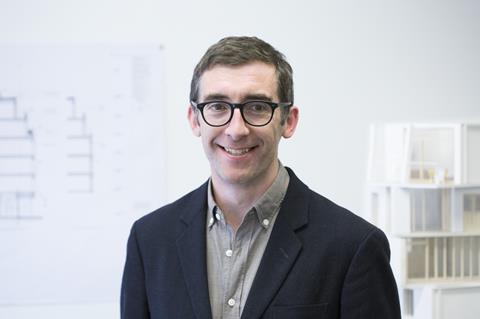 Talk to architect Alex Ely about London and the conversation centres on people and the kind of details that make neighbourhoods work, rather than the statement high-rises that proliferate in the city. The designs emerging from Ely's practice, Mæ, have their feet firmly on the ground in every respect. The practice is known for its community-focused public housing and estate regeneration projects, like the Regent's Park Estate, where – in collaboration with Matthew Lloyd Architects - it is working to provide new homes for residents who are losing their existing ones to make way for the High Speed 2 rail link.
Ely founded Mæ some 18 years ago, and throughout that time he has balanced the demands of projects and a practice that has grown to around 40 staff with research work and advisory roles, where he has championed housing design. His current roles include being one of London mayor Sadiq Khan's 50 design advocates, charged with promoting the inclusive and sustainable principles of good growth, and Mae is also putting these principles into policy in its work on a new housing design supplementary planning guidance to the London Plan.
Are you seeing more interest from local authorities following the lifting of the housing revenue account borrowing cap last year?
Yes, there has been a greater focus on housing delivery from local authorities, whether through alliances or through councils setting up their own housing companies. We are seeing local authorities interrogating their land holdings a lot more, and looking at opportunities to increase densities on existing estates.
What is it like working with the new breed of council housing companies?
Some council housing companies are having to progress from a standing start while others have grown out of existing activities, so they are starting from very different positions. The ones we are working with are quite fast-moving and some are growing their teams.
We've found councils and their housing companies to be ambitious, both in the numbers they are aiming to deliver and in the quality that they aspire to in their affordable housing. They have a good attitude to design, and we find that when we are putting ideas forward to councils they don't come to them with preconceptions.
We've found councils and their housing companies have a good attitude to design
Together with Hawkins\Brown, we're working directly with Camden council at the Agar Grove Estate. For the scheme, 345 of the 493 homes are being built to the Passivhaus standard, and so will have low heating bills and high levels of comfort. That is an example of a public sector client driving something that is way above industry norms, investing in housing quality and in benefits for tenants.
Estate regeneration in the capital has become highly controversial, and we've also had recent news reports of segregation of residents of private and affordable homes. How can we make regeneration work better?
Estate regeneration calls for incredible patience and honesty. The challenge is in addressing existing residents' needs in a way that is deliverable. It's about developing masterplans that create a good environment where you can make everything work.
Estate regeneration calls for incredible patience and honesty
There is still a shortage of public funding for affordable housing, and we're supportive of looking creatively at solutions – introducing a range of tenures to mono-tenure estates helps to create diverse, mixed-economy neighbourhoods – and it is always our intention to create good, inclusive neighbourhoods. For us, as designers, it never enters our heads to do otherwise.
And what would help to improve the urban places we're creating or regenerating for the future?
There is a need for more mixed-use placemaking, integrating social infrastructure with housing and growing enterprise space alongside the residential.
The hardest aspect of that is developing the brief. Business or community space is more straightforward and can be flexible in use, but if you want to put healthcare into a development, for example, you need to try to determine the clinical commissioning group's needs. Often new residential development comes in for criticism for putting pressure on essential services, like doctor's surgeries or schools, but mixed-use development can alleviate some of those pressures.