The founding director of developer TOWN on award-winning co-housing scheme Marmalade Lane and how to shake up placemaking
Many developers tout their ability to do things differently but in most cases the claim is little more than marketing talk.
But when your debut is a sustainable, intergenerational co-housing scheme that has won plaudits for its design and the sense of community including a Housing Design Award, being shortlisted for Building's Housing Project of the Year, and winning multiple RIBA awards, that is really practising what you preach.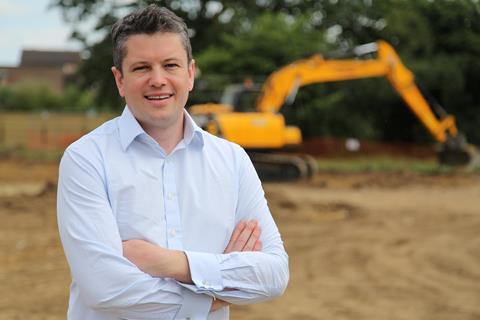 With the 42-home Marmalade Lane, Neil Murphy and Jonny demonstrated the principles behind TOWN. The pair set up the development firm in 2014, with the aim of focusing on residential and mixed-use development, custom-build and strategic land. Today, they have an eight-strong team, one completed project and more in the pipeline.
"The business has a locus around London," says Murphy – its "office" is the sustainable coworking space at Impact Hub King's Cross. A positive vision of sustainable living is at the core of the company's development philosophy and the company is now applying this to the design of a mixed-use project in Milton Keynes.
Why and how did you come to set up TOWN?
Jonny and I were working for Beyond Green, the behaviour-change sustainability consultant. We set up its development planning team and were working on a new community just outside Norwich – and saw it would take 25 years to realise.
We wanted to take the principles we had acquired and convert them into projects that we could see through from inception to completion. We chose the name TOWN because a lot of what we're promoting is about placemaking, streets and neighbourhoods.
What does doing things differently mean to you?
It's about the process, for both the residents of our developments and the communities in which we work. We thought we could present a more optimistic case for development for social and environmental good for residents and host communities.
We have a very broken housebuilding process in the UK, where new homes are seen as a form of pollution. A lot of what is built is not very good, and car use is a Gordian knot in itself. There is a sense of defeatism about it all and weariness in local authority planners.
New housing routinely has two car parking spaces per house but at Marmalade Lane we had one. We had a job persuading South Cambridgeshire District Council, which were generally very supportive, that it was feasible to do that. Now we have a built project where we can show how we did these slightly unconventional things.
I'm an economist by background, while Jonny studied modern languages, and we encourage generalists in our team, going against the prevailing wisdom that the built environment is about chartered specialisms and focusing instead on the intersection of architecture, engineering and other disciplines.
There is a bigger function – which perhaps planners should be doing but are not able to because of lack of resourcing – which is thinking about the city as a client and how a development contributes to a city or village.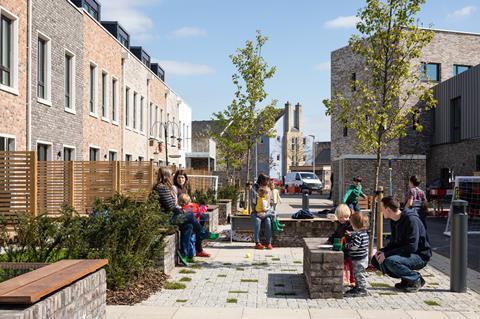 What did you learn from Marmalade Lane?
It gave us faith in the model of custom build and in giving residents control. We offered residents choices around open-plan or cellular living spaces and that really resonated with a lot of people.
Custom-build has been seen as a niche area of the housing market and yet people routinely customise Victorian and Edwardian properties.
It confirmed the success of things that we believed would be popular, such as shared communal space and opening up access to the public.
We learned that modern methods of construction (MMC) can achieve good quality, but is not so strong on saving time yet. We also learned how to streamline the development process and how we present our approach to urban design – things such as how to present reduced car parking as an opportunity, rather than a threat.
What's your verdict on how Marmalade Lane is taking shape as a sustainable community?
The residents really embraced it and are exploiting the architecture and landscape to the fullest extent.
One paradox of new communities is that people coming to live in them often do not see them as a place to stay for the long term – they see them as more of a stepping stone. Community-led development can set a tone and create an embedded client group at the start as its residents invest in a place and tend to stay put.
Marmalade Lane is the last piece of Orchard Park, a relatively new part of Cambridge where other housebuilders have already built homes. Our micro-community has been busy building social capital through activities such as litter picks. So we have wondered what would have happened if we had been the first at Orchard Park, rather than last. There are a couple of projects where we are talking about doing community-led development in the early stage of a bigger scheme.
What's your design ethos?
Winning awards for Marmalade Lane has been really nice and is important. We have shown that if you invest well in a good fabric, it will perform commensurately well.
We love working with architects. We promote traditional streets but also try to employ contemporary architecture. For us, really good housing uses proven forms with a contemporary flavour and has thought through things such daylighting and the placing of windows. The latter is missing from most new housing. We're not aesthetes – we just want well-made housing.
What are you planning to do in Milton Keynes?
The project is a step up in scale and complexity, as it involves redeveloping the site of a 1970s shopping centre, the Agora centre in Wolverton, with a mixed-use development. It has taken a few years to get a scheme drawn up – we are working with Mikhail Riches and Marmalade Lane's architect Mole Architects and hope to submit a planning application in spring.
The planned scheme has 105 homes, roughly divided between townhouses and apartments, together with retail space. A lot of learning from Marmalade Lane is being incorporated into the design, in car-free streets and courtyard blocks with shared garden spaces and small backyards.
The Agora was a poorly executed shopping centre, so we are reinstating the retail and the street grid. Wolverton has a vibrant independent high street, so we are curating the retail element to bolster and complement that. We have been thinking about the things we would want if we lived in a place, like a bakery, and have talked to potential occupiers.
Milton Keynes mostly has very big retail spaces because of the way it was created, so the grain of adaptation is largely missing. We are not gentrifying the area but we are trying to capitalise on a nascent sense that it is a cool neighbourhood.
Looking further ahead, aren't you also working in Cambridge again?
We are carrying out master development work with developer U+I for a planned community of around 5,000 homes on Cambridge's northern fringe. As it's a really big site, there is opportunity for public transport, walking, cycling, playable spaces and shared landscapes. That is a couple of years away from being ready for planning.
What have been the biggest challenges in bringing TOWN to this point?
There are huge barriers to entry in development – things such as the land market and planning default to the status quo. Regeneration tends to focus on assembling big sites.
With Marmalade Lane, we were lucky because the project came from a very good developer competition by Cambridge City Council, which came at the right time for us. We also had a partner in Swedish timber frame home provider Trivselhus that backed and trusted us in a slightly esoteric project.
The numbers for that project are very good, but we are still not finding it easy to do follow-on projects. In the end, the difficulty with our model is that our schemes cost more to build, so there are parts of the country where we would like to develop but can't because the sales values are not there.
Our niche in community-led housing helps, but we are unlikely to buy land on the open market – we expect to work with local authorities, community groups, or with landowners wanting to deliver something different. We want to have a mix of community-led projects that commercially perform well and that improve the stock of human happiness.
What could government do to make working life easier for SME developers like you?
Under section 123 of the local government act, local authorities disposing of land must receive "best consideration" for it and that is generally perceived as the highest price. We argue that local authorities should be using disposal to drive change. We understand that local authorities have been battered by austerity, but they are going for the easy option.
This might run counter to most developers' thinking but we think that a more stringent approach to planning is needed. If you look at a country like the Netherlands, it has a more dirigiste approach, which allows you to get on and build if you are doing something good.
Here in the UK, we're tinkering with the system. We would get a better standard of design and a faster pace of build if we had better rules. What business needs is a level playing field, not an absence of regulation.