Communities secretary Robert Jenrick and housing minister Esther McVey look set to focus on driving up homeownership – but Brexit hangs over funding decisions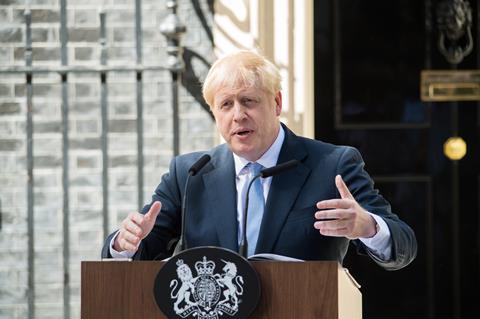 "Boosterism" has become the buzzword of the beginning of Boris Johnson's career as prime minister.
The boost refers to the rockets that the new occupant wants to place under the economy, whether it is the tax cuts he talked about during the Tory leadership race or the infrastructure spending that he has been more keen to discuss since landing the top job.
It's a handy term for the new prime minister to seize on, alliterating neatly with his personal brand, like the 'Boris Bikes' and less happily the 'Boris Bridge' (otherwise known as the Garden Bridge) when he was mayor of London. And it marks a rhetorical break with the austerity that the Conservatives have overseen during the last nine years.
The infrastructure part of the equation was flagged up in a speech Johnson delivered, standing next to Stephenson's Rocket, in Manchester's Science and Industry Museum last Saturday.
As well as committing to the Northern Powerhouse Rail (NPR) link between Manchester and Leeds, Johnson identified affordable housing as one of his priorities.
"The prime minister's announcement over the weekend, especially a new rail link from Leeds to Manchester, was a powerful signal of intent and where he wants to take policy," says Will Tanner, director of the Conservative thinktank Onward.
You can't accuse this government of having somebody at its heart who doesn't understand the (housing) issues

Jonathan Seager, executive director of policy at London First
Jessica Levy, public affairs manager at the National Housing Federation (NHF), meanwhile, looks at the emphasis Johnson put on affordable homes as "positive."
And Johnson's Downing Street operation contains no lack of housing expertise with Sir Ed Lister, chairman of Homes England, as his chief of staff.
"You can't accuse this government of having somebody at its heart who doesn't understand the (housing) issues," says Jonathan Seager, executive director of policy at London First.
Of course, the centre of government will be firmly focused on Brexit. This, combined with Johnson's past track record as mayor of London, where he was willing to delegate the detailed nitty gritty of policy implementation to his underlings, increases the importance of senior ministerial appointments.
There have been two eye-catching moves to the Ministry of Housing, Communities and Local Government (MHCLG). The department's new secretary of state Robert Jenrick is the youngest member of the Cabinet at just 37. And Kit Malthouse's replacement as minister of state for housing is Esther McVey – a prominent, if polarising figure, who was mounting her own bid to become leader of the Conservative party two months ago.
So, what can the housing industry expect from Jenrick and McVey?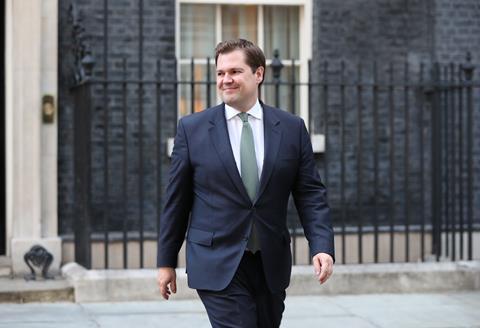 The first millennial
Tanner, a policy adviser to Theresa May at the Home Office and in Downing Street, describes Jenrick's promotion from his first ministerial role of exchequer secretary at the Treasury as a "brave move".
Jenrick's rapid elevation is seen as a reward for having come out for Johnson with a high-profile endorsement in The Times early in the leadership campaign.
The Newark MP is the first member of the millennial generation to make it into Cabinet. Personally, he appears to have no housing problems, having built up a substantial property portfolio on the back of a successful business career, which included a spell as a director of auctioneer Christie's.
But he has written about the housing challenges facing less fortunate members of his generation and the knock-on impact that this will have on the Conservative Party's electoral prospects if left untackled, calling for public land to be made available to provide homes for young, would-be first-time buyers.
Since joining the Treasury, where his portfolio included the Treasury's efforts to promote growth and infrastructure, Jenrick has been an advocate for using the power of the state to support targeted development.
He has written about the housing challenges facing less fortunate members of his generation
The new secretary of state has backed a development corporation to bring forward a new town around the proposed new HS2 parkway station in his constituency, while leading the Treasury's efforts to support growth in the Oxford to Cambridge growth corridor.
"He is acutely aware of the power of agglomeration and government's role in pump-priming specific areas to achieve economic growth and support housing delivery," says Tanner.
Levy, who also dealt with the Cambridge graduate while he was at the Treasury, says: "He always spoke about importance of housing."
Examples where this approach could be rolled out to capitalise on the NPR include around the parkway station being mooted between Sheffield and Leeds, which says Henri Murison, director of the Northern Powerhouse Partnership, describes as a "perfect opportunity" to help meet the housing needs of nearby Barnsley and Wakefield.
Keeping Tory heartlands happy
However even the pro-growth Jenrick will be under pressure to water down the pro-development line, enshrined in the National Planning Policy Framework (NPPF) in 2012, which has made it much harder for local authorities to resist new housing.
Tanner says that a correlation could be seen at the last election between the number of independent members elected at last May's council polls and local backlashes against development being forced down communities' throats, especially in the Tories' shire heartlands.
Pointing to Guildford in Surrey and the Essex council of Uttlesford as two examples of this phenomenon, he says: "That clear link between local planning policies and local political decisions will be on the minds of the prime minister and his team.
"There's clearly been significant political cost to some of the NPPF changes to the planning system."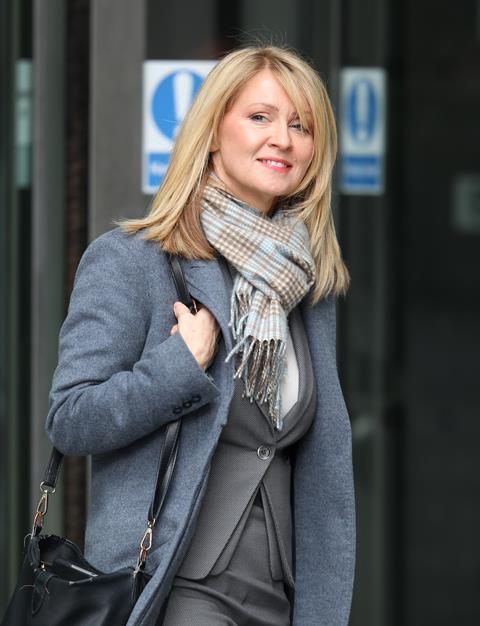 McVey's housing aims
McVey, though, generally attracts a less gushing response than her new departmental boss.
Her previous spell in government, as secretary of state for work and pensions, was clouded by a rebuke from the National Audit Office about providing incorrect information to the House of Commons concerning the roll-out of the controversial universal credit programme. She later resigned over May's stance on Brexit.
And like many in the new Cabinet, McVey's appointment appears to have been primarily motivated by Johnson's desire to sign up hardcore Brexiteers to his ministerial top team.
"She is one of the key Brexit-backing individuals that Boris Johnson wanted to bring back," says Levy.
The MHCLG is a good platform for ambitious Tories such as McVey to cultivate local government leaders, who are important kingmakers in the grassroots party, says Martin Curtis, the Conservative ex-leader of Cambridgeshire county council.
It's useful to have someone with a practical knowledge of the sector

Sarah McMonagle, Federation of Master Builders
"This gives her an opportunity and she will want to make a success of it. The party was a bit dubious about her, so it will give her lots of opportunities to get in front of councillors through the Local Government Association and it's great way of winning friends."
And in terms of brass-tacks knowledge of the construction industry, McVey is probably one the best qualified of the nine individuals to have held the housing brief since 2010.
For six years, before becoming an MP, she was a director of her father's Merseyside-based construction business.
"It's useful to have someone with a practical knowledge of the sector," says Sarah McMonagle, director of communications at the Federation of Master Builders, who adds that the new minister was very interested in promoting apprenticeships during her tenure as secretary of state at the Department for Work and Pensions.
First-time buyers
So far, the former GMTV presenter's public comments in her new portfolio have focused on the importance of homeownership, fuelling suspicions that the government will focus on promoting opportunities for first-time buyers.
A clue to her thinking can perhaps be gleaned from the call from the Blue Collar Conservatism group, which she has backed, to divert housing benefit money into supporting a new-look Help to Buy programme.
Chris Rumfitt, chief executive of public affairs company Field Consulting, argues that this track record indicates the likely thrust of McVey's thinking.
"We would expect her views on housing to be about prioritising getting people on the housing ladder rather than social housing or renting.
"Her focus will be on driving home ownership levels back up."
Levy agrees that housing associations can expect to see a greater emphasis on social mobility and promoting homeownership from the MHCLG.
This would mark a change of tack after the last three years under May, when the government's policy has been rebalanced back towards rented housing from the single-minded focus on homeownership seen under David Cameron's government.
Environmental concerns
McVey's stance on climate change will prompt concerns among those championing the green building agenda.
She was one of the few Conservative leadership candidates not to endorse the target of net-zero emissions by 2050, which was signed into law during the last month of May's premiership.
Curtis, who is now an associate director at planning lobbying firm Curtin & Co, says scepticism about how seriously climate change should be treated remains deep-seated on the right wing of the Tory party, where McVey has positioned herself.
"The further right you go in the Conservative party, the more scepticism you come up against on climate change. A lot of libertarians believe that climate change is a natural phenomenon and not manmade."
The further right you go in the Conservative party, the more scepticism you come up against on climate change

Martin Curtis, Curtin & Co
And this could count because achieving the ambitious net-zero goal depends to a large extent on improvements in the energy efficiency of the UK's housing stock. A recent report from the Business, Energy and Industrial Strategy select committee underlined the extent to which the UK is lagging on efforts to decarbonise its building stock.
As housing minister, McVey will have a pivotal role in taking forward last year's pledge by May to halve energy use in new buildings by 2030.
Jenny Holland, public affairs and policy specialist at the UK Green Building Council, says: "We're already off track, given that we would have expected and hoped new regulations will come into force in April next year."
She doubts that a proposed reform of building regulations, which was due to be published in the spring, will now appear before later in the year.
Sufficient clout?
However as number two within the department, Rumfitt doesn't believe that McVey will have sufficient clout to block moves to cut emissions in the built environment.
And if she does, she might see not eye to eye with the new prime minister, judging by his record as London mayor, says Holland: "When Johnson had the opportunity to scrap the zero-carbon homes standard in line with the government's abandonment of it in 2015, the London plan already had a zero-carbon homes standard and he said he would stick by it."
"I don't think she can reverse that agenda – there is too much momentum behind net-zero – but she can slow it down" says Rumfitt.
However, building regulation reform is just one item in a "very full inbox", which includes the next steps on her government's social housing green paper, says Levy.
And despite recent progress on homes completions, the government is "still far" from meeting its own housing target of 300,000 homes per annum, she says: "She has a vitally important job to do and if she is determined to meet the challenge that she knows the country faces, she has to be banging at the door of the Treasury to make greater investment."
Here though, housing's entreaties may get a warmer reception than traditionally been the case for one of Whitehall's less high-status departments.
It will help that the new chancellor of the Exchequer, Sajid Javid, was doing Jenrick's job until just over a year ago.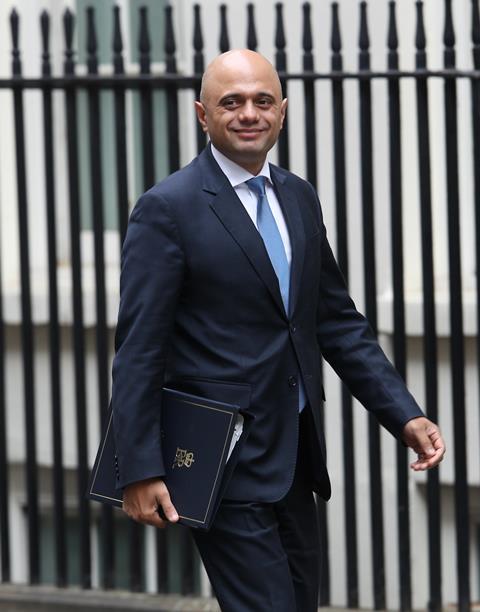 Javid's influence
While in this portfolio, the flag waving once-Thatcherite Javid was converted to the value of state intervention in housing, going head to head with his predecessor Phillip Hammond to champion increased government borrowing to support new homes investment.
Javid continued this theme during his recent campaign to become Conservative leader, with a commitment to boost infrastructure investment if became prime minister.
Tanner says: "Sajid Javid was keen to see as many homes as possible. We can see Javid being extremely supportive of getting more houses built
"I suspect he will be willing to invest where there is a good case for public investment. His track record shows he is someone who wants to get on with building more houses and wants the state to be part of that."
Levy agrees the housing world should feel "very positive" about the appointment of Javid.
[Javid's] track record shows he is someone who wants to get on with building more houses

Will Tanner, Onward
However Seagar cautions that the chances of any potential spending bonanza depends on the outcome of no-deal Brexit.
"It's impossible to talk about that in isolation: any investment can only be made when and if we leave the EU, I would like to think that when the government ramps up its plan to review its domestic programme, it doesn't lose sight of the fact that to do that very much involves getting a deal with the EU.
"Specific commitments are easily made now but not really worth much. Let's see how much you have to play with and what the shape of the economy is by October – then we will have a much clearer picture."
Snap election?
Another complicating Brexit-related factor is the mounting likelihood of a snap general election if Johnson is unable to secure Parliament's consent for EU withdrawal.
Curtis says: "It's starting to smell like a general election. It feels like they are trying to get real energy behind Boris and then go for a general election."
A senior Tory insider agrees. "The reality is that for the next three to four months, and possibly longer, the government is going to have very little bandwidth to get on with detailed policy. The overriding objective is wins on a few big policies.
"We will see an election well before the end of the year and everything between now and then will be framed within that."
It feels like they are trying to get real energy behind Boris and then go for a general election

Martin Curtis, Curtin & Co
Despite signs of a "Boris bounce" in the polls, this option will be a gamble for the Tories, says Curtin, recalling Johnson's hustings performances during the leadership campaign.
"When he was under scrutiny, he really struggled. If that happens during a general election campaign it will have a real impact."
And the local elections showed that the Liberal Democrats are once again a threat in the Tory's shire heartlands. Curtis says: "Local elections results reflect on peoples' intentions to vote nationally. In a general election, the big winners are going to be the Lib Dems again."
In the meantime, the worry for developers is that local planning decisions are likely to become more politicised as councils become less willing to grant consent for sensitive schemes, he adds.
And it must be remembered that while "boosterism" may sound attractive to Johnson, the term emerged in the late 19th century US when it became identified with early public relations efforts. The housing world will be seeking something a little more substantial from the new prime minister's government than feel-good PR announcements.