The £600m recently granted for housing infrastructure is a leap forward for local authorities and need not shut out the private sector either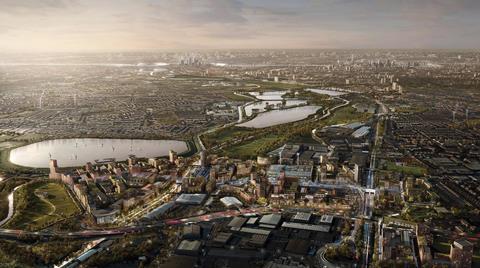 Last weekend may mark the moment when a new breed of local authority-led development came of age.
The potential turning point in question was chancellor of the exchequer Sajid Javid's announcement of £600m of housing infrastructure funding for five developments in the south of England.
The biggest winner from the announcement was Countryside Properties, which will benefit from £218m worth of funding for a new rail station and bypass on the outskirts of Chelmsford, where it is planning to build an urban extension.
The second biggest of the handouts though was £156m for the London borough of Enfield's plan to regenerate 157ha of brownfield land immediately to the south of the A406 North Circular Road, which has been rebadged as Meridian Water.
Javid also allocated nearly £100m to build a new link road, which will spur plans by the North Essex Garden Communities consortium of local authorities to build a new 7,500-home settlement to the east of Colchester. The consortium is made up of Essex county council and the adjoining lower tier authorities of Braintree, Colchester and Tendring.
In both of the last two cases, it is not a private company bringing forward the sites but local authorities self consciously taking on the role of master developer, where they take a long-term interest in bringing sites forward rather than selling them off to private companies.
There is nothing new in local authorities acquiring sites, with many having deployed compulsory purchase powers. What is different in both Enfield and North Essex is that the councils don't plan to hand over the sites to developers but will have an ongoing role in their development.
The councils don't plan to hand over the sites to developers but will have an ongoing role in their development
Taking a gamble
The biggest gamble is being taken by Enfield, which is taking on the Meridian Water development, which has already defeated two private developers. Most recently, volume housebuilder Barratt Development pulled out in 2017. The site was offputting for the private sector due to a combination of factors. Chief among these were a lack of good rail connections, the risks involved in remediating the largely ex-industrial land and the site's fragmented ownership.
Meridian Water's biggest claim in recent years has been the riot that erupted when too many over-enthusiastic shoppers turned up at the opening night of its Ikea superstore in the late noughties. And the store is typical of the big box retail stores and warehouses that populate the tangled site, which nestles between the A406 and the Lea Valley Regional Park and is criss-crossed by waterways.
So why has Enfield taken such a big gamble? And is it wise for cash-strapped councils to intervene so heavily in the development process?
In Enfield's case, the authority realised that unless it took the lead at Meridian Water the project was never likely to happen.
Peter George, assistant director of regeneration and planning at Enfield, recalls that the authority had considered developing the sprawling site itself as long as five years ago. "The view at the time was that we didn't have the capacity to take it on, which is probably right," he says.
That idea was revived last summer after Barratt pulled out of the site which has capacity for up to 10,0000 homes and workspace for thousands of jobs.
Since then, the council has spent £160m to buy up the 37ha of land, which means it now owns the entire site except for the two plots occupied by Ikea and Tesco superstores. This is an acquisition programme on a different scale to the buy outs of ex-council flats that estate regeneration schemes generally involve.
"We are buying out massive private landowners," George says, namechecking National Grid and HSBC as two of the bluechip companies that Enfield has acquired sites from.
The plots have been acquired on commercial terms, without the authority having to resort to its compulsory purchase powers. Some of the deals included an element of overage whereby the vendor secures a share of any uplift in the value of the land once it has been redeveloped for more valuable housing uses.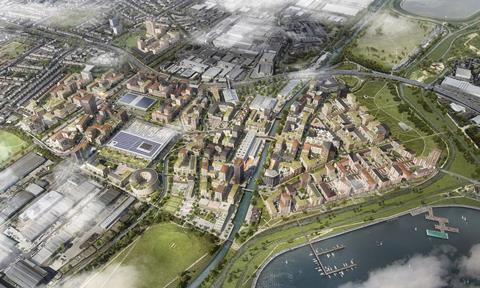 Finance
The financing of the scheme has also been helped by the fact that the north London council has tapped the low interest rate loans from the Public Works Loan Board, which many councils have used to buy investment properties in recent years.
In Enfield's case, the homes earmarked for the Meridian Water scheme are key to meeting the nearly 800 homes per annum target that the authority has been set in the Greater London Plan.
Much of the borough's land supply is off limits because it is in the green belt, industrial sites or private housing. George says: "Councils' land supplies are drying up and estate renewal is getting more controversial."
Robin Butler, managing director of private master developer Urban & Civic, understands why councils are keen to retain a stake, having done the hard yards of land assembly. "You can see why they want to go the next stage."
Stephen Teagle, who heads the arm of housebuilder Galliford Try that works in partnership with local authorities and housing associations, believes that councils must play a more interventionist role if the government's official housing targets are to be met. "Local authorities are fundamental if we are to deliver 300,000 homes a year and they are going to have to play a far larger role in delivering and bringing housing forward."
Local authorities are fundamental if we are to deliver 300,000 homes a year and they are going to have to play a far larger role in delivering and bringing housing forward

Stephen Teagle, Galliford Try
Taking a master developer role can also help the local authority to control the pace and timing of delivery, he adds. By earmarking a bigger share of the sites for affordable and private rented sector housing, councils can increase the absorption rate on sites they control, Teagle says. "Margins are lower but it actually encourages supply."
And by getting in the driving seat, councils can tailor developments to meet their own affordable housing objectives. This in turn may help to reduce the bills boroughs face for placing families in costly and often unsatisfactory temporary accommodation, the downside of which were graphically exposed in a report issued by the children's commissioner this week.
Another upside for the cash-strapped local authorities is that development creates revenue raising opportunities, says Teagle: "That [revenue] can be put back into supporting services in the council."
Enfield is aiming to retain ownership of the bulk of the ground floors at Meridian Water, around three-quarters of which has been earmarked for a mix of retail and workspace uses, in a bid to generate revenues that can sustain future services, says George.
And by taking a long-term view, the council may avoid the boarded-up frontages that characterise too many mixed-use schemes, says George: "Ground floors have a profound impact on how somebody perceives a place. If you get that wrong and lose control it can undermine the whole development."
Private sector
Meanwhile, just because the council is acting as a master developer doesn't preclude private sector involvement.
From a private developer's perspective, council-led schemes offer potential for establishing long-term pipelines of work, says Teagle: "If everything goes well it puts us in a great position to work with that local authority over a longer term."
Butler believes that council master developers are "not really competing" with private sector operators because the sites they often bring forward tend to be off limits to the private sector due to viability issues.
"It's filling a hole that the private sector is not going to fill," he says, adding that public sector investment can de-risked such sites.
It's filling a hole that the private sector is not going to fill

Robin Butler, Urban & Civic

George argues that by undertaking the upfront work required to remediate the site, authorities can package up development opportunities that will be attractive for the private sector. "It means that private landowners are able to look at their sites and see a viable residential-led proposition where it didn't exist before," he says, expressing hopes that Ikea and Tesco will see the opportunities for bring their sites forward for redevelopment.
Galliford Try is due to begin work early next year on 725 homes at Meridian Water, having been selected as development partner on the first of the council acquired sites to be released.
And four shortlisted organisations – L&Q, Optivo, Notting Hill Housing Group and Galliford – will be submitting bids for the second site next month with a decision due to be taken by the council in December.
But while private developers have a fairly simple objective, to make money, the goals for local authorities are inevitably more complex.
By acting as master developer, Enfield is pushing to increase the proportion of affordable housing on Meridian Water from the 30%, which it would have expected from a private developer to furnish, to the Greater London Authority's 50% goal.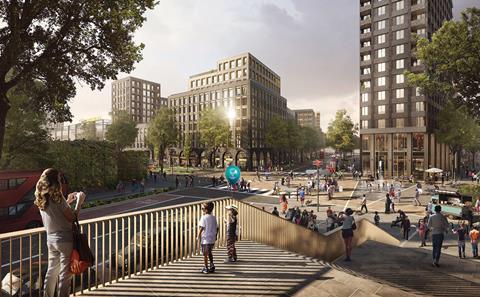 Social value and financial risk
In addition, Enfield will be in a better position to secure a wider range of family homes and its own council housing, which will be included in every phase of the development, says George, who adds that Enfield treats financial and social value as "equal bedfellows".
This isn't just hippy daydreaming, says Yolande Barnes, chair of the Bartlett Real Estate Institute at University College London, who argues that there is an increasing alignment between social and money-making imperatives in the development process. "The only way you create value in real estate is to create value in income streams," she says. "Without a prosperous and productive place, you certainly don't get the social outcomes you are after and won't get the investment returns you want either. If you create a socially successful place that attracts all sorts of people and gives people jobs, you will create income streams."
The flipside of this sunny scenario though is that greater intervention in the property leaves councils more exposed to the vagaries of the property market, warns Kimberley Grieveson, director of property consultancy Avison Young.
A lot of local authorities are going to have to massively upskill to do this at pace

Kimberley Grieveson, Avison Young
The UK faces a "massive period of uncertainty" in which context cost over-run can emerge rapidly, she says: "All the complexities that come with big development can erode margins. Compound that with a significant drop in the housing market and before you know it you are in a whole world of problems."
Added to that, the level of scrutiny on local authorities from council tax-payers is far more intense than for in the private sector, Grieveson adds. "Councils will be under a far tighter microscopes when bringing schemes like this forward and there are a lot of sceptics out there."
Councils may also lack the capacity to take on the master developer role and will struggle to replicate short term the expertise and supply chains relationships possessed by major developers, she says: "A lot of local authorities are going to have to massively upskill to do this at pace and there is a huge skill shortfall across the industry: to recreate that at scale doesn't happen overnight."
Expertise
And few outfits have the expertise to bring forward really large scale schemes, say Butler: "The problem about large-scale developments is that not many people have done them. While they are not complicated in engineering terms, they require a strong element of experience in delivery. There is a very thin list of organisations able to do these things who are out there delivering large-scale stuff."
The argument on capacity can be over egged though, counters George. "Lots of councils have developed in-house experience and competence," he says, pointing out that Enfield has around 50 staff working on Meridian Water.
And local authorities can tap the supply chain like any other property player, he says. "A lot of the consultants that developers are using work for us as well. It's not complicated to buy in experts, there is a market place." Enfield has around 150 consultants to supplement its inhouse team working on Meridian Water.
If the private sector was meeting housing need, councils wouldn't have to bring forward sites in the way are now doing

Peter George, Enfield council
Teagle acknowledges that to build up expertise required to intervene in the development market is tough for councils, with the smart ones are tapping the expertise possessed by private developers. "The authorities able to deliver more quickly are those that have worked with the private sector or housing associations."
Butler, for one, doesn't feel threatened by the councils trying to turn themselves into master developers. "We would rather see a few new entrants to create more a of a large-scale market," he says, adding that Urban & Civic would "absolutely" contemplate a tie-up with a council if it helped to ease the planning process.
Other councils are interested in replicating the model that Enfield is developing at Meridian Water, says George. And local government needs to get on the development pitch, he says: "The only years post-war this country has delivered enough housing is when councils have made a sizeable contribution. If the private sector was meeting housing need, councils wouldn't have to bring forward sites in the way are now doing."