The CPRE's recent audit of brownfield sites highlights their potential, but there are other factors to consider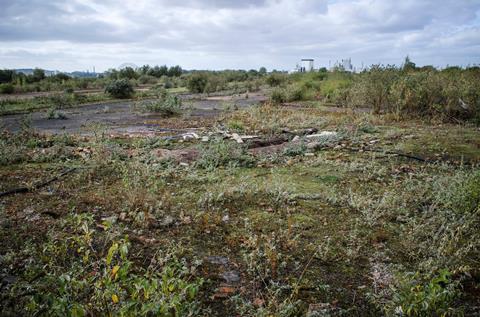 For many, the solution to the housing crisis is on the doorstep. Or at least out of the window, if you happen to live or work next to a derelict plot of land that looks ripe for redevelopment.
Fuel for their conviction was supplied last week by a new report from the Campaign to Protect Rural England (CPRE). For the second year in a row, the countryside champions have published an audit of the brownfield land that is available across England for housing.
The figures are based on the brownfield registers, which local planning authorities have been obliged by the government to collect for the last two years. The registers contain enough brownfield land for nearly 1.1 million new homes. This figure is 25,000 higher than last year's report even though there the total area of land recorded in the registers has dropped to 26,000ha.
CPRE's registers contain enough brownfield land for nearly 1.1 million new homes
This means, according to the CPRE's analysis, that the average housing density of the sites earmarked in the registers has increased from 33 dwellings per hectare to just over 41. The explanation for the fall in the amount of land identified in the register may either indicate, according to the report, that some larger sites have been developed or that planners are getting better at recording them. But is brownfield really the answer to the eternal hunt for space to put the UK's much-needed new homes?
Supply and demand
While brownfield land is being redeveloped, the stock of such sites is being replenished, according to the study. The CPRE's analysis shows that over 2,600 suitable brownfield sites with space for more than 126,000 homes have been added to council's registers since the CPRE conducted its last such audit in early 2018. This means that around one seventh of homes on the current set of registers have been identified over the last 12 months.
And to put the current figures into a longer-term context when the government first examined the extent of brownfield land in 2002 for its long defunct National Land Use Database it discovered that there were just over 28,000 ha of brownfield land suitable for housing.
Of the potential homes currently in brownfield registers, nearly two-thirds (59%) are identified as deliverable within the next five years. And planning permissions exist for half of the just over 1.1 million potential homes identified on the register.
In order to further spur delivery of previously developed sites for housing, the report urges developers and local authorities to prioritise suitable brownfield sites for redevelopment over greenfield sites when drawing up local plans or determining planning applications. Planners could implement this "brownfield first" approach – which would turn the clock back to the New Labour era – by refusing applications if they do not represent an efficient use of land.
However the case for restoring "brownfield first" is undermined by the CPRE's own analysis, argues Andrew Whitaker, director of planning at the Home Builders Federation. Pointing to the proportion of homes in the register that already have planning permission, he says: "The industry is doing quite well: half the sites on the brownfield registers have planning permission, which is great news.
"The industry is doing really well in an environment where we don't have a 'brownfield first' policy."
And it is "debatable" whether developers are making much use of the brownfield registers to identify sites, he says: "Developers by definition tend to know their local areas and know where they want to be looking for land to develop so would be aware of brownfield opportunities.
"The development industry is very good at bringing sites forward. Nobody was sitting on their hands for a register to be published before they could go out and identify suitable housing sites."
Nobody was sitting on their hands for a register to be published before they could go out and identify suitable housing sites

Andrew Whittaker, HBF
But Rebecca Pullinger, planning campaigner at the CPRE, says the registers can be a useful tool.
"It's helped to focus minds on brownfield sites and where those sites are," she says, pointing to how registers provided evidence to justify the increased brownfield housing targets in recently published changes to the Greater Manchester combined authority's spatial framework.
And smaller housing associations have often found it difficult to pinpoint sites, a situation that the National Housing Federation (NHF) has sought to remedy by geo-coding the information in the registers to create an easier to interpret map.

Location, location, location
A more fundamental objection to prioritising brownfield land has been that such sites, often a legacy of past industrial activity, aren't necessarily located where housing need is greatest.
"There is a good chance that a lot of that land is not where homes are actually needed, which is one of the reasons we need to look beyond brownfield land," says Will Jeffwitz, policy leader at the NHF.
The CPRE's analysis show there isn't a mismatch between housing need and the availability of brownfield sites, says Pullinger: "They are available even in areas of high demand."
The report shows that London's registers contain capacity for 287,051 homes, the highest figure for any English region. The third-highest level is in the South-east, where councils have identified scope for more than 152,000 dwellings on previously developed sites, while in the east of England the figure is over 107,000. The second highest figure is that for the North-west (152,625).
But "build it and they will come" won't necessarily work when tempting would-be homeowners to invest in the kind of gritty locations where brownfield sites are often found.
Richard Blyth, head of policy at the Royal Town Planning Institute, argues that it is important to bear in mind the preferences of prospective homeowners when making decisions about allocating land. Such individuals and families will understandably be "nervous", especially if they are the first to move into an area, he says.
People may not wish to buy houses on brownfield land

Richard Blyth, RTPI
Pointing to the difficulties of stimulating housing markets in inner urban parts of northern cities, he says: "People may not wish to buy houses on brownfield land. It's a very big commitment and the biggest purchase you will ever make: buying a three-bedroom house in a rough area is a very big undertaking."
Bringing forward rented homes in these more challenging brownfield locations may be easier because it involves less risk for the occupant.
And Blyth suggests perceptions of areas can be turned around, pointing as an example to how Birmingham council's in-house development arm has shown the private sector that bringing forward viable development is feasible in hitherto marginal inner city areas.
However, while 1.1 million homes is a big number it won't meet England's housing needs. According to research carried out by the NHF last year, 340,000 new homes are required per annum in England over the next 15 years.
The NHF's Jeffwitz says: "A million is a huge contribution but only about three years' worth of supply. Brownfield is a vital part and should be priority wherever possible but it's not going to be enough alone to meet the housing crisis over the next decade.
"We are going to have to look beyond brownfield."