The joint venture between Ikea and Skanska announced a deal for 200 homes in Bristol earlier this month, and last week it revealed plans on Housing Today to open a UK factory. So, what do we know about the business, and what can we expect?
BoKlok – meaning "live smart" in Swedish – is a joint venture between home furnishings giant Ikea and construction behemoth Skanska. It was set up by Ikea founder Ingvar Kamprad and then Skanska president Melker Schörling in 1997 with the aim of putting well-designed new homes within reach of people on average incomes.
Since then the firm has developed and produced around 12,000 homes in Scandanavia, last year building 1,200 and accounting for around 2% of Swedish production, according to UK MD Graeme Culliton.
The push into the UK is not the first time the BoKlok concept has travelled here – an earlier venture in 2009 saw the tech licenced to a UK firm but fell foul of the credit crunch.
The concept
BoKlok is a developer and a producer of homes using modern construction methods (MMCs).
The idea is to develop homes within a price point that someone on an average income can afford, and that meets their needs and is designed with their lifestyle in mind.
BoKlok chief executive Jonas Spangenberg last week told the Bristol Housing Festival that this calculation – of what affordable looks like and what the design should be – is done every single year and separately in every country the developer works in.
In the UK, according to Grame Culliton, this works out to homes which cost less than £250k to buy, putting a limit on what it can afford to pay for land. In Sweden, buyers can register interest in BoKlok homes through Ikea's stores – something Culliton said the firm would ultimately like to do here – helping it to sell and build out sites rapidly.
"Ikea is hugely demanding of us in terms of pushing us on price and on the level of sustainability – the firm sets a very high bar," Culliton says.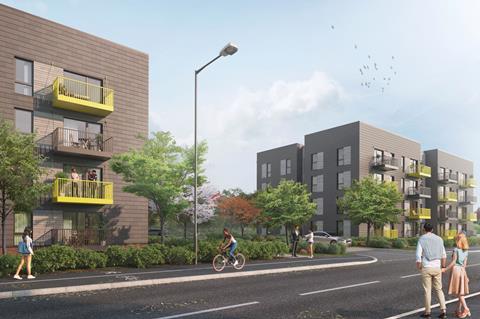 The tech
BoKlok homes are fully modular factory-constructed from timber frames (rather than CLT or glulam). Currently the homes are produced under licence for the Scandanavian market in a facility in Estonia, which will also supply apartments for sites in the UK.
Culliton said homes arrive on site 95% finished, and Spangenberg said the firm is currently reinvesting in the Estonian facility in order to bring automation and digitalisation of the process "to the next level".
The technology allows for very rapid construction – as quick as five to six units per day, according to Spangenberg. However, Culliton told Housing Today last week the firm is due to sign a deal with a UK manufacturer to construct BoKlok houses – though not the flats – for the UK market in this country.
Culliton said the choice of volumetric modular construction had not been selected to save money, but that it did give absolute "cost certainty, quality certainty, delivery certainty and sustainability certainty".
The strategy
BoKlok has so far set up a business serving the south coast of England and the Bristol region, and Culliton said it will look to expand once it has proved the concept there. He said the specific price point of BoKlok homes and engineering limits of timber frame to 4 storeys means the concept will not work for every site, something which had consciously led the firm to avoid the London market. Land will either be sourced from local authorities, housing associations or the private market, where it fits cost criteria. "The product doesn't fit everywhere. We're looking at urban fringe sites, with less planning sensitivity, of 40-200 homes at around 35-65 dwellings per hectare," he said. However, it has some way to go to establish itself – the firm has so far sold no homes and is still working to get necessary Bopas and NHBC accreditations (for mortgage lending and warranties respectively), which Culliton says it will have by the end of the year.
The future
Culliton declines to say how many homes are in the BoKlok pipeline, beyond the publicly announced Bristol deal. However, he says the firm is currently working on five deals amounting to "hundreds" of homes, and is looking to grow.
"We've got significant ambitions. We've got a business plan which we look like we're hitting, and we've got the opportunity, once we've established ourselves in the UK with a proven delivery model, to look at the market wider and look at the potential to go into further regions. But it's one step at a time – lets sell some homes and have a conversation in 18 months' time."
The attitude
Culliton says the industry is learning fast how to successfully use modern construction methods in the UK, with BoKlok alongside a small number of firms such as L&G and Urban Splash (with Sekisui) that aim to be both a developer and a producer of modular housing.
He says: "I think the industry's getting a lot wrong, in that we're trying to use traditional methods of contracting and procurement for a new method of construction. What a factory needs is five years' worth of production guaranteed. One of the reasons we're a developer and a manufacturer is that we can go buy the land and develop the land to feed the factory at that consistent level."
The key numbers
200 – number of publicly announced homes in BoKlok's UK pipeline (on Bristol Council site at Airport Road)
5 – number of "live deals" BoKlok is currently negotiating with different landowners in the South of England
1,200 – number of homes BoKlok builds per year in Scandanavia
4,000 – a year construction capacity of homes from existing facilities
Zero – number of homes BoKlok has so far built and sold in the UK