How Inland Homes – via a division named hugg – became an accidental pioneer in temporary housing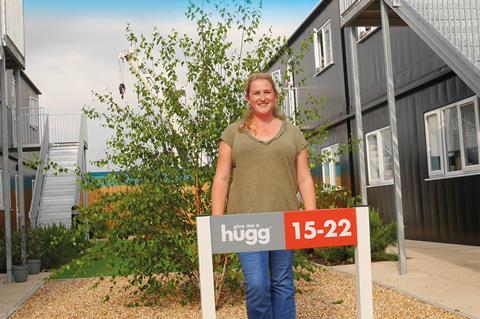 Inland Homes never set out to work at the sharp end of the housing crisis. It delivers properties mostly of the aspirational, market-sale variety in its south of England territory. However, in looking to make better use of the land it owns, the housebuilder has found itself blazing a trail in temporary housing – all because of the slow progress of the UK planning system.
As a buyer of land unconditional of planning, the housebuilder has to secure planning consent before it can develop sites. During the many months or years this takes, Inland generates income from a range of activities, such as car parking, film location shoots and short-term lets. "But we thought there had to be a better way of using the land," says Sally Ingham, group new business director at the developer. That better way was to work with local authorities to provide temporary housing for people in need on its sites – and this in turn led to the creation of hugg Homes, a business that takes a hard look at some of the challenges in this sector.
As the housing crisis has worsened, temporary accommodation has come under intense pressure, prompting councils to consider options such as office block conversions and repurposed shipping containers. The poor-quality living environments often created through such activities have drawn criticism from the children's commissioner for England, Anne Longfield. In a report published in August, Longfield highlighted the tough choices local authorities face in attempting to meet housing needs with scant resources.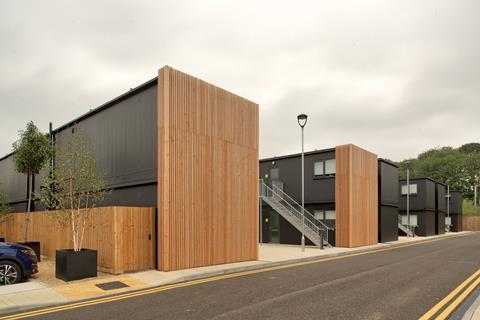 The temporary homes created by hugg do have a boxy, shipping container aesthetic, but they are actually purpose-designed modules, fully compliant with building regulations. Before hugg delivered its debut scheme last year in Southampton, it spent several years exploring temporary housing and potential business models. That included a look at the possibility of converting shipping containers from China, which was rejected in favour of working with a British manufacturer. "By then we knew we wanted to deliver homes in Southampton and we were aware that the only way to get buy-in and be certain of quality was to develop our own," says Ingham.
The developer and manufacturer came up with three apartment configurations: a 22.5m2 one-bedroom unit, a 38m2 two-bedroom unit and a three-bedroom unit at 59m2. This is significantly below nationally described space standards. "It's an area that needs debate with local authorities," says Ingham.
"Outside London, local authorities see the quality of our accommodation, the private kitchens and bathrooms, and see that as a valid trade-off for less space. They may be making a choice between this or a B&B or hostel. In London there is more of a drive around the London Plan so there is more debate."
The homes can be reconfigured internally, so a standard three-bedroom hugg home could be remodelled to create a two-bedroom home, close to London Plan levels, Ingham adds. "But at the moment we are delivering in line with local housing allowance, so there is a balance to be struck."
Homes are brought to site fully fitted, following a 12-week manufacturing programme, and are designed for delivery, modules being fully transportable without road closures or police escorts. The steel-framed modules have a 60-year design warranty, although they will go through refurbishment of kitchens and bathrooms over their lifetime. "The fit-out is very much akin to the finishes we would use in our own private and affordable homes," says Ingham. "We are using our Inland supply chain, which allows us to get best value."
Modules can be easily dismantled and moved to their next site, where they can be reconfigured differently, she adds. "You can take a second-floor unit from one site and make it a ground-floor unit on another."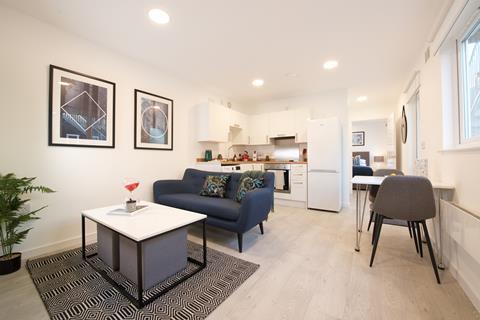 Working with local authorities
The company's business model is based around leasing the accommodation to the local authority partner. It aims to secure full planning permission with a fixed-term consent period of least five years. "Hugg invests in the modules and then we look to recover the cost for that across multiple sites," says Ingham. "But each site carries its infrastructure costs, so this really needs to be based on at least five years."
In establishing the concept in its target market, the company is having to work closely and flexibly with partners, as its first two projects show. Its first is on the site of Southampton's Chapel Riverside, a scheme of more than 450 homes and 5,000m2 of commercial space, where Inland is Southampton council's development partner. With the city council retaining the freehold on the land, planning consent for a 44-flat temporary accommodation scheme was achieved through delegated powers.
The homes were delivered a year ago, in two phases of 22 units, "because the city council was cautious of the concept", says Ingham. For that reason, the council also took just six units on a leaseback deal for the five-year duration of the planning consent, for which they have full allocation rights. The remainder are rented by hugg directly on a 20% discount to market rent. "That is set in the section 106 agreement. These are very governed by the local authority in terms of rent," says Ingham.
The second scheme is in Hertfordshire, where Inland is bringing forward proposals to develop 1,725 homes and 19,000m2 of commercial space at Cheshunt Lakeside. Under its deal with Broxbourne council, hugg is providing 32 temporary homes with three-year planning consent.
Given the need for homes, such schemes may be a drop in the ocean, but the market and the context dictate a modest scale. "We think 50 to 75 units is a very sustainable development size," says Ingham. "Once you get to 30 to 40 units, you have scope to provide additional amenities." Cheshunt has its own children's playground and a small housing support office for the council. Other amenities available include private stores for bicycles and other items, a garden and parking.
Caution in the market is understandable, given the negative perceptions around temporary housing. "Part of the challenge is that people think they are shipping containers, but we are making the point that they are purpose designed," says Ingham. The company offers a variety of external finishes, having used aluminium and timber so far.
"We can adapt them to suit an area," says Ingham, but she points out that this has to be carefully thought through. "We have to consider a number of questions, around cost, how long they will be in a location, how easy they will be to demount and even how far they could be transported."
To help make the point about the quality of its accommodation, the company has a demonstration display unit in Beaconsfield, which comes as a pleasant surprise to many visitors, says Ingham.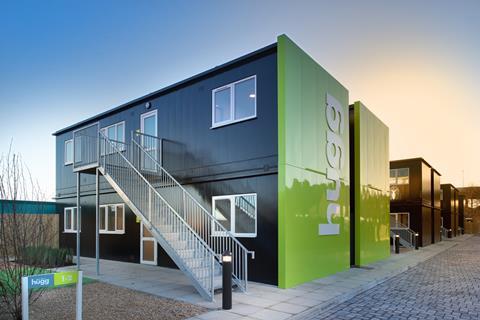 Who lives there?
The company's first developments are also being well received. Residents include lone parents and families, as well as people escaping domestic abuse. They discover, according to Ingham, that "the homes are in almost an old-school cul-de-sac and the children can play out. It has a strong sense of community".
Hugg's own rented units have been fully occupied through 2019. There were just two mid-year tenancy changes, with the units re-let within two weeks. Tenants include a father and son working away from home for an industrial supplier at Fawley Refinery and a young renter who has swapped a room in a house in multiple occupation for a two-bedroom hugg home, shared with a friend.
Also among the first renters is accountant Lauren Harrison Short, who moved into the Southampton scheme after separating from her husband. "I looked at some conventional flats, but then saw this and it caught my eye. It's quirky," she says. She rents a two-bedroom flat, which gives her a spare room with desk space for her home studies as she progresses her career to become a chartered management accountant.
Asked how she describes her home to friends and colleagues, she says cheerfully: "I call it my hugg. It is like living in a container, but it's not." She praises the flat's quality, finishes, space and comfort, adding: "In winter it's easy to heat." Harrison Short plans to live there for a year or two, and use it as a stepping stone to homeownership. "It is fully finished and cheap to rent, so keeps my costs down and allows me to save," she says.
Southampton council is looking to deliver the concept further on its own sites – and Inland is in discussions with other local authority clients, as well as NHS trusts wanting. "The trusts are looking at on-call provision for doctors and nurses on site and for temporary intermediate housing for staff recruited internationally," says Ingham. "We started on our own sites, because it gave us direct control, and will continue to do that. But we are also now looking at third-party land."
Further projects will allow the company to refine its business formula. "What we need now is to find the right balance between our own rentals and a council's," says Ingham. "Our intention is primarily to let units on a leaseback deal to a local authority or public sector body. That gives us a strong covenant and income stream."
Ultimately this is not a philanthropic move, although Ingham says it does have a social dimension for Inland. "It allows us to make a broader, more immediate social contribution in locations where we're investing."