Matthew Lloyd's clever remodelling of an inner London estate for Camden council shows the value of high-quality, healthy communal space in public – and private – housing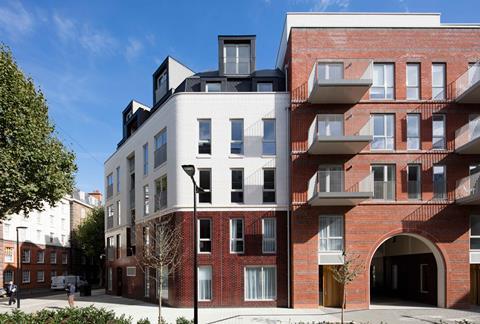 For most people in Britain, the popular conception of a council estate probably remains a 1960s public housing development with tower blocks, deck access and prefabricated construction. While UK council housebuilding did indeed reach its historic peak just before this period under the Conservative government of the 1950s, as with so much of modern life, the council estate is actually a Victorian invention.
Over the next two decades the Edwardians rapidly expanded this fledging prototype but what is truly extraordinary about these early estates is how radically different they are from their later modernist forms. The grade II-listed Bourne Estate in Clerkenwell, central London is one of the best examples of this early type of social housing and it displays many of the features common to its genre.
Classical in style with occasional arts and crafts flourishes, it incorporates red brick facades with rich stucco dressings, glazed brickwork, sash windows, double-height arches, decorative pediments, bay windows, exposed stairwells, sheltered courtyards with mature trees, a remarkable intimacy of scale and a clearly defined street presence. In many ways, the Bourne Estate and its scores of contemporaries are as much mansion block as they are council estate and share as many similarities with their 60s successors as a trolley bus does with a Tesla.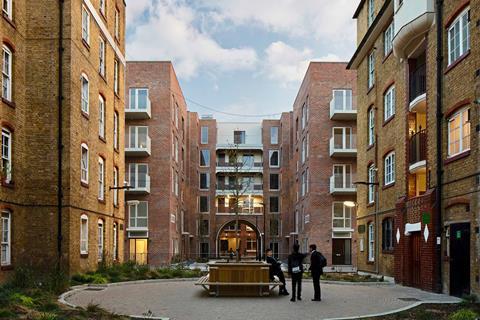 But it is these unique characteristics that have formed the basis of Matthew Lloyd Architects' ambitious £19m remodelling of part of the estate. The practice has built two new blocks, providing 75 residential units. The tenure and client are also significant: 45% of the new homes are for social rent with 43% private and 12% intermediate shared-ownership meaning that most of the new units maintain the social housing priorities of the overall estate.
Additionally, in the same way that the original estate was built by the pioneering London County Council whose extraordinary public housing construction programme revolutionised the physical and social fabric of London in a way that, sadly, would be hard to imagine today, the new blocks have been built by Camden council.
With a number of showpiece new council housing schemes now peppered across the borough, Camden is at the forefront of a wave of council house building that has been partially unlocked by Treasury funding changes introduced by the coalition government and is now sweeping London and elsewhere. This new generation of council housing is slowly gathering the strength and confidence to challenge the private sector in terms of quality and ambition, and recapture the pioneering spirit of public housing during the early decades of the 20th century.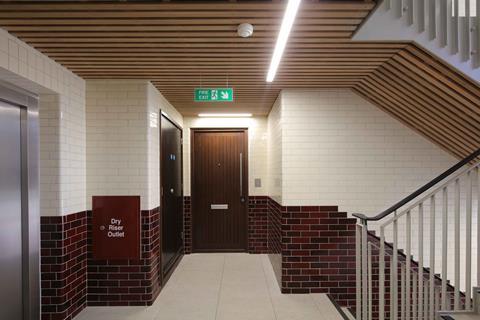 Design
Block 1 of the new scheme occupies a prominent corner location in the southern part of the estate and replaces a former substation and playground area, both of which have been repositioned within the development. The six-storey block encloses a large playground courtyard but faces the street to the other side. As Matthew Lloyd explains, this provided a crucial early opportunity for the new building to mimic some of the architectural patterns of the original estate.
"There's a clear hierarchy to the Edwardian architecture. It's quite formal to the street with stucco dressings and a strongly defined base to the ground and first floors. But this breaks down to the rear courtyard side with simpler brickwork and a more informal composition, creating a more domestic character."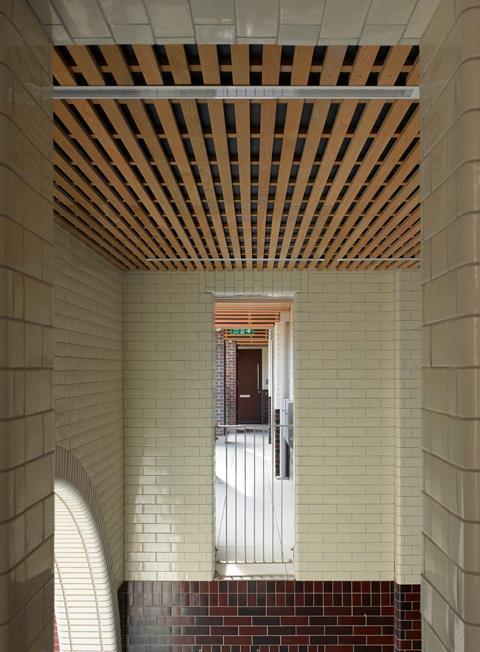 Accordingly, the new block largely follows this arrangement, presenting a firm street frontage of glazed red bricks to the lowest two floors and white glazed brick to the upper floors, both arranged around a formal array of vertically proportioned windows. Equally the courtyard side follows a simpler arrangement of plain brickwork with an unadorned base. The elevations of Block 2 follow the same pattern.
The material selection is also directly inspired by the original estate with its reds and creams replicated in the form of plain and glazed brickwork, all of which provide a neat, stripped-down and contemporary interpretation of the historic blocks. Glazed bricks in particular, used so effectively by late Victorians and Edwardians to provide a polished, glossy counterfoil to hard, chalky masonry, are equally effective on the new buildings and help to enrich and reinforce the streetscape.
Another distinctive feature lifted from the original estate are the arches. The Bourne Estate is full of arches and as well as their obvious role of providing access, they are used to brilliant effect to frame views, unveil courtyards and define axes. The new blocks use them to accomplish largely the same things but are cleaner and more streamlined. Similarly unvaulted, they open into the double-height voids that are so vital in providing a sense of spatial generosity in dense inner-city developments such as this. The effect is particularly powerful on Block 2 where a larger arch conceived for vehicular access opens to a formal courtyard symmetrically aligned to an existing courtyard within the original estate.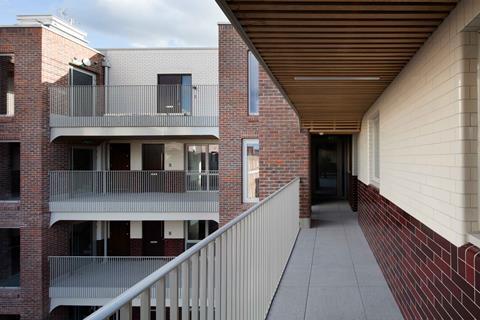 As well as providing the new blocks, the scheme also overhauls these crucial courtyard spaces with new landscaping and paving, providing a higher quality of public realm than existed before. The courtyards also inform the setting-out of Block 2, which replaces a 1960s block of flats whose footprint was oblivious to the historic composition around it. Block 2 makes amends by forming a U-shaped block that enables an existing courtyard to flow sinuously into its new courtyard space. This new space is centred on the aforementioned large arch, with arch and courtyard forming a watertight urban anchor between old and new.
Common parts
The flats themselves appear spacious and efficient affairs, with large windows, balconies, and space standards and ceiling heights that have clearly benefited from the rigorous values now hardwired into the London Plan. Much effort is taken to ensure tenure-blindness with Block 2, which features cores that serve all three types of accommodation, offering no clues as to which type of flat is where. In fact, the social housing maisonettes at its base feature perks not evident elsewhere in their courtyard: front doors, defensible garden spaces and townhouse-inspired elevations.
But according to Design for Homes chief executive and government housing expert David Birkbeck, it is not necessarily flats themselves that will form the battleground on which the new generation of housing quality will be fought but the areas that link them.
"Common parts are the key. They express the communal nature of housing and provide its public face. They can be crucial in delivering the current 'healthy housing' agenda by encouraging people to take the stairs rather than the lift for instance. But crucially, through their use of daylight, space and materials, they also emphasise the design values of the wider development."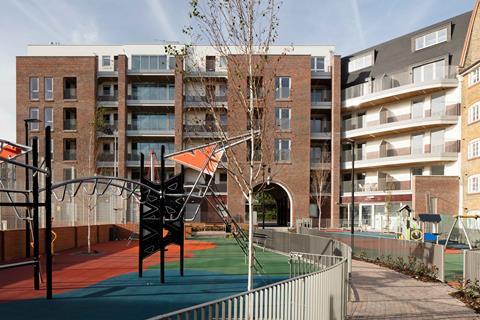 And few recent housing schemes – certainly not council housing schemes – grasp this mantle with the conviction of the new Bourne Estate. One of the most charming and enigmatic features of the original estate, and early 20th-century public housing generally, is its exposed staircases. These are internal staircases whose external side is left open and lined with a railing to be exposed to the elements.
The new blocks replicate this to stirring effect, sweeping the glazed brickwork right inside the building and ushering the public realm right up to the uppermost floors. These stairwells are inspiring characteristics to have on any form of housing, council or otherwise.
"It's about giving everyone a door that effectively opens on to the street," explains Lloyd, "so we gave them the same quality in terms of materials and finish that we'd applied to the public face of the building. They also do all provide all the good technical things you need in housing such as maximising daylight and ventilation – in a fire situation they'd even be effective in dispersing smoke."
However, as Lloyd continues, there were technical ramifications. "We had to keep the lifts a certain distance from the exposed wall – too close and they have to be specified as external lifts which could virtually double the price."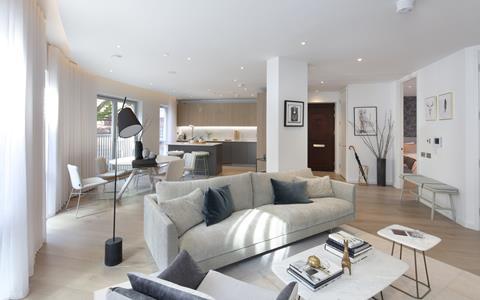 The exposed nature of the stairwells is just one joyous element of these common parts. As well as the glazed brickwork snaking inside, aluminium balusters are elegantly detailed and the stair soffits are lined with oak ribs. What is all the more surprising is that this level of quality was delivered on a design-and-build contract, with the architects enjoying no inspection role during the build.
Inevitably, such indulgence comes at a cost, one that is inevitably offset by the private flats fully optimising their coveted City of London proximity and charging well over a million pounds per unit. But Lloyd tentatively speculates that this level of quality would still have been delivered had the scheme been 100% social housing.
"Yes it's about budget and procurement but it's much more about the nature and priorities of the client. Camden has a proud history of pioneering social housing stretching back decades and they were determined to ensure that this development did justice to that heritage. Plus, a council is in a unique fiscal position and can take a longer-term and more strategic approach to maintenance and value than a private developer or even in some instances a housing association."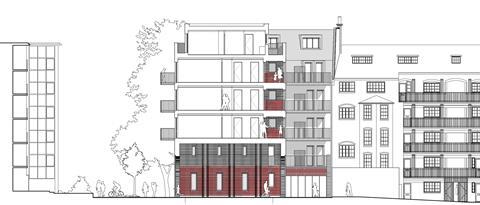 Decks
One key final feature of the common parts, and another contemporary reinterpretation of the original estate, is its prolific use of deck access. Considering the sheer number of differences between early 20th-century public housing and its 1960s and 70s variants, it is perhaps surprising to realise that this is one aspect that unifies them.
While the street frontages of the Bourne Estate reveal formal rows of sash windows, the courtyard facades are trimmed with deck access framed by ironwork balustrades. The new blocks follow the same pattern with deck access snaking along most of their rear elevations.
Like brutalist architecture, deck access has undergone something of a rehabilitation of late, once dismissed as insidious tendrils of anti-social spite but now increasingly reintroduced to modern housing developments, of which the Bourne Estate is just one example.
So why should a once-toxic feature that epitomised the worst of public housing failure in the 1960s and 70s perform any better this time round? For Lloyd there are multiple answers. "In the past they were often too long and served too many flats, which led to them being impersonal and anonymous. They were poorly secured and anybody could access them. And they were frequently poorly designed and dimly lit with blind corners, behind which undesirables could lurk."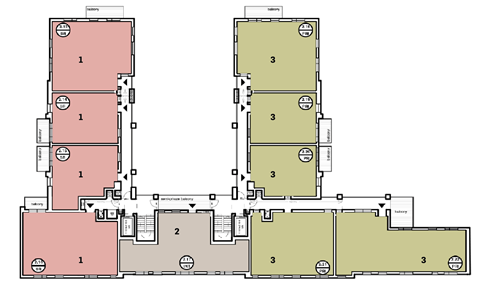 Needless to say none of these punitive features have been replicated on Bourne's decks. Crucially, they are very short in length, sometimes serving no more than two or three flats. They are also relatively wide, with some residents already populating them with planting and seating and treating them as a semi-private extensions of their own space. And of course access is controlled either by the communal entrance door on the street or, depending on the fire compartmentalisation strategy in use, glass doors between stairwell and deck.
But the most powerful vote of confidence in the potential of deck access comes once again from the original estate. Here similarly short decks clearly foster an extraordinary sense of community and have been colonised by a colourful array of planting, bicycles, tables and chairs. These combine with the courtyard to create what Lloyd lovingly terms an almost "Neapolitan sense of communality".
And it is this sense of communality, whether it be in London or Naples, that is at the heart of what the new Bourne blocks achieves. Council estates have often been so stigmatised that is easy to forget what their key advantage is – a dense concentration of community and a communal expression of personalised domesticity, with all the colour, noise, vivacity, spontaneity and civic kinship that that involves.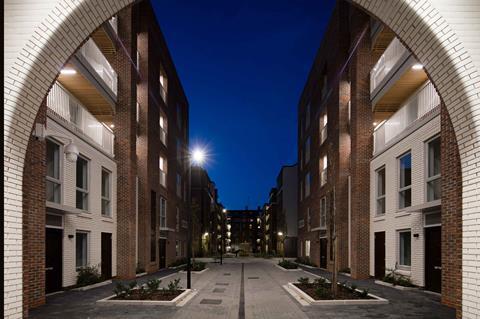 At its best, council housing should forge a benign and inclusive architectural framework that encourages rather than suppresses these impulses. And in its careful articulation of streetscape, materiality, communality and enclosure, the new Bourne Estate blocks prove as effective in achieving this as their predecessors. They bode well for the new generation of council housing that is hopefully upon us.
Project team
Architect: Matthew Lloyd Architects
Client: Camden Council
Main contractor: Higgins