Labour's vision of sustainable communities for the year 2000 is still going strong 20 years on – in at least some cases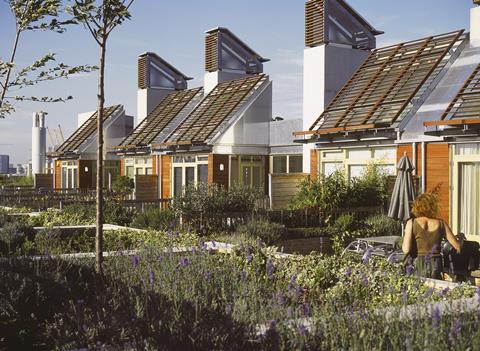 On December 31, 1999, the UK entered a new millennium with a string of celebratory construction projects. Alongside the Millennium Dome, the London Eye and other grands projets, there were plans to create a string of communities around England, one of which would be within sight of the Dome on the Greenwich Peninsula, on land that was formerly home to Europe's largest gasworks and heavy industry.
The millennium communities programme was launched in 1997 by then-deputy prime minister John Prescott, who spoke of it, "reclaiming contaminated industrial land to create a living, thriving, healthy community".
The programme was a product of Tony Blair's first Labour government, which was eager to drive the more efficient, sustainable and integrated models of building and urban placemaking being advocated by Sir John Egan's review of construction and Lord Rogers' urban task force.
Greenwich Millennium Village (GMV) was the first of seven communities of 500 homes or more planned for locations from King's Lynn to Leeds, in a programme led by Homes England's predecessor, English Partnerships.
Development and design partners were appointed via competitions that challenged bidders to minimise resource consumption, enhance environmental capital, promote design quality, improve construction quality and efficiency, increase social inclusion and be viable over the longer term.
Offsite manufacture, eco-innovation, home zones and pedestrian friendly environments with parks featured prominently in the proposed solutions.
Making it all happen was a big ask that resulted in its share of failures. Two communities were not delivered and others found it far from easy to stay true to the millennium principles (see box).
All had to weather recession, planning obstacles and other ups and downs, GMV included, but development partners Countryside and Taylor Wimpey are now some two-thirds of the way through the process of delivering the Greenwich Millennium Village. So has the idealism of two decade ago transformed into reality? And how have later phases of the villlage evolved?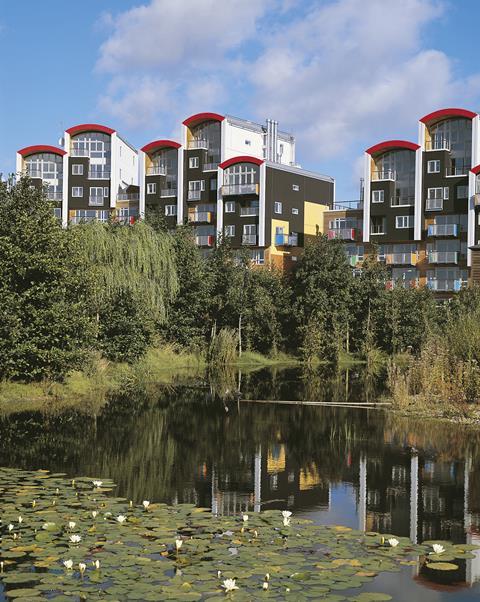 Learning from innovation
The development team set itself a series of ambitious targets, which it pledged to hit by the end of the project. They included reducing primary energy consumption in homes by 70%, embodied energy by 50% and attaining the holy grail of zero defects.
Richard Hodkinson, chairman of energy and environmental consultant Hodkinson Consultancy, helped originate the targets.
"They came out of a meeting when we were preparing our bid. We put them into the bid because we knew the Blair government liked targets," he recalls. Looking at them now, he says: "They were the right targets to go for and are concerns we, as an industry, still face."
The targets drove innovation, for instance insulation levels being raised to limit energy consumption. "We had to source the high-performance double-glazed windows from Scandinavia," says Hodkinson. "It took 10 or 15 years for the industry to catch up with the way we built the early homes." To limit CO2 emissions, the development became the first scheme in the country to incorporate individually metered combined heat and power (CHP).
"CHP technology was being applied to large-scale commercial developments, but not to residential, so there had to be a cultural shift to a multi-customer environment, which involved quite a big upskilling," recalls Hodkinson.
We've learned that there needs to be a focus on the right material in the right location for the whole life of the building

Peter Willis, Countryside
CHP is still being incorporated into the development, as are photovoltaic panels, but the size and scope of energy centres have been increased so the last three phases can be served by a single centre.
"CHP has been a learning curve," says Peter Willis, operations director with Countryside's eastern region. "We found that smaller systems were not so efficient and that it is better to have a bigger system."
By the end of its first decade, GMV was performing well against its targets, with its second phase exceeding many of them, but they were then dropped. They were being overtaken by regulatory change, and, says Willis.
"They led to us designing buildings that were complex and not necessarily easy to maintain. In the early phases, we had timber frame, metal frame, in-situ and offsite concrete, and they caused an issue in calculating noise and heat gain."
"We've learned that there needs to be a focus on the right material in the right location for the whole life of the building," Willis says.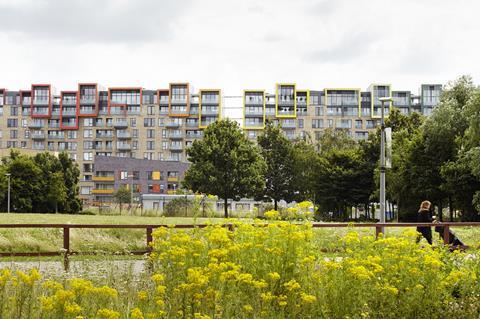 Growing community
The design principles for the neighbourhood were set by architect Ralph Erskine (now Tovatt Architects and Planners) and the colourful, barrel vaulted apartment blocks of the first phase have become synonymous with the village.
"In a period when there wasn't too much variety in new housing, the development was a departure in architectural language," remembers James Everitt, director of EPR Architects, which worked with Erskine on the masterplan and first two phases.
"There was a desire in the masterplan to create a sense of belonging for the places created. What we did then has now become commonplace, but at the time it was radically different."
That made it an influential project. "A lot of good residential development came through as a consequence of this," says Everitt. "A lot of the aspirations of the scheme in community, energy and sustainability have fed into good practice. It felt like a catalyst."
After the second phase of development, which included offsite manufactured flexible home designs by Proctor & Matthews, the project encountered a stumbling block.
As homes and resident numbers grew, so did the concerns of the neighbouring wharf and aggregates operations that their noisy business with its dredgers, plant and railway line, could be constrained by more new residents, and they sought to block development.
In a period when there wasn't too much variety in new housing, the development was a departure in architectural language

James Everitt, EPR Architects
That gave a fresh focus to innovation in demonstrating how homes can be developed alongside noisy industry, as Countryside's Willis explains: "The dredgers using the wharf have low-frequency noise of 60Hz and at the time no windows or facades had been tested to it."
Cracking the problem fell to architect Jestico + Whiles, which led a team of Studio 54 Architecture, Peter Barber Architects, acoustic consultant Sandy Brown and sustainability consultant XCO2, to update the masterplan and design the last three phases.
It created what was effectively an acoustic wall of 11-storey apartment blocks to shield the development from noise. "We had to develop the form of construction – it was tested in a laboratory and on site," says Heinz Richardson, director of Jestico + Whiles.
"The block has a sealed facade on the northern and eastern side, with more weight, insulation and detailing around openings. It is similar to what you would do for Passivhaus but here it was for sound, rather than energy."
Triple-skin walls, double insulated windows, balcony screening and canopies all shield residents, aided by glass screens between blocks. Large sealed windows have expansive views over the aggregate works and distant River Thames.
In updating the masterplan, numbers and density have been increased, so a development originally intended to have some 1,400 homes is likely to have double that number, giving the scheme an overall density of 117 homes per hectare. The scheme's first two phases comprised largely perimeter apartment blocks with courtyard gardens, but over time the mix of homes has evolved to have more terraced houses.
GMV's first residents can now trade up without trading out, and the pedestrian-friendly streetscape is enhanced by mews and squares. "If it were being built elsewhere there would be pressure to densify, have taller apartment buildings and have a less varied mix. But we've tried to keep the GMV feel," says Richardson, his point emphasised by the towers rapidly rising on a neighbouring site.
When consulting on its proposals, Richardson found the residents, which included former local MP Nick Raynsford, who had held responsibility for housing, planning and construction in Blair's government, to be fiercely protective of their community.
"We had to convince the residents. They wanted to know we were not dumbing down the aspirations of GMV and were continuing the theme," he says.
That is testament to Erskine's vision of the community, the quality of place with its ecology park and community infrastructure, and the residents who bought into the millennium vision, says Richardson.
Place of pioneers
"GMV was a place of pioneers. The first residents had nothing around them, but headed there for the lifestyle and the park. It took landscape beyond a bit of nice-and-easy-to-maintain planting to something more biodiverse.
"The development was aspirational in thinking about life in the new millennium, and that vision came from Erskine, and the way he looked at life, as well as from the vision of the late Alan Cherry of Countryside," he says.
Countryside's founder drove and nurtured the project, says eastern region managing director Chris Bladon. "A lot of passion has gone into this, and there is still a lot of the DNA of GMV, and the ethos of Alan Cherry, in Countryside," he stresses.
The scheme has been a commercial, social and environmental success, he says, and Countryside continues to apply lessons learned. "We put in the park and community facilities early to create the heart of the development. That is one lesson we have taken forward to other projects."
The developers delivered just over 1,000 homes in the first two phases and are delivering more than 1,700 more in the final phases three, four and five, around 600 of which are complete. Later phases are being built in conventional reinforced concrete – largely for acoustic reasons – predominantly faced in brick.
"We've found that simplicity can be more elegant and give longevity," says Bladon. "The brick is a reflection of changing times, but the coloured panel elements are still there. Erskine's barrel vaults have simply evolved into squares."
Although some of the scheme's innovations have entered the mainstream, Bladon says GMV remains an exemplar project, pointing out that its acoustic wall apartment approach has since been adopted elsewhere in London. "It is still pioneering, because of the challenges it continues to present," he says.
Hodkinson agrees on the scheme's influence. "It is still a showcase. It had a positive impact on me and many of the people who worked on it. It was a training ground," he says. "It's a pity there's not an equivalent of the millennium communities programme today to take us forward into a new generation of homes."
What happened to the other six millennium communities?
Allerton Bywater, Leeds
Allerton Bywater was intended to revive a village that had lost its economic and social heart following the closure of the local colliery. The competition to deliver 500 homes alongside commercial and community space was won by Aire Regeneration Partnership.
Progress was hindered by numerous factors, including local resistance to development. That was resolved with the help of a village referendum that led to the project having fewer homes and more traditional and detached designs. The scheme was completed by Keepmoat, with design by JTP.
New Islington, east Manchester
With Will Alsop's masterplan and Chips building, FAT's quirky Islington Square affordable housing, and De Metz Forbes Knight's Amsterdam-style terracing, this is a statement millennium community. The site's developer Urban Splash has remained true to the programme's innovation aspirations – it is building its modular Town House and Mansion House concepts there.
The scheme sought to transform the image and environment of the notorious Cardroom Estate. Two decades of regeneration have included not only housebuilding, but also the creation of canal basins, parkland and amenities, including a health centre and school. New Islington has arrived, its identity even stamped on a Metrolink tram stop.
South Lynn, East Anglia
More than 100 acres of largely derelict former shipyards, industrial premises and a gasworks in King's Lynn were designated in 2001 as the site for a millennium community of some 500 homes plus commercial space. But today, the Nar Ouse Regeneration Area (NORA), as it is known, remains a work in progress.
The first phase of terraced homes and apartment blocks, with colourful detailing, expressed the design aspirations of the programme but the scheme's developer struggled to secure planning consent for the second phase. In 2012, local news source Eastern Daily Press reported on planning committee members' dislike of prospective designs, quoting one saying, "There is no use in trying to be trendy and modern if it's not going to stand the test of time."
Two years later, its developer went into administration. The Borough Council of King's Lynn and West Norfolk bought the land from the receiver and has progressed plans for the community with more conventional housing designs.
Ketley, Telford
Acres of former coalfields, mostly now greened over, have made Telford ripe for the development of new communities, among them Ketley Millennium Village, which is being delivered by Taylor Wimpey. The neighbourhood was scheduled to have around 800 homes, and its masterplan by Lifschutz Davidson Sandilands included features such as home zones and parkland.
Initially, homes were designed as a standardised kit of parts, albeit with varied elevational treatments. The original masterplan has been updated by IDP Group but home designs retain their pared back modern aesthetic, with brick and render prevalent, and the final phase is now on sale. The scheme also includes extra-care and supported living accommodation
Oakgrove, Milton Keynes
Milton Keynes should have been a natural location for innovative housebuilding yet the millennium community encountered some local resistance in its early stages. Designed by Gardner Stewart Architects, the 900-home development targeted Code for Sustainable Homes level 4, the Lifetime Homes Standard and Secured by Design, providing homes, retail and a school in a landscaped setting. This was one of the later projects in the government's programme, developer Crest Nicholson getting work under way in 2012, but is already complete.
Ore Valley, Hastings
Ore Valley's millennium dream ended in 2011, as the first homes were being delivered. The deprived area was in need of regeneration, being blighted by poor housing and public transport links, contamination – particularly in a former power station site – and steeply sloping land. Early plans spoke of developing around 900 homes along an existing rail corridor, improving transport, and redeveloping Ore station.
Public sector delivery vehicle Sea Space was charged with delivering this and other regeneration projects, and a first phase of homes built, but with housebuilding partners reluctant to pursue ensuing phases, the millennium communities agreement was terminated. Late last year, Sea Space named developer Gemselect as potential housebuilder for the power station site.