From next year the four district councils – Chiltern, South Bucks, Wycombe and Aylesbury Vale – as well as the county council will be abolished and replaced by a single, unitary council covering the whole of Buckinghamshire
In our industry it often said that certainty and clarity are the best policies. While national politics has undoubtedly been the cause of much disruption, often is it is the changes in local government that can affect the smooth delivery of housebuilding too.
Where I live, the key decision-makers are changing. From next year the four district councils – Chiltern, South Bucks, Wycombe and Aylesbury Vale – as well as the county council will be abolished and replaced by a single, unitary council covering the whole of Buckinghamshire.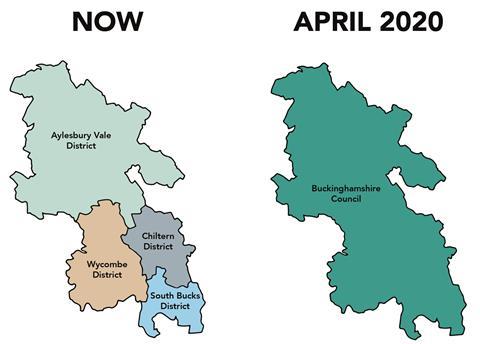 For developers and housebuilders who may not be as interested as I am about the intricacies of local government, you might be wondering why this all matters. But here is why it does. First, a new council often brings with it a new vision. Instead of operating within a district of 100,000 people, unitary councils naturally encourage councillors to take a step back and think more strategically about the future delivery of housing in the county, with one single council representing more than 800,000 people and a budget of more than £1bn. This may come as a relief to many within our industry who are seeking to navigate what seems like an ever-changing political landscape – a complex web of district planning committees, parish councils, area action committees and so forth.
Already the signs in Buckinghamshire point to a more holistic approach. Each of the four district council leaders now hold county-wide portfolios on the shadow unitary executive. In Conservative circles there is talk of a Buckinghamshire-wide manifesto for the first five-year term. From next year it is proposed that major planning applications – whether they be in High Wycombe or Wendover – will be decided by a new strategic planning committee. And once the unitary council has been created, I understand that work will almost immediately begin on a new Buckinghamshire local plan which will succeed the different local plans adopted by the district councils.
"A new council often brings with it a new vision"
Rather than engaging with individual local plans that may – or may not in the recent case of South Oxfordshire – come to fruition, developers and housebuilders will be able to create one vision and one plan covering the county. And, because planning applications will be dealt with by the new unitary authority, when applications do come forward under this new system support can potentially be gained from a much wider geographical area than now.
The second consideration is the sheer number of councillors created once the five authorities have effectively been merged into one. As Buckinghamshire makes the transition to the new two-tier system, no less than 147 members will sit on the new council for the first five years (three councillors for each existing county division). To put that figure in context – that's more councillors than the number who sit on Birmingham city council, more than the number of MSPs in the whole of the Scottish parliament and more than the number of senators who represent the whole of the US.
As local parties start the task of selecting their candidates next year, ­a number of new faces will emerge, inevitably with differing opinions about the green belt, sustainability, affordable housing and other planning considerations. Some will bring with them experience from their time at district level. For others this will be their first time on any council with powers over health, education, transport, social care and housing, not to mention an annual budget of almost £1bn.
And for those councillors who don't make it on the new unitary authority, or who only last the first five-year term while the size of the council is reduced, they will not necessarily leave the stage either. Many will continue to play a role in their local areas at a parish or town level.
And that leads me to the final reason why the move to unitary councils matters for the housebuilding sector. Until now town and parish councils have played a small, albeit significant, role within the planning process. It would seem then that unitary authorities, in centralising the decision-making process, take power further away from communities. Far from diminishing in importance, though, town and parish councils will undoubtedly become more assertive in ensuring their community continues to be heard.
In the case of Buckinghamshire, many parish and town councils are keen to strengthen their roles as statutory consultees and their wider role in the community. Some in due course will be providing training courses for their members in order to better understand planning law. Others have already suggested establishing a neighbourhood plan as a way of giving their community more control over future applications. As unitary councils take shape, expect stronger and better-informed parish and town councils.
Buckinghamshire is not be the first to move towards this new, more simplified model of local government. Wiltshire, Shropshire and Northumberland have all been restructured in the past 10 years. And with many counties coming under increasing financial strain, Buckinghamshire will not be the last either. And when councils do undergo change, the consequences for our sector are clear – a wider and more strategic vision for housebuilding, more decision-makers at the table, and stronger parish and town councils.
Joseph Baum is an account director at Curtin & Co and a councillor in Buckinghamshire