Liverpool-based MMC specialist will continue to trade following new investment
Ideal Modular has undergone a pre-pack administration after a major customer of the firm withheld payments.
The pre-pack, which legally transacted on November 27, saw the Liverpool-based prefab housebuilder bought out by a firm set up in recent weeks by its chief financial officer and a previous shareholder in the business.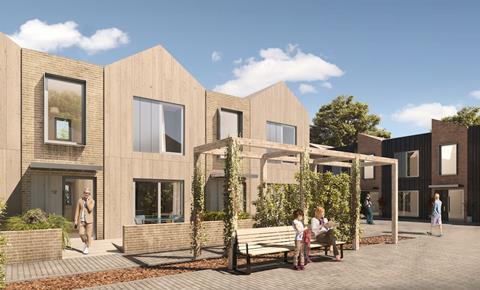 The deal comes a matter of months after the £3m turnover firm signed up to what it claims was the UK's "biggest ever" modular housing contract, for £300m with Greenwich council.
In a statement the firm, set up in 2017, said the deal secured new investment in the business and ensured it would continue to operate as normal, protecting 76 jobs at the business.
A pre-pack administration is one where a firm goes into administration after having already determined a buyer for it in advance. They are often used in order to ensure a struggling firm can keep trading, but are controversial as they can leave creditors out of pocket while the firm continues under new ownership.
The deal will see Luke Barnes, the firm's co-founder, leave the business "to pursue new ventures", while previous shareholder and former investment banker Tom White has been installed as chief executive.
According to papers filed at Companies House, Ideal Modular's legal entity, Ideal Modules Limited, was bought by a business set up on November 10 called IDMH Limited for £338,000.
IDMH lists as its directors Tom White, and the existing Ideal Modular chief financial officer Andre Muller, who had been appointed by the firm in June.
Companies House documents say Ideal Modules, which turned a pre-tax profit of £374,000 on turnover of £3.1m in the year to June 2020, started to run into difficulty after being forced to shut operation during the spring lockdown, forcing it to take out a government-backed covid-19 business interruption loan.
However, the situation worsened in September when a customer owing £2.3m issued a "pay less notice", a mechanism allowing clients to notify contractors that they are going to reduce or stop payments, and setting out the reasons.
A notice of proposals filed by administrator Quantuma with Companies House states that this left Ideal with "no visibility of income" and meant it was "unable to trade without the injection of further cash", ultimately leading it to announce the intention to appoint an administrator on November 20.
The offer to buy the business received from IDMH was the only one which envisaged keeping it as a going concern.
In a statement, the firm said there was now "no risk" to the continuation of the company. It added: "Ideal Modular Homes, North-west based manufacturer, has secured new investment and has been restructured through a pre-pack administration process.
"The process […] facilitates a quick and smooth transfer of the business, allowing trading to continue uninterrupted."
The firm said the new chief executive had been an investor in Ideal since its inception, and had worked at JP Morgan for 11 years advising large companies on M&A, debt and equity issuance and corporate strategy. It said: "Tom has significant experience scaling early stage companies across a number of industries and will draw on this experience to help accelerate Ideal's growth."
The difficulties at Ideal Modular come despite significant growth in the modern methods of construction (MMC) sector, with Homes England announcing in September it was requiring delivery partners to build 25% of homes using MMC in its forthcoming £7.5bn investment programme.
In August Ideal Modular, alongside architect Shed KM, was one of two firms signed up by Greenwich Council for a five-year deal to build 750 homes, worth an up to £300m.
Ideal has also supplied homes for the 154-home Uptown Irwell scheme. It is not known which customer issued the pay-less notice.